Description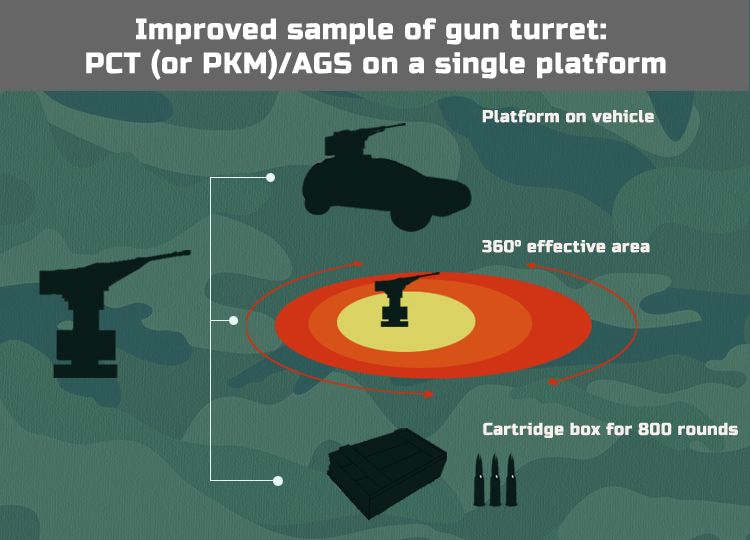 Why is it important?
The idea that the outcome of any war, ultimately, is determined by people and not planes, tanks and rockets, makes military forces around the world pay more attention to the protection of manpower. The use of military units in open spaces almost always leads to large losses.
Sabre is an automated remote controlled fire complex designed for permanent installation on fixed objects or special transport. This device is coordinated by using the remote control and monitor, allowing it to be employed in a fire fight from a distance, thereby preserving the life of the soldier operating it from a safer location. The combat platform can be installed at checkpoints and at the border as well as various other areas.
Very often low-flying UAVs are launched by the terrorists in reconnaissance to ascertain the Ukrainian army positions. Soon after, bombardment with grad rockets in an attempt to destroy our soldiers' positions begins. The Sabre gun turret gives a soldier the ability to shoot down UAV as it approaches, establish the position of enemy artillery while making near impossible to detect the position of our army.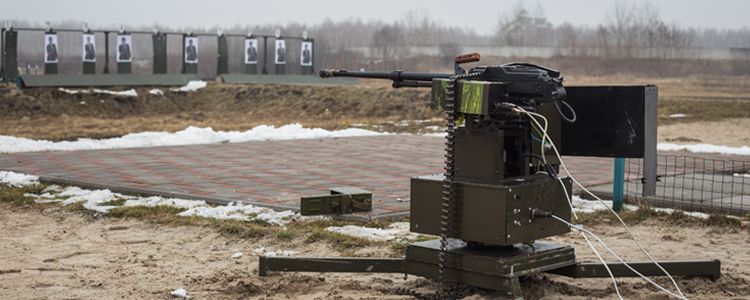 Where does the money go?
The People's Project is raising funds for the manufacture of 10 gun turrets. Automatic gun turret "Sabre" for heavy machine gun is a moving platform with optional ACS, PKT and PKM to mount. Also a video camera, thermal imager, rangefinder and other optical devices can be installed on the platform. This module is designed to destroy enemy personnel and light armored vehicles. Unlike the standard platform, the module Sabre fully protects the soldier from enemy's fire as he is in an armored car or coordinating platform remotely. The simple and reliable design of Sabre allows for rapid repair and part replacement.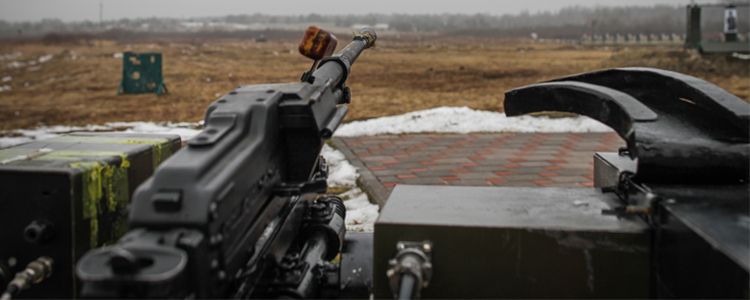 Prototype of remotely operated Weapon System

Current version of remotely operated Weapon System

14

September

2017

The project budget increased by 35 390 UAH. The cost of repair of the second remote weapon station added to the project.

05

May

2017

The project budget increased by 37 544 UAH. Recent expenses and internal transfer added to the budget.

28

June

2016

The project budget increased by 124 000 UAH. Manufacturers significantly reduced the cost of producing a complex. Now one modernized module will cost 124 000 UAH instead of 180 475. They mainly reduced indirect costs and engaged more enthusiasts to work. Thus, the money raised by the project is sufficient to pay for another module.

11

March

2015

The project budget has been increased by 100 000 UAH. Due to changes in the exchange rate leading to increases in the cost of devices.

'Sabre' remote weapon station
75 000 UAH

'Sabre' remote weapon station
288 475 UAH
modernized

Repair of first "Sabre" station
35 390 UAH

Office rent and appliances
28 904 UAH

14 640 UAH
Totally:
442 409.00 UAH