Description
Why is it important?
One of the major problems the Ukrainian army has is the lack of operational control of units and the possibility to instantly relay information on enemy forces movement to other units and headquarters.
There is also an internal problem Ukrainian media hardly ever highlights – friendly fire – and our soldiers are left vulnerable to it, as well as having to deal with the consequences of it should it happen. International media is more willing to discuss this problem.
---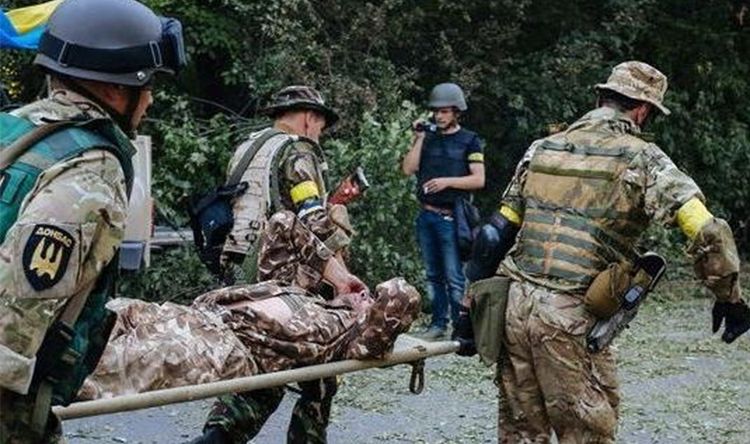 Friendly Fire
Friendly fire is a military term, meaning an attack by a military force on friendly forces while attempting to attack the enemy, either by misidentifying the target as hostile, or due to errors or inaccuracy.
---
Statistically friendly fire occurs on a battlefield more than 40% of the time. The United States and Israel have developed battle management systems that reduce incidents of friendly fire and ensure operational control of enemy units and machinery.While these foreign systems bring with them many advantages, we face two big disadvantages – their cost is prohibitive for us to purchase and, even if we could afford them, we cannot obtain them legally.
Realizing the pressing need for combat management systems and the high cost of foreign versions, we found developers for a system in Ukraine, which will perform the same functions as the foreign versions, at relatively little technical cost. This battlefield management system is called ComBat.
The main advantages of the ComBat battlefield management system:

A reduction in time from reception of intelligence to the issuing of an order to subordinates to attack a target by replacing circuit voice messages to one press of the screen.
Reducing losses from friendly fire as friendly units are displayed on the map.
Due to the modern navigation system it accelerates the time of exit of units to combat positions.
Helps in targeting aerial and artillery fire.
Preliminary operation planning by setting routes and directions, marking zones and setting targets for units.
Analysis of mistakes after a mission using history retrieve module.
Monitoring of departments and subordinates.
Order and message exchange through digitally encrypted channels in order to reduce the risk of interception and probability of bearing the transmission.
Automation of field training using the built-in system of specialized programming language.
---
Video footage of the advantages of the Combat system
---
The main purposes of the system are:
Combat mission planning.
Placing intelligence information on the map.
Coordination of units while performing combat missions.
Analysis of mistakes by retrieving the history module.
1. By combat mission planning we mean:
– Mapping routes and current mission objectives;
– Indicating different areas on the map with geometric figures;
– Using layers for easy grouping of objects on a map and managing their visibility;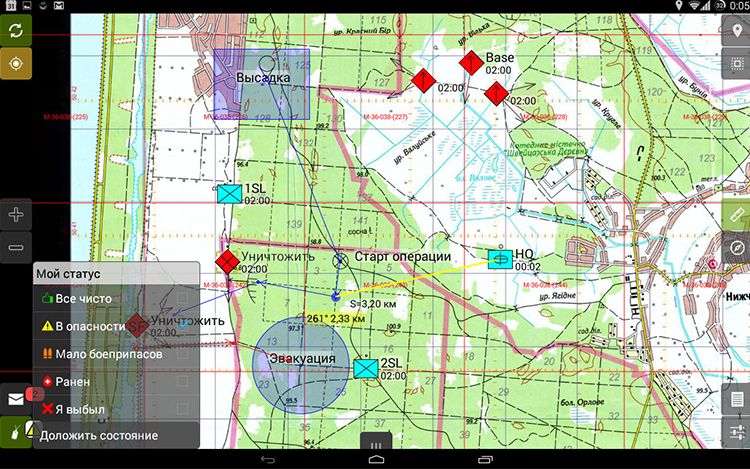 2. By mapping intelligence we mean:
Mapping and transfer to other participants, information about the location of enemy, friendly and neutral units and unknown units, their size in terms of number, branch of service, direction and speed or sector review. The intelligence mapping time is shown to help estimate its relevance, azimuths and distances to the objects are automatically calculated, allowing to quickly navigate in a combat situation and adjust target aiming. Indicators can be placed – by touching the screen and automatically – using rangefinders.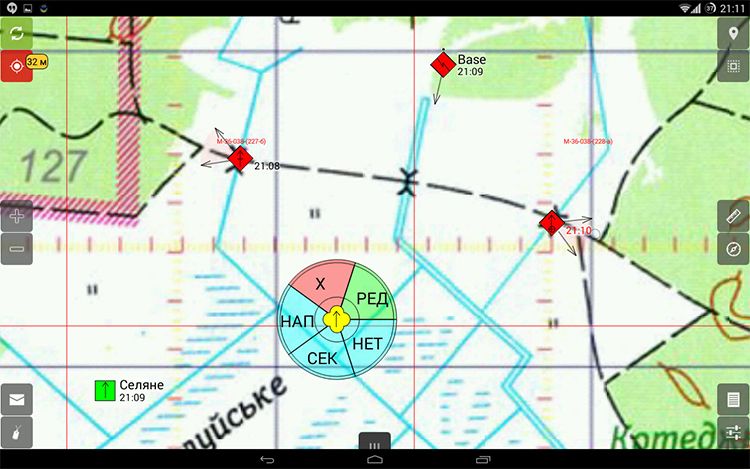 3. By coordination of units we mean:
– The possibility to break all system users into groups, forming a hierarchy of subordination;
– Giving orders to relocate, attack, reconnaissance, defense and so on to subordinate groups and individual units in the group;
– Monitoring the execution of orders in real time and displaying the current orders of neighboring groups;
– Monitoring the status of all subordinates, making it possible to quickly call for assistance as well as assess the situation in the area;
– Handy compass for subordinate troop use, reflecting the current azimuth, azimuth of the target and the azimuth of the leader, taking into account the magnetic declination in this part of the map;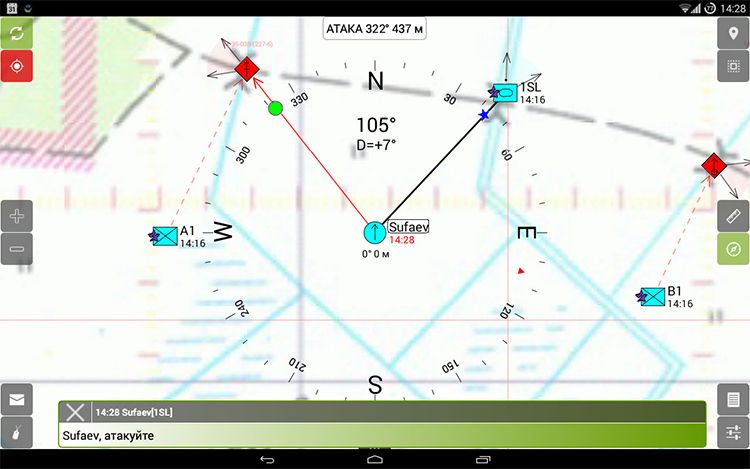 4. The server has a repeat player that stores information about the course of the mission, allows to check the properties of the objects, and read the correspondence of users to effectively analyze the reasons for success or failure of operations and find those responsible for the mistakes.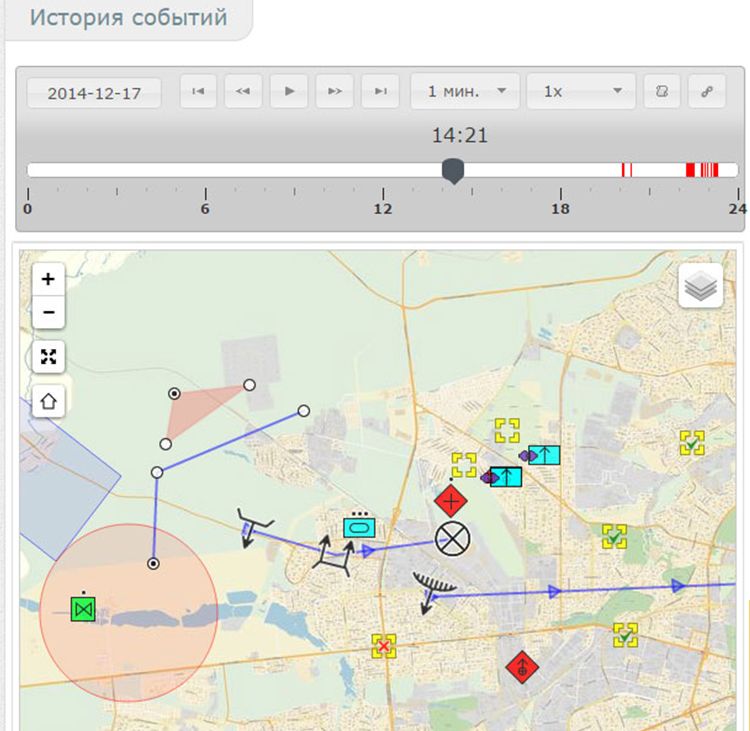 Another promising module of this system, that is in development, is an application allowing for revision of a tactical situation upon receiving data from UAV cameras or any Android device. When this module is ready, gathering intelligence with one click on a video link will become available. It will also allow for the instant viewing of map coordinates and will sync to the server to transfer information to infantry and artillery, and see the combat situation and friendly and enemy locations from the UAV camera.
---
Equipment needed for unit interaction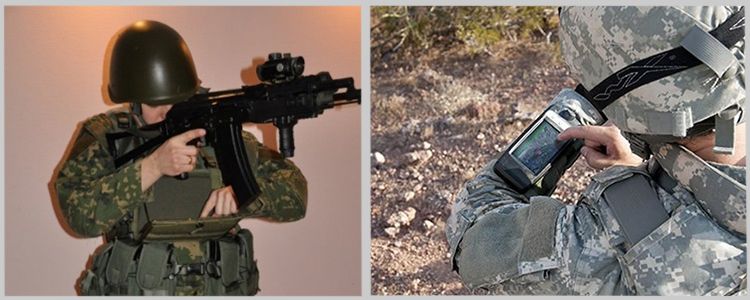 – Headquarters equipped with larger tablets or laptops with the ability to output to large screens and broadband with an OFDM communication system.
– Field commanders of units equipped with protective breast mounts for medium-sized tablets and, if desired, two-way radio communication or satellite devices, and solar panels to provide continuous system operation.
– Subordinates equipped with shoulder mount for phone or a phone mount on a hand-guard and, if necessary, satellite or radio communication with the server or connection to the commander's communication unit with Wi-Fi.
Scheme of connection options between units and server
06

October

2015

Project budget increased by UAH 5 200. Added LG 27MP47HQ-P screen for laptop for Unit 1.

04

September

2015

Project budget increased by UAH 168 649. Devices necessary to equip units added to the list of needs.

04

September

2015

Project budget reduced by UAH 10 500. Managed to get better price for production of tablet pouches.

01

September

2015

Project budget increased by UAH 30 000. Added 50 tablet pouches.

18

August

2015

Project budget increased by UAH 19 480. Added 8 wireless access points for Units 5 and 6.
Unit 1

Protected tablet Apollo C8
173 685 UAH

7 500 UAH

9 875 UAH

Philips 28", screen for laptop
5 586 UAH

27" LG 27MP47HQ-P screen for laptop
5 200 UAH
Unit 2

Protected phone Apollo C5
26 145 UAH
Unit 3

Protected tablet Apollo C8
138 948 UAH

6 000 UAH

8 295 UAH

Protected phone Apollo C5
20 186 UAH
Unit 4

Protected phone Apollo C5
52 290 UAH

Satellite modem Iridium GO
170 100 UAH
Unit 5

8 141 UAH
9 740 UAH
Tablet Sigma mobile X-treme PQ79 black
112 800 UAH
Unit 6

8 141 UAH
9 740 UAH
Equipment

19 500 UAH
48 700 UAH

Tablet Asus MeMo Pad 7 16 gb
119 950 UAH
Totally:
960 520.00 UAH