Description
Why is it important?
Fortunately, every day in Ukraine more and more people are less prepared to put up with injustice and rudeness. It is no longer every day Ukrainians are confronted with excesses in the streets of their cities. Some cases are practically invisible, and some just cause a wave of indignation. Whatever it is – a car is blocking the sidewalk, rudeness in public institutions, brazenly smoking in public places and so on, we have to accept it. When we say "Europe begins with you", first of all it means zero tolerance for violations of our rights. No one but ourselves will defend our right to live according to the law. Regardless of the status of the person who is the offender – he is liable. The inevitability of punishment is the only thing that can make boors follow the rules for the comfortable coexistence of people.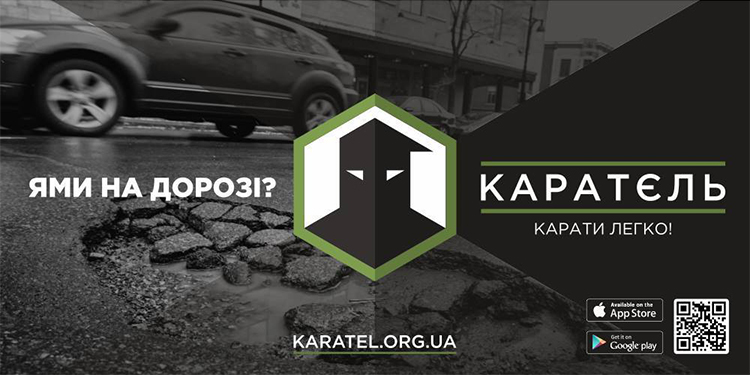 Now social networks have the ability to mobilize society. Often people do not know how to make a difference. Therefore, further public condemnation is not going to change things for people if they lack legal literacy and the same time there is a real need to understand all the intricacies of legislation. To correct this situation and help the conscious people who want to change the country and make it more comfortable for all volunteers "Foundation.101" has developed a social mobile application called "Karatyel" which means "The Chastener" in Ukrainian.
Karatel is a system that allows any citizen to report violations (to make a video or take a photo) on their smartphone and use the mobile app to send information about it to a team of professional lawyers. Lawyers will work on an application and send an appeal to the relevant state authority (or private structure) that is required to eliminate the violation. A user can view progress in the application on their mobile device.
The purpose of the project is to create for citizens of simple tool for sending complaints to authorities and private entities.
---

1. With the mobile application "Karatyel" you can report (take pictures or shoot video) any breach of your rights and send this information to a team of professional lawyers at the NGO "Foundation.101."
2. Lawyers will work on your application and send an appeal to the appropriate government agency or private structures required to eliminate these violations. After receiving the response, you can see it in the application on your smartphone. And it's absolutely free!
3. Users are asked to register and accurately specify their personal data. This is necessary in order to understand for the specialists you are a real person and the information you provided is true. It may be necessary to periodically contact you to verify information provided or to clarify details.
4. Personal data will be available only to a limited number of employees of the NGO "Foundation.101" and will not appear in the appeals to the authorities or private institutions and do not be published.
5. When you send a message reporting a violation, provide as accurate information as possible. This is crucial to the quality of processing of your application.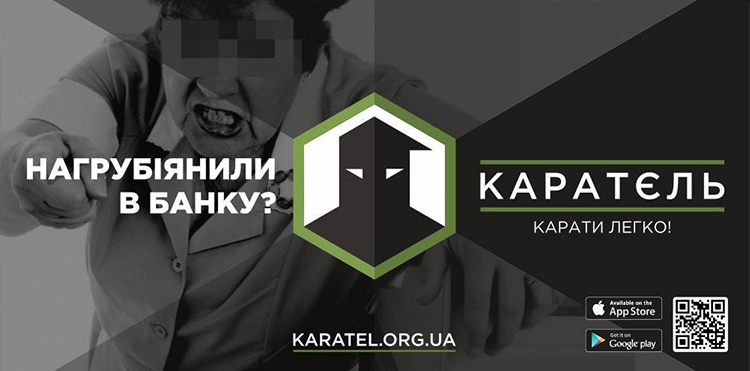 Where does the money go?
Since the position of the principle organizers of the project is to make it as accessible and free of charge for users, funding the development and maintenance of the project is partly decided by open charity fundraising. At first stage of development of the project a benefactor was involved. Through their financial assistance, we were able to finance the bulk of the costs – to date, the phase of software development has already been completed ahead of schedule. Now we need your help to close the final stages and ensure the continued existence of the project.
So Get involved participation in the project. "Karatyel" is a good investment in the creation of an effective mechanism of control over observance of people's rights. As always, all costs are set out in the detailed budget below, possible further changes if they occur will also be reflected in the budget.
24

January

2018

Project budget decreased by UAH 81 590. The project "Karatel" has been successfully launched, now it is functioning independently.

27

September

2017

Project budget increased by UAH 82 500. Cost of services of two operators of the application added to the budget.

275 000 UAH

Services of app operators
99 000 UAH
2 opertors
Totally:
374 000.00 UAH