On the 3rd of July Petro Oleksiuk, the serviceman with the 81st Airmobile Brigade, has undergone the key surgery within the Bioengineering Rehabilitation for Wounded project. The fighter who earlier was lucky enough to avoid amputation, has got his two feet, previously connected with the skin fragment, separated. Thus the doctors formed the new fragment of skin for further transplantation into the foot.
The veteran thanked all involved in the process of his recovery. "It is raining now, and I've got some good news for you. On the 27th of June, 2018, the volunteer center People's Project has raised for my treatment the sum of 200 thousand hryvnias. I'm extremely grateful for that. The surgery on separation of my two legs is due on the 3rd of July. This will constitute another stage of transplantation of the soft tissues in the foot. I wish well to the doctors of ilaya clinic. Over May and June, I received 13.600 hryvnias. Today I sent all this money to the account of People's Project volunteer center charitable foundation. I'm sincerely grateful to them for their support," – Petro wrote on his FB page.
Petro got his complex injury last year in May: he struck a russian landmine near Dokuchaievsk. It might have resulted in the loss of the entire leg if not his heavy army boot; nevertheless, it torn out his heel and substantial part of the muscle tissue. Doctors in conventional hospitals insisted on amputation solely, and the surgery was appointed to certain date. Suffering from severe pain, the fighter agreed to amputation. At the last moment, friends and volunteers talked him into trying out newest technologies.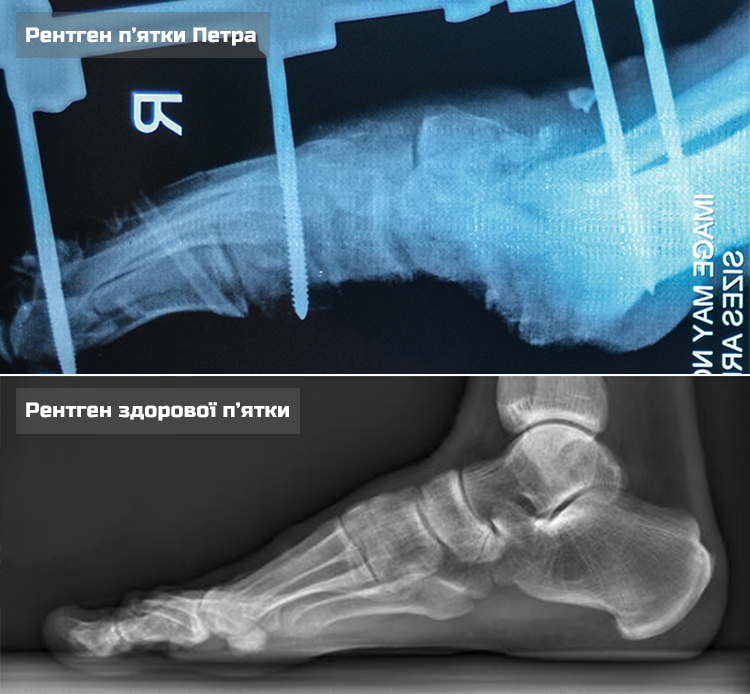 Above, Petro's heel x-ray taken at the beginning of his treatment within the Project. As you can see, the injury was extraordinarily complex
Within the Biotech, Petro underwent a few preparatory and probing surgeries first. Later, on initial healing up the vast defect, the doctors started to amass the missing soft tissues. One reconstructive surgery after another, and Petro's leg started to gradually regain its natural shape. Last time the doctors formed a separate piece of the skin on his left shin, connected it to the right heel and immobilized the guy's legs using gypsum plaster. Thus, Petro's right leg was attached to his left one. Now when the connected tissue healed, it was taken to transplant it on the foot. Later, following numerous reconstructive surgeries aimed to restore the soft tissues, the doctors will take on Petro's bones. There is still quite a long way ahead until Petro's recovered and his missing heel bone reconstructed. Furthermore, the doctors are going to sort out the whole skeleton of the military's feet, for him to be able to move with no limitations at all.