A paratrooper Serhiy, the commander of the 95th Brigade's 2nd battalion, who volunteered to the war in the summer of 2014, got a heavy injury to his left shoulder joint. The man is being treated within the Bioengineering Rehabilitation for Wounded project: recently he has successfully undergone his first surgery. Now, while he is recuperating after it, and the bioengineers are preparing cell materials taken out of the fighter's body for transplantation, we propose you to meet him in person and get to know his story.
---
«I was wounded on the 11th of May at 9:00 AM, – Serhiy tells in his interview for Cenzor.net news outlet. – As a commander of subdivision I was examining our positions in the morning. There, near Horlivka, where our battalion had been working for over half a year, we had three observation points. The enemy was in about one and a half to 800 m distance. I was heading toward the last position, a side one that we called "a mushroom". It was located on a minor hill, so it was rather open and detectible. I was walking through the most exposed sector when I sensed a push to my left shoulder. If in the night time, I would have decided it was just a twig. The hit made me kneel down on my knee. My arm felt numb, still there was no blood. Yet the jacket was torn. I went back to our position and called for the guys. They immediately realized what had happened and applied a tourniquet to my shoulder. But the area of injury was so intricate that they failed to tighten it well. At this moment I was telling my fighters what they should put into my backpack…
All this time I was thinking: now you got to know how it feels when you got wounded. Each time when I was providing first assistance to wounded fighters, when I saw the guys that got injured, I tried to understand what they felt and how it was like to get heavily wounded. I thought: what it will be like when it happens to me? And now I could sense it for myself…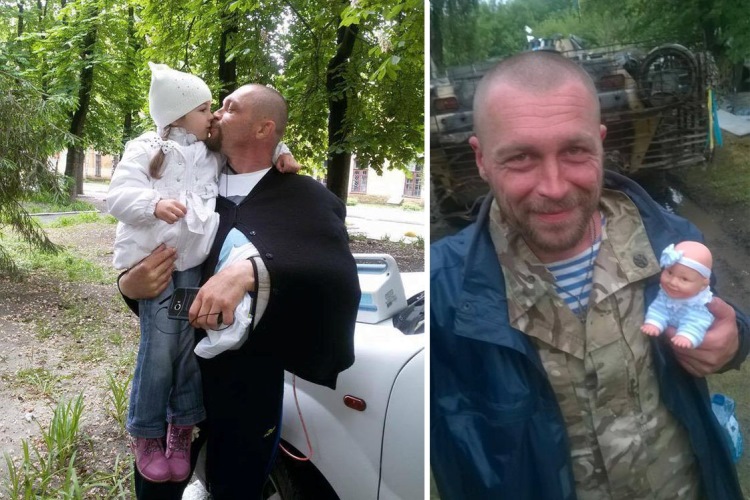 Serhiy's little daughter gave him her favorite baby doll as a talisman
Before we managed to tighten that tourniquet and get my rucksack packed, the battalion's paramedic Olha Serhiyivna and our driver Sashko Yaremchuk, have arrived. Her first question was whether I got anesthetized. "No", – I replied. – "Would you like to?" – "No need for that". As we drove toward Toretsk hospital, Olya was constantly talking to me, and I tried to direct the driver, pointing to better sections of the road with fewer holes in it. But when the vehicle struck a bump and got shaken hard, my shoulder just burst out foaming with blood… Olha Serhiyivna took good care of it having stopped the bleeding.
At the hospital, they sat me down in a wheelchair. I could not realize why. They replied that they were going to transport me to different tests before the surgery, in the chair. This seemed pointless, so I immediately got up and went into the operating room on my own legs.
My next impression was like that: I am opening my eyes and seeing the lights directed at me, but cannot focus on it. Then I got to understand I was lying on the surgery table. I saw the military surrounding me still could not recognize their insignia. Aside there was a Soviet-style lamp on the table. A voice asked me who I was, my name, rank and address. Who was asking me, I could not understand. The first thought was I am among the enemies. So I asked who they were. They replied: "Your friends". I told them to fuck off. And then heard a female voice. I felt embarrassed for my rudeness so said I was sorry. A man bent over me: I recollected his face I saw before the surgery, and I recognized his eyes. There I started to realize I was in reliable hands. And blacked out again.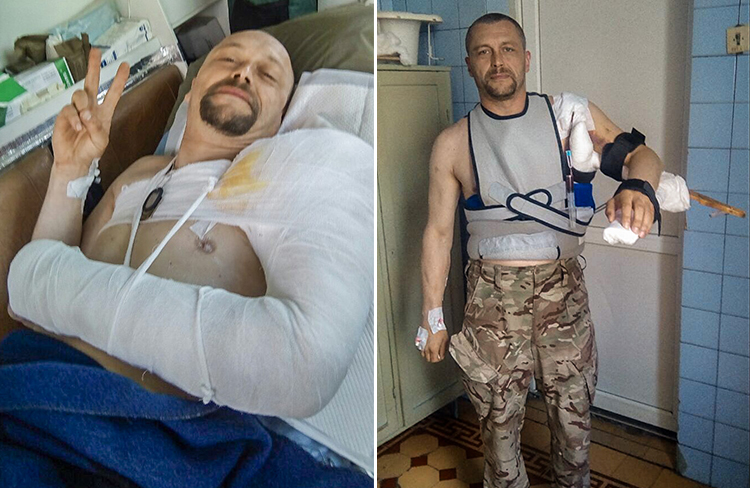 The next time I recovered in the ambulance belonging to the ASAP service. I was transported to the field military hospital positioned in local hospital in Chasiv Yar. There I finally awaked. My arm was fixed with gypsum plaster. Nobody told me what happened to my shoulder joint. They only said they were going to transport me to Kharkiv. Each five minutes I went out for a smoke. Suddenly, somebody took a picture of me, from my back. And I got frightened! My gypsum plaster was filled with piece of cotton, and it bled heavily…
I spent a day and night at the field hospital. Soon I, along with the wounded fighter from the Aidar battalion, were told to get prepared for another trip. There was an ambulance car, an UAZ, in the yard, and they loaded sacks with sheets in it. Then they told the driver where to deliver the sacks and the wounded. Before we set off, they injected me with pain killers. The car loaded and we started: it took us long four hours to get to Kharkiv. Near Izum, due to violent shaking of the car, my arm went swollen so heavily it hardly fitted into the plaster. It was immediately removed when we arrived in Kharkiv. The hand got immensely swollen… I still fail to comprehend why they decided to deliver us by that cargo truck instead of a normal ambulance. Given the commander of the battalion offered them to lend our own ambulance… Eventually, this trip made me feel much worse.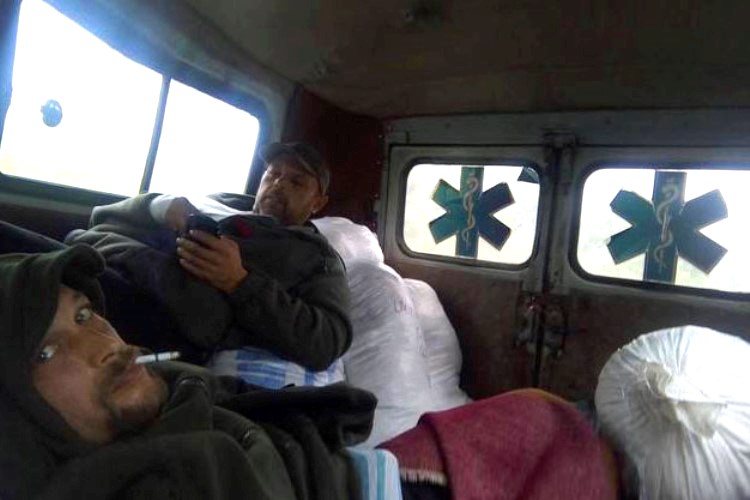 This picture had been taken by the guys themselves during their "evacuation" from the field hospital in Chasiv Yar to Kharkiv. The wounded were placed on top of piled sacks with dirty sheets
At Kharkiv hospital, their medics carried out a computer tomography test. Of course it proved more accurate that just x-rays. I got the chance to see what my shoulder looked like, at last. There was only one third of the shoulder bone head left in it… Only in Kyiv military hospital the doctors carried out five cleansings of the injured area due to heavy contamination of the wound. Each time they removed necrotic tissues. Eventually, some time ago the medics decided what should be done next. I was proposed to grow up the joint with the help of bone tissue taken out of my pelvis bones. But they can take only about 20 cm3 of material out of one hip. That is, two hips make up 40 cm3. And it takes minimum 75 cm3 to fill in the defect. Given, to fill it they would take cells from hips, ribs and elsewhere… But how many surgeries this will take? I do not care about scars, just tried to figure out what the optimal solution to this would be. Besides, I was not happy to learn that the doctors were not going to discuss the surgical strategy with me. Actually, it was about my body, my bones and my own health. So I wanted to know everything.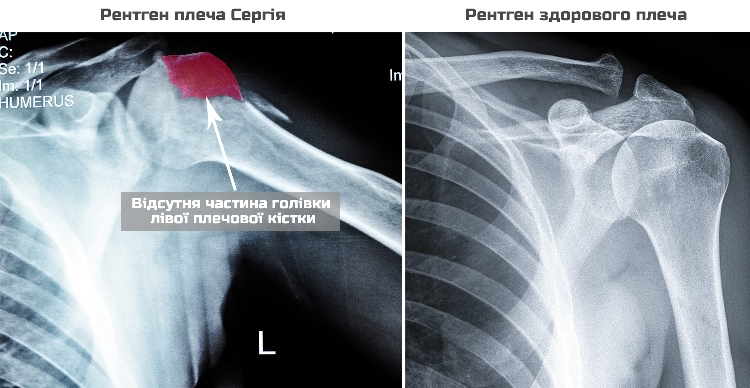 The x-rays of Serhiy's shoulder. Even a non-pro can easily understand how serious his problem is
The volunteers arranged medical consultations at the ilaya clinic which is actively engaged in providing assistance for wounded soldiers through application of innovative technologies. When I arrived there, they immediately took a digital x-ray picture and carried out an MRI test. These explained what is happening to my joint, with more details. The doctors got to know that the inflammatory process was still on: there was a so called bone edema causing tissue necrosis. And there is a split in the bone head. And given the surgery took place, the joint might gone disassembled. Then there was no other way of restoring the joint except for its removal and subsequent substitution with an artificial metallic one. Still I want to fight for my own living joint. So now we need to stop the inflammation and wait for the split to heal up. The specialists explained to me how they treat similar injuries. During the first surgery they examine the wound to check the condition of the ligated muscles and tendons and clean the edges of the joint that went necrotic; then they will take out some bone cells to grow up the required amount of material for transplantation out of them. The next step will be preparation of the seal out of the special cement aimed to temporarily fill the defect of the joint. And installation of the VAC system (Vacuum-assisted closure system) to stop the swelling.
Such a detailed information provided by the doctors made me confident that it was worth trying. This method seemed much less traumatizing to me. Besides, I was shown pictures of the patients to whom this technology had been successfully applied. Imagine a patient with his tibia practically absent because it had been smashed out into small fragments by an explosion. And just in a year, you see a totally renewed bone allowing the man to freely step on his leg. Maybe it is still a bit shorter that a normal one, but it works and can bear normal workload! Also, while on consultations I met one of the clinic's patients who had underwent transplantation of bone material grown up out of his own cells. All went well, and the wound got perfectly healed up. So all that I have seen and learned at the clinic, strengthened my trust in their doctors and technology greatly.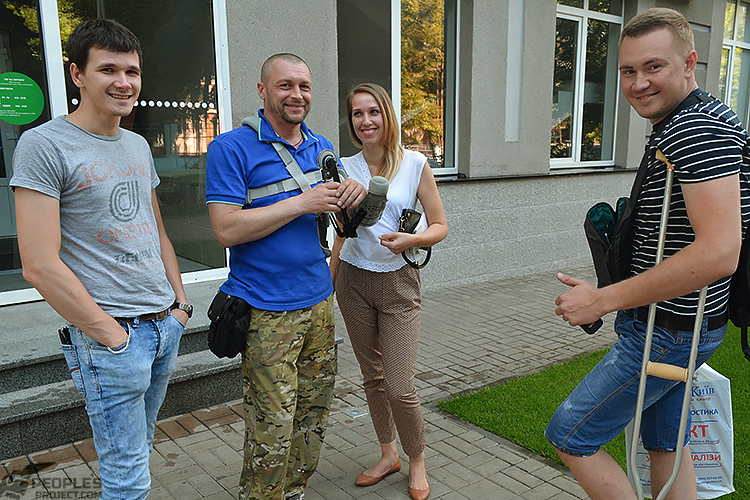 Serhiy admits that before he visited ilaya clinic he counted on medical assistance on the part of German specialists who practiced at Kyiv military hospital. But having learnt the situation and compared Serhiy's condition with that of the rest of wounded soldiers with similar injuries, they preferred to choose another patient.
– I used to rely upon the treatment in Germany much, – Serhiy continues. – Still there emerged a dilemma whom to choose for treatment, me or a 19 years old guy who lacked 15 cm of ligament. Of course I immediately stepped aside to make way for a younger fighter. And I am going to deal with my injury here…
Violetta Kirtoka, Censor.net
---
May we remind you that Serhiy joined the «Bioengineering Rehabilitation for Wounded» project on July of 2017. Most part of cost of his treatment we, the volunteers at People's Project, have already paid at the expense of donations made by sympathetic Ukrainians and the diaspora representatives. We are sincerely grateful to you, dear friends, for your consistent support of the Ukrainian fighters! Now they need your closest attention and help more than ever. To pay for Serhiy's treatment in full we need just another 50 thousand hryvnias, and we are convinced you will support our hero!