He came for an examination, and got on a hospital bed. One of the latest patients of The Bioengineering Rehabilitation for Wounded Project Sergiy went through an unscheduled surgery. He arrived to The Ilaya Clinic for a control examination. It showed, that fusion of an ankle joint occurred, so doctors immediately dismantled a part of the massive external fixation system, which covers Sergiy's left leg completely. The main stage of a treatment for Sergiy is yet to come. When the leg strengthened a little, doctors will compensate a significant bone defect with a use of a cellular technology. On practice, this innovative treatment proved itself helpful against almost hopeless injuries.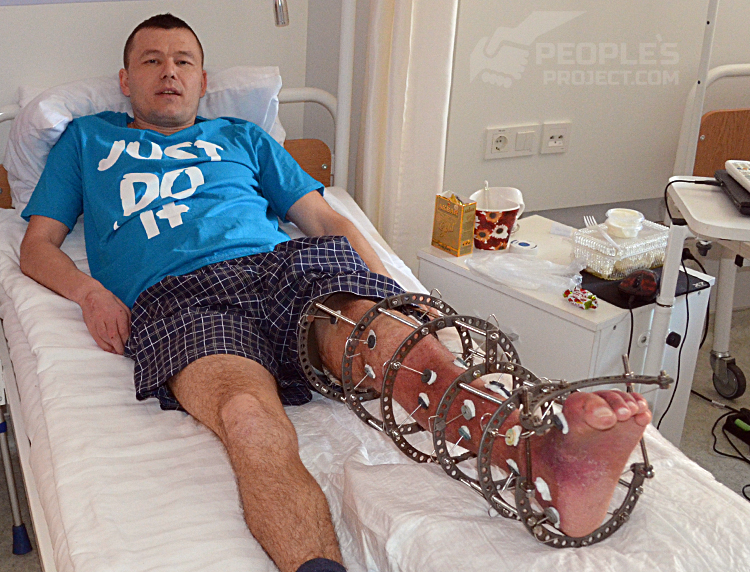 Sergiy arrived for an examination
Sergiy is a sapper, and he hit a hostile stretch. It happened at Luhansk region, near the Krymske village. The explosion severely cripples his left leg and hurt his arm. All 7 surgeries were in vain. Crushed bones have not fused even after a year of a treatment at public hospitals. Traditional treatment did not helped. The femur shortened, and even if it has fused, it would cause numerous negative effects for health eventually.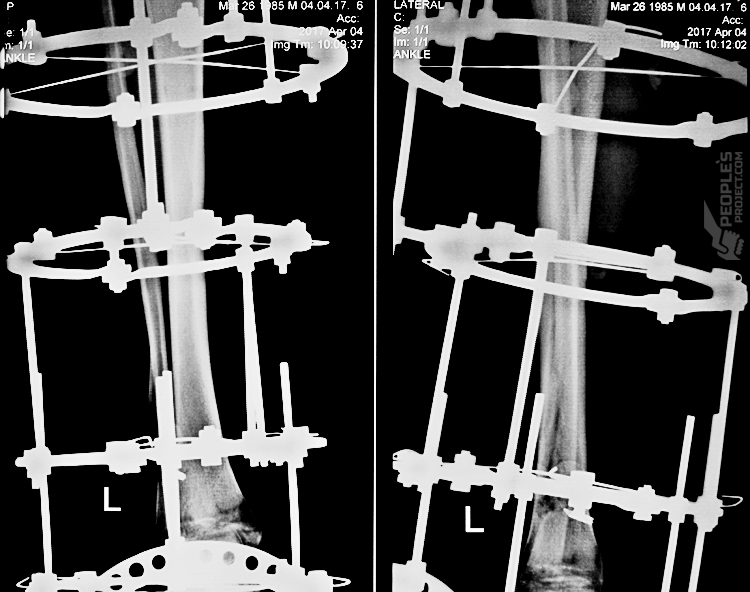 Fusion of an ankle joint is finished
In terms of The Biotech Sergiy's femur will be stretched and fused using cellular technology. The explosion damaged one of the important nerves, so the foot had to be fixed by fusion. When leg recover doctors start the treatment of an injured hand. The injury of metacarpal bone allow to wait for a while.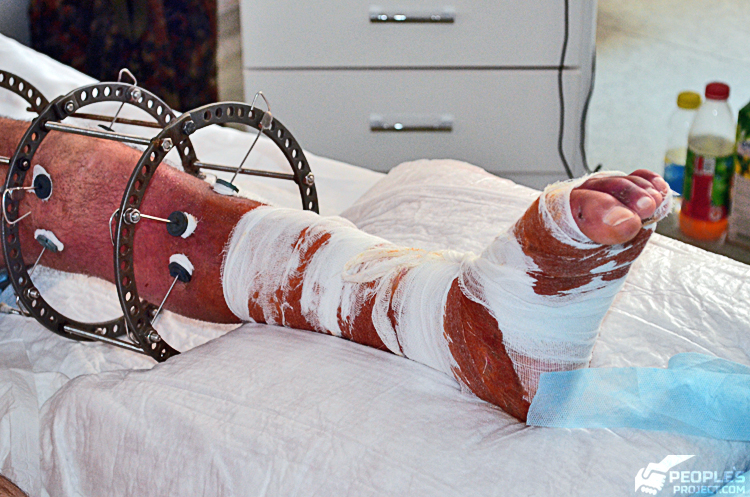 The metal-free foot
Conventional medicine was powerless, but government does not finance modern kinds of a treatment. For the treatment of Sergiy volunteers of The People's Project collected 500,000 UAH through donations. Your contributions to The Bioengineering Rehabilitation for Wounded Project allow us to bring back to normal life seriously wounded defenders of Ukraine, which were abandoned by the government. Therefore we urge you not to dwell. Together we create the miracle of life.