During the last time The People's Blindage Project is one of the most active, since it is pretty hot at the front line lately. We send blindages of own production to the hottest spots of the front line constantly. Few dozens of such blindages are already set on the positions of the Ukrainian defenders and we keep producing more and more.
Soldiers of 72nd Separate Mechanized Brigade who keep defense at Avdiyivka sent us a few photos. They live for a long time at the blindages of volunteers' production. Those blindages are set at Zenit base, which is close to the hottest spots of the front line, such as a notorious Butivka mine, and a new terminal of Donetsk airport. This is why safe shelter is literally priceless in there.
At the first blindage is arranged a sort of a pre-entrance room. This room is well fortified, and connected with a system of trenches and shelters. It perfectly complements and strengthens a blindage, and protects it from cold and random fragments.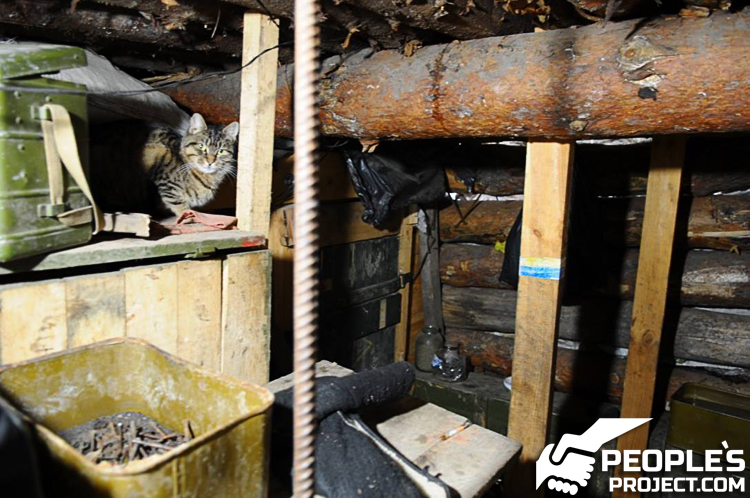 Cats love blindages
Strengthened with additional decks and sandbags this blindage is a wonderful shelter from bullets, shells, and a winter cold.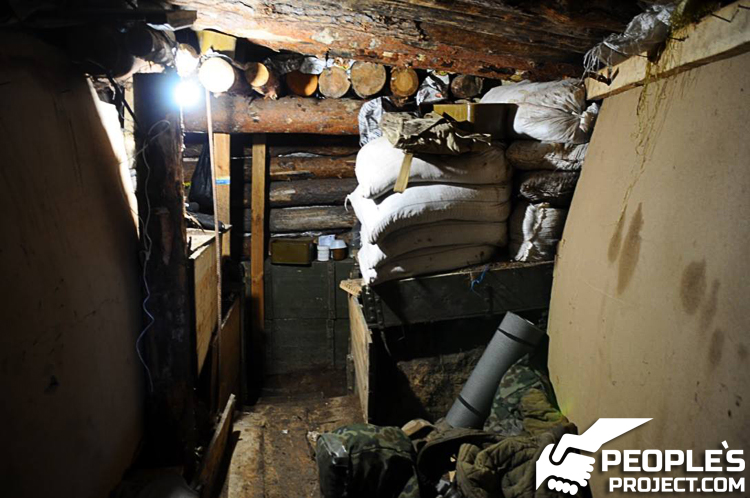 A blindage is perfectly habitable for a long time already. There is a wood stove crackling in a corner. Equipment and weapon lies everywhere, ready to be picked at a moment of alert.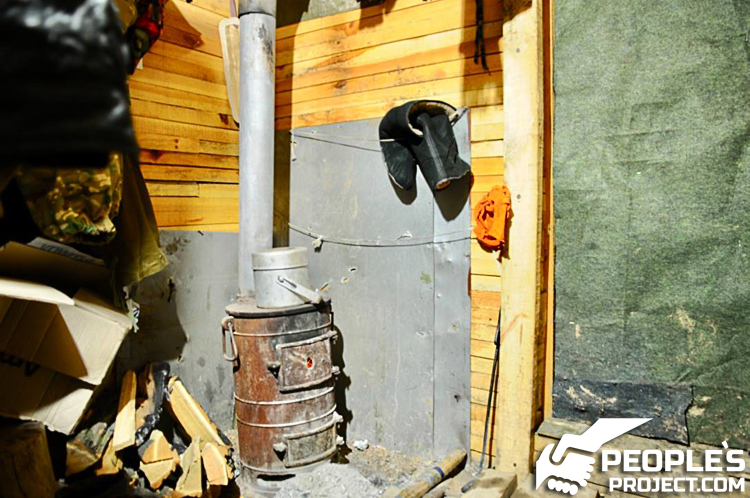 This is a blindage how it is from the inside. A dozen of Ukrainian defenders live inside of it. Of course it is a little bit tight in here. But the main point of a blindage is not to provide a 5-star accommodation, but to protect Ukrainian soldiers from bullets, shrapnel and frost. And this task it accomplishes perfectly.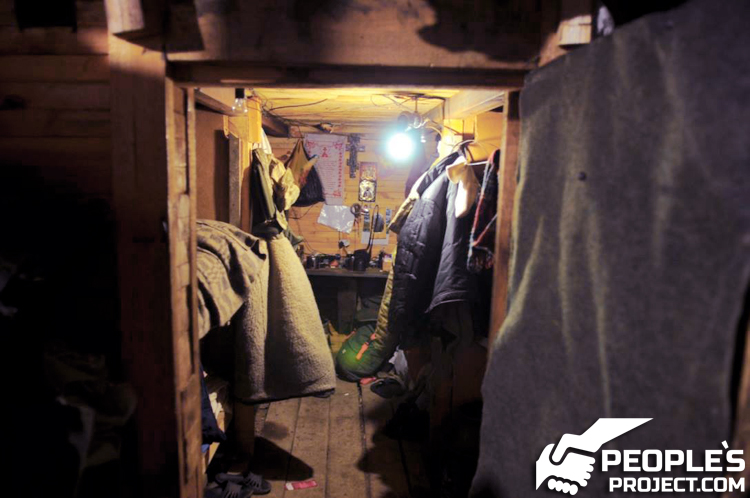 Here it is the second blindage. It has no pre-entrance room, but is cleverly hidden behind the cover of a surface. It provides an additional protection for Ukrainian soldiers, who live here and keep this position.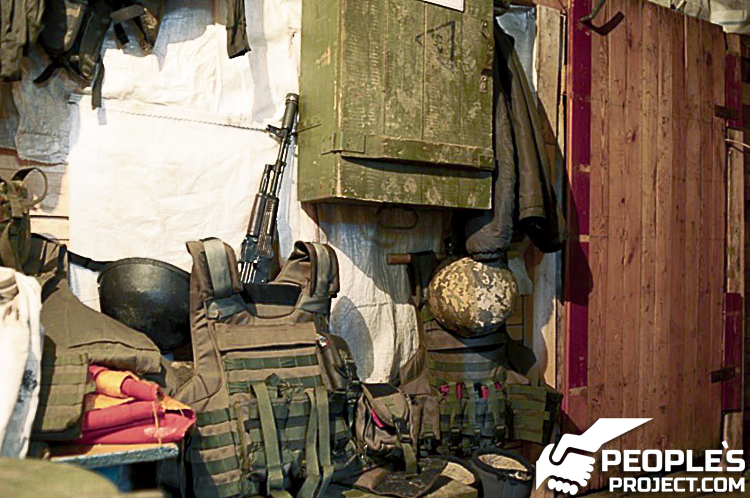 There are no any special facilities inside of a blindage. However, there are everything to accomodate 10 men for a long time in a relatively comfortable environment, and protect from all possible dangers.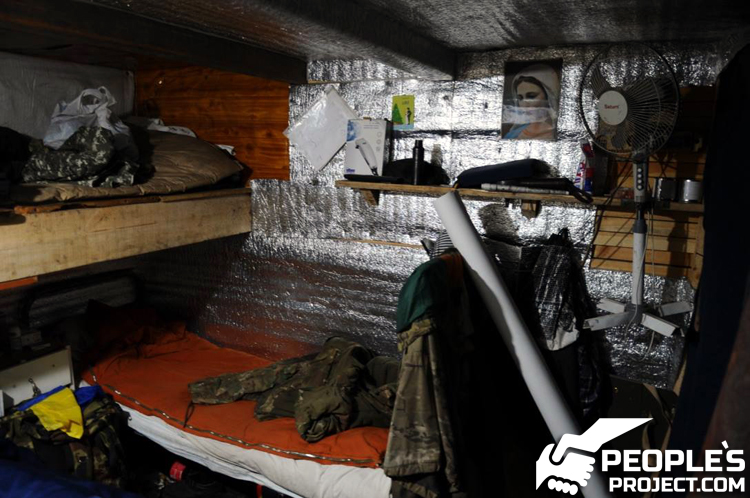 Here you can find sleeping beds for up to 10 men. Also, soldiers covered the walls with an additional insulation, which keeps it warm, dry, and cozy.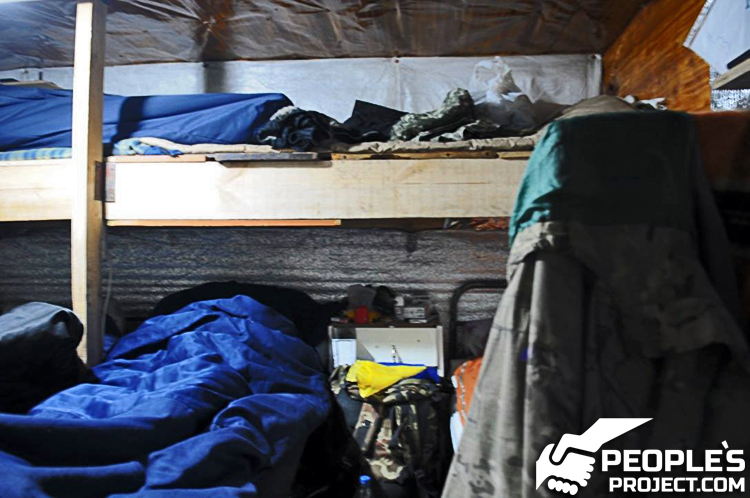 At the next position a new blindage is being built in an inconspicuous hole. Just recently we transferred to Avdiyivka 5 more new blindages, so Ukrainian defenders preparing responsive places for them.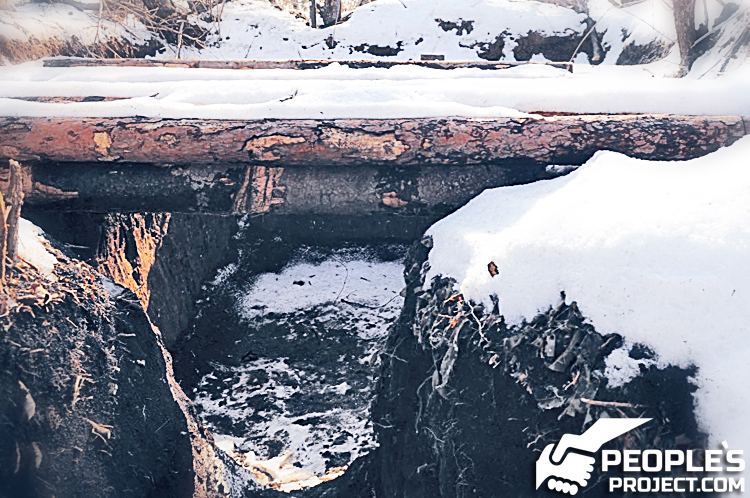 The volunteers of The People's Project transferred to the front line over 70 blindages. However, it is not enough to fulfill the constant needs of the military. Ukrainian defenders themselves say, that blindages of Ukrainian production are one of the best engineering solutions for this particular reason.
This blindage Ukrainian marines quietly built under the nose of the enemy in a matter of hours
Blingade is a construction, designed to be built in a few hours. It is strengthened from the above with a natural coverage, which provides excellent shelter for up to 10 soldiers, and protect them from the cold and enemy attacks. Those blindages can be produced only with help of donators, because all the materials we buy only at the expense of charitable donations or sponsorship contributions. Join The People's Blindage Project. Your donations save lives of Ukrainian defenders.