Doctores at China's Peking University Third Hospital have conducted the world's first surgery to remove five vertebrae in a patient with malignant tumors of the spinal cord and replace them with 3D-printed implants. Thus, they became the first surgeons in the world to replace a large segment of the spine.
The patient, identified as Mr Yuan, suffered from hordomy through which he had to undergo the removal of 19 cm of the spine, including vertebrae 10, 11 and 12 and lumbar vertebrae 1 and 2. Removal of the vertebrae was the only chance of saving his life.
On June 12 2016 in the orthopedic department of the Peking University Third Hospital, professor and surgeon Liu Zhongjun and colleagues conducted the world's first surgery to implant thoracolumbar 3D-printed implants to a length of 19 cm.
Surgeons fully replaced five vertebrae in the the patient. They implanted artificial vertebrae between adjacent intact vertebral bodies in order to provide sufficient support for the spine.
"This 3D-printing technology has allowed us to create artificial vertebrae that are, in form and length, similar to the five sections that were to be removed," Professor Zhongjun said.
The si-hour operation took place without any complications. The patient lost some blood, but his vital parameters were stable. He was immediately transferred from the operating theater to a general ward. Currently, the patient is recovering and has good prospects.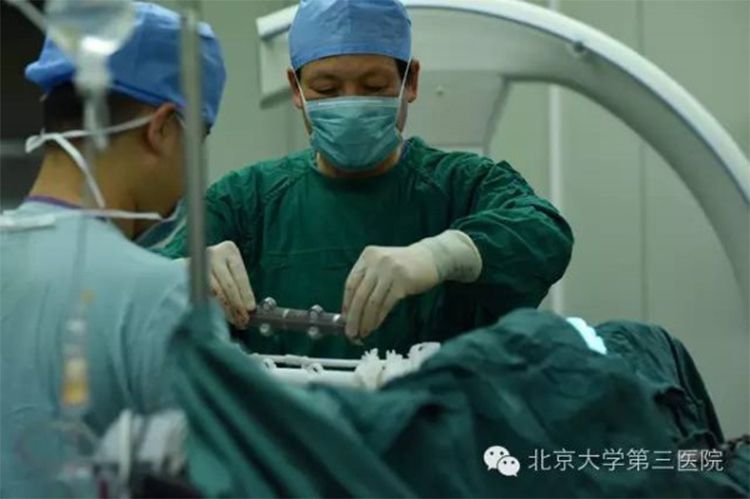 Ukraine also has made great achievements in the development and application of cellular technology. Ukrainian biotechnology has restored bone, tissue and nerve cells. This technology is being used to restore damaged joints and limbs in injured ATO soldiers, returning them to function and mobility. This technology is offered by only a few clinics throughout the world, including in Ukraine. Ilaya Medical Company and The People's Project, under the Bioengineering Rehabilitation for Wounded project, treats seriously wounded Ukrainian soldiers and returns them to a normal, healthy life.
Earlier, The People's Project reported the incredible restoration of the bone in a 19-year-old's leg. Recently doctors formed new bone in a wounded soldier from the "Donbas" Battalion.
In the project Bioengineering Rehabilitation for Wounded, iLaya clinic doctors are using the latest biotechnology restore the damaged limbs of wounded Ukrainian soldiers.
Currently the collection of funds for the treatment of five wounded is underway and four more are waiting in line to join the project. For them biotechnology represents their only chance for recovery. Since the state, through legislative and other restrictions, can not support biotechnology in the treatment of wounded soldiers, their only hope lies with people.
We ask you to get involved and help Ukraine's defenders.