The injured tibia of this National Guard soldier is healing successfully. This evident by the X-ray made one-and-a-half months after the main phase of treatment was completed. According to the doctors from the medical center ilaya, fracture healing and an active merging of implanted autologous cell-tissue material with Andriy's bone can be observed in the X-ray.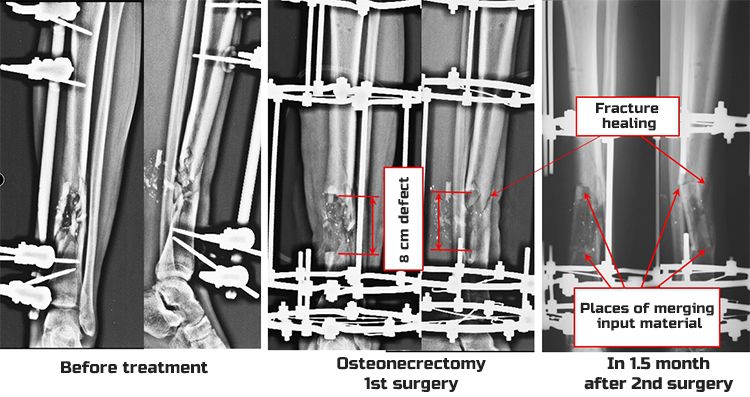 After examination of the fighter's leg doctors recommended he start excercising it and putting weight on it.
National Guard Andriy was admitted for treatment as part of the social project Bioengineering rehabilitation for the wounded in November, after suffering the consequences of severe shrapnel wounds to his left tibia and a tibia defect of 8 cm. Read Andriy's medical history via this link.
Traditional medicine offers either a prosthesis or Ilizarov apparatus when treating this kind of injury. In Andriy's case treatment would have taken more than a year. However, by using cellular technology, the medical center ilaya succeeded in mending the bone in 1.5 months.
1On November 19, the soldier underwent the first stage of treatment. This included four surgeries: cellular material sampling, resection of the necrotic bone fragments of the tibia, intraosseous osteosynthesis by Ilizarov and replacement of the soft tissue defect of the posterior surface of the tibia's local tissue.
During the second stage of treatment, which happened on December 17, implanted into the bone defect was autologous cell-tissue material 8 cm long and 2 cm in diameter.
Andriy was injured as a result of enemy Grad shelling on August 27. The soldier underwent a number of surgeries in military hospitals but traditional methods of treatment did not provide for bone healing and threatened the soldier with permanent disability. Volunteers have helped the fighter to enroll for treatment as part of the Bioengineering rehabilitation for the wounded project. The funds needed for his treatment, totaling 159,706 UAH were raised by the Ukrainian volunteer center The People's Project.