The injured tibia of National Guard soldier Andriy is successfully restoring. This was indicated by the latest X-ray taken 1.5 months after the main phase of treatment was completed. According to Ilaya Medical Center doctors healing of the fracture and active fusion of input autologous cell-tissue material with Andriy's existing bone can be seen in the X-ray.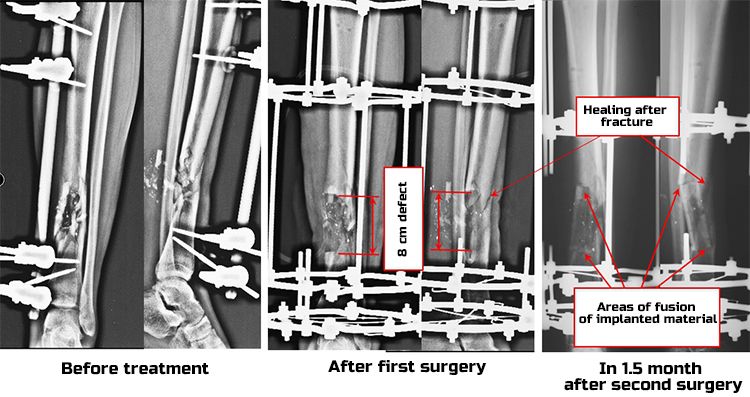 Also, after examining the fighter's foot, doctors recommended physiotherapy for the injured leg.
A national guard, Andriy was enrolled for treatment under the social project Bioengineering Rehabilitation for Wounded in November as a result of the severe consequences of shrapnel wounds to his left tibia and subsequent tibia bone loss of 8 cm. You can read his story at this link.
Traditional medicine treats such cases with prosthetics, or by using Ilizarov's method of bone extraction. In Andriy's case that treatment would have taken more than a year. However, by using stem cell technology Ilaya managed to achieve visible bone fusion in just 1.5 months.
On November 19 the soldier underwent the first stage of treatment, during which four surgeries were performed: cellular material was collected, resection ofthe necrotic tibia bone fragments, intraosseous osteosynthesis by Ilizarov, and replacement of soft tissue loss of the posterior surface of the tibia with local tissue.
During the second stage of treatment, on December 17, the area of bone loss was injected with autologous cell-tissue osteo-progeny material 8 cm in length and 2 cm in diameter.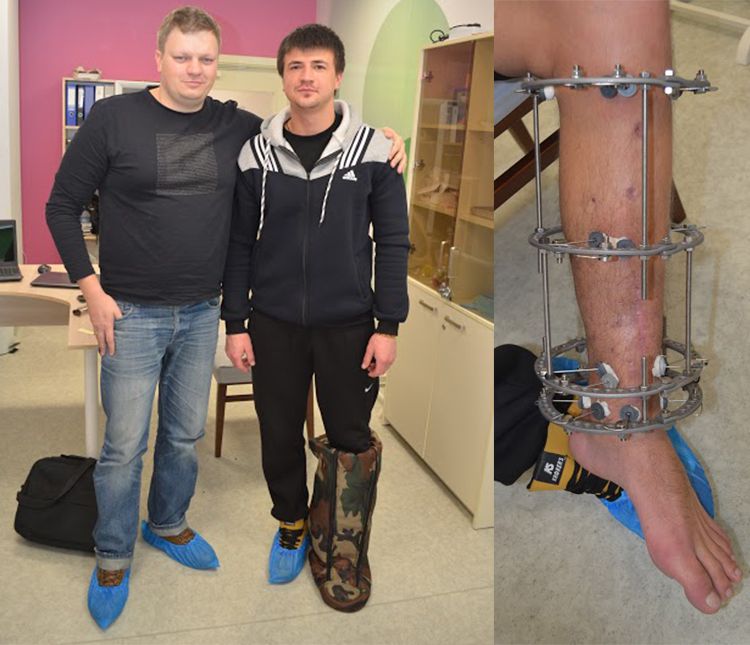 Andriy was injured as a result of enemy Grad shelling on August 27. The soldier underwent a number of surgeries in military hospitals, but traditional methods can not restore the bone and threatened to leave his with permanent disability. Volunteers helped him enroll for treatment as part of the Bioengineering Rehabilitation for Wounded project. The 159,706 UAH needed for treatment was raised by the volunteer center People's Project.