It often happens that when it comes to a particular individual, the case nevertheless involves everyone concerned. People's Project volunteer initiative has been actively working on the project specially designed to raise funds for Vadym Ushakov. A popular Ukrainian TV host and activist, Ms. Yanina Sokolova, has joined the Saving Vadym initiative as well: during one of her video streaming sessions she found certain encouraging words and addressed everyone who owes their peaceful and serene existence to Vadym, urging them to support the wounded guy. Why? "While we were sitting here, in peaceable Kyiv, he had our backs safe!", – this is how Ms. Sokolova expressively finalized her appeal. Dear friends, we couldn't agree more. All the donations made by people from Poland and the USA during her live show, its host has already transferred to the official account of the Saving Vadym initiative.
Vadym is a fighter of the 81st Airmobile Brigade who had been severely injured during the battle in Promka in 2016. At the moment, physical exercises seem the most appropriate way to restore the guy, still these are hampered by neurological effects: Vadym is suffering from spastic muscles, severe spasms and seizures that practically twist his entire body thus hindering rehabilitation in general.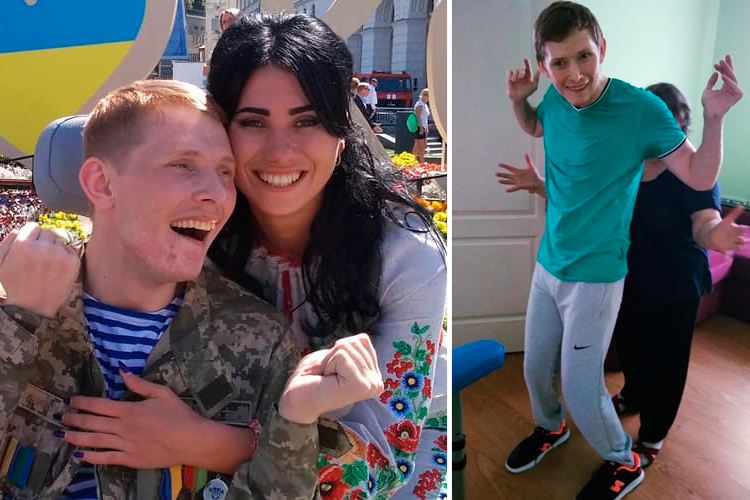 The sum we need to collect is rather small, it makes a bit over 29 thousand hryvnias, as together with you we have already managed to raise over half a million hryvnias. In a few days we need to complete the fundraising process and buy a special medical pump. It is to be implanted into the guy's body in order to infuse medications to relieve him of spasms. Unfortunately, all other ways of delivering medical substances in his body, like pills or injections, do not work for him any more. So together with you we can give Vadym the chance for a life without pain as well as the opportunity to recover from the effects of his heavy injuries. Dear friends, we have to ask you to join in. Even the smallest input would be highly welcome and appropriate, and even the minor donation matters a lot. Please come join in.