Description
Update of the status of the project from 09.2020:
currently, due to all the difficulties associated with the epidemic of coronavirus infection and the corresponding quarantine, Vadim managed to get in the state neurorehabilitation center for one next year. Accordingly, the purchase of exercise equipment and home gym equipment is somewhat shifted in time for the future. The funds raised under the project will be saved to the penny until Vadim returns home and needs further assistance in recovery and rehabilitation.
Stage II
Dear friends, we are resuming the Save Vadym initiative for the second stage. Turned out that under the conditions of the quarantine it is now impossible to continue keeping him in the hospital ward or at least to regularly take him to a neurological rehabilitation center. Still the guy needs to train every day: the consequences of his injury are severe, and to avoid regress he needs to move and go on with his recovery rather actively. Due to the severeness of his neurological trauma, constant movement and training is the key not only to his recuperation, but to the entire well-being. To keep on daily training, Vadym desperately needs a special exercise bike that will allow him to actively train various muscle groups and maintain the overall vitality. At the moment, it is essential.
The cost of an appropriate model of an exercise bike is 129,000 UAH. Some sympathetic people interested in the guy's recovery including Vadym's family and friends, have already been raising funds for this purchase. As a volunteer community, we've been honored to get the invitation to this useful initiative, and help centralize fundraising facilitated with a convenient transparent system of reports.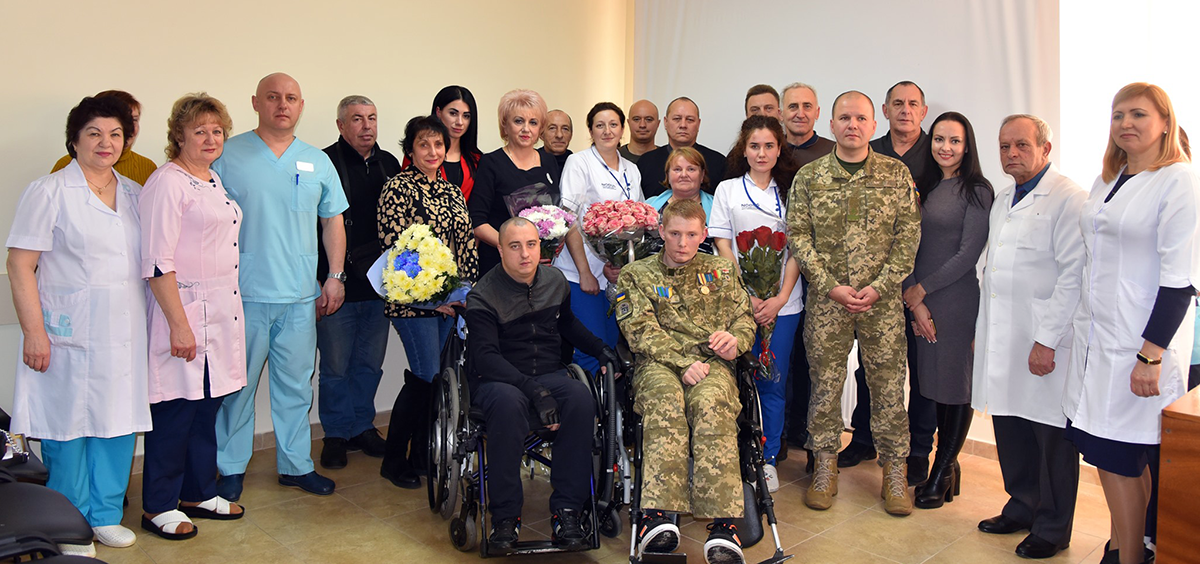 Admittedly, some time ago while opening this project we had had certain doubts about it. Is it possible to collect as much as half a million? Is the medical pump going to eventually benefit? But time and experience have once again proved that a shared aspiration for a bright goal turns out to be highly effective even in situations where the chances are faint. And, thanks to the help of good people, we managed to collect the necessary amount fairly quickly. The surgery proved to be a success: controlled medication injections performed by the pump, relieved Vadym's continuous muscle spasms and pain, improved his general condition and gave him the opportunity to advance in further rehabilitation.
Logically, if we succeeded once, then why not to try make it twice, right?
Dear friends, the times are truly harsh nowadays, aren't they? Still our goal seems exceptionally worthy. So we encourage you to take an affordable part in this initiative that aims to give Vadym a really good chance for further improvement in his rehabilitation. His condition is still far from perfect, but the chances for recovery are pretty good. Dear fiends, can we just stand together and help him use his chances in full, can't we?
Below, you can read Vadym's heroic story about his injury and four painstaking years of struggle for his recovery as well as the report on the first stage of the project during which together we helped the guy to take another step toward the recovery.
Stage I
Dear friends, People's Project is now changing its own rules a bit: today, we launch a project aimed to help a particular person. We are talking about a young fighter whose name is Vadym Ushakov. He has been suffering from the consequences of a heaviest injury and for the third year in a row undergoing exhausting treatment at special neurological clinic Nodus.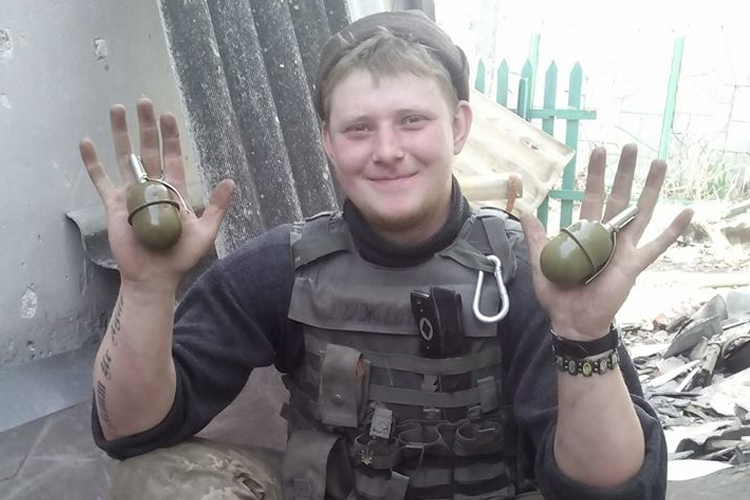 Some time ago this young guy (Vadym is just 28 years old) defended our homeland and served as a machine gun operator in the 90th battalion of the 81 Airmobile Brigade. In April of 2016 there happened a fierce close combat in Promka, an industrial zone near Avdiivka. The enemy attacked our positions, time after time shelling our troops with heavy munitions. Vadym got hit by an enemy grenade: it is no secret that a machine gun operator is an enemy's primary target, so as soon as he disclosed his position, it was immediately attacked. A VOG grenade hit the guy under his arm, and its explosion cut his body, head and face heavily.
At the hospital to which the guy was immediately taken, it became obvious that the injury was much more complicated than it looked before. The most apparent wounds got healed, still the consequences of brain damage has still been causing lots of troubles. Tetraparesis, aphasia and continuous severe headache are the main manifestations of the trauma Vadym has been suffering from. He cannot speak despite being perfectly conscious. For the guy, it is pretty hard to move: it is not about the paralysis, but Vadym's arms and legs remain too weak. All these effects are to be overcome by means of continuous training. To get over these, or at least decrease their effects, the guy needs to undergo complex rehabilitation. Luckily, Vadym's organism reacts to his doctors' efforts quite appreciatively, so there has been gradual progress in his rehabilitation.
Still, everything is hindered by a difficult and absolutely impenetrable problem that cannot be surmounted so far: it is spastic problems and prolonged muscular contractions that twist the body and cause regular severe pain. This spastics nullifies all the efforts taken by Vadym's doctors and makes further rehabilitation impossible.
What are we collecting money for
Unfortunately, Vadym's body does not react to any medications any more, neither to pills or injections of muscle relaxers and painkillers. We have to accumulate money to buy special infusion system Medtronic Synchromed II. Medics will install it for free, still the system itself is rather costly. The device is an automatic pump that is to be surgically implanted into body; it will periodically infuse special medications, muscle relaxers aimed to relieve the muscles, into designated areas. For today, the system will allow to relieve the muscles, ease the spasms and help Vadym to get rid of constant pain.
Moreover, as soon as spastic muscles have been removed, it will become possible to embark on the main course of rehabilitation, that is restorative training, speech therapy and the rest of exercises and methods contributing to restoration of Vadym's health and helping to bring him to normal life both physically and mentally. All this is essential as the condition of any bedridden patient suffering from muscle spasms, inevitably radically worsens with time.
Thus, application of the infusion system seems the only right solution in this case. It is the treatment scheme Vadym's doctors have been considering for a long time upon consulting with their foreign colleagues as well as specialists from other medical and scientific institutions. Most probably, it is this time-consuming and difficult way that will take much efforts, can help the guy to recover. But it is pain and spastic muscles that present the main obstacle to it, and we are going to get over these by means of the infusion system.
Dear friends, do we really have to explain that every single hryvnia of your donations is a chance for this nice guy? If we fail to accumulate the necessary amount, we will leave him to face his terrible misfortune on his own. He will remain bed-ridden for ages, and will always need special care. So each proper amount of money donated for Vadym's restoration, would be exceptionally appropriate and welcomed.
You can easily follow every incoming contribution in real time: the link to the project report you can see above, below the main photo. As always, People's Project never charges any interest rate or commission fee: the entire sum of money raised will be allocated to Vadym's treatment purposes solely.
Dear friends. Please be so kind to support us. It is truly vital for the guy who needs to survive.