Our ward within the Bioengineering Rehabilitation Project, the ATO fighter who had hit a Russian PMN-2 landmine, tells in his interview for Krapka that he is learning to live anew and aspiring to start own business.
"In May of 2017 we took a part of the grey zone near the village of Olenivka, Donetsk region. We had to de-mine the field as there were lots of anti-personnel landmines there. Provided the Russian PMN-2 virtually does not contain any metal parts, it is exceptionally hard to detect it. One mine went off just under my leg…, – a former scout, 25-years-old Petro Oleksyuk, recollects.  – The explosion dropped me away. I remained conscious. I immediately inspected my legs and saw no blood on them; my boots looked undamaged. The pain was rather bearable, still gradually increased as time passed. Soon I realized my foot gone totally crushed. During bandaging it became clear that the bones in it turned into a mess. The surgeons were going to cut my leg off; it is only thanks to the volunteers' persistence that it was saved."
The scout was unbelievably lucky. In practice, stepping on an antipersonnel landmine inevitably leads to lethal outcome due to the severest injuries. Having hit a mine, one usually bleeds to death. Yet Petro Oleksyuk not only managed to survive but also to retain his leg! Moreover, the credit for his salvation goes to not the best European or American medics, but to the Ukrainian doctors and technologies developed at ilaya clinic.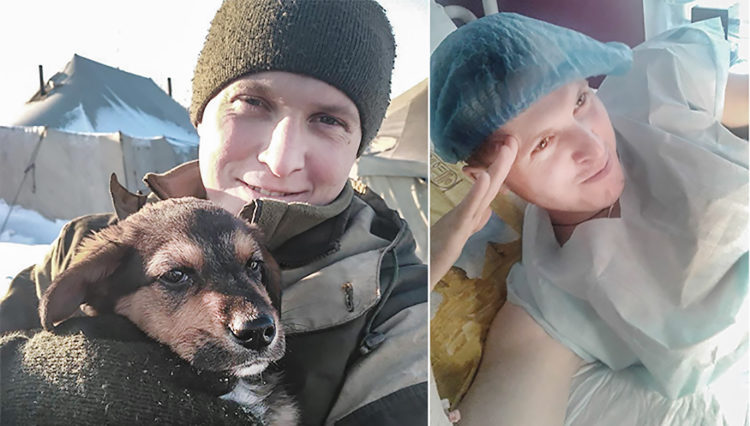 The method they use looks like a fantastic one. Medics take the patient's own cells and grow the bone tissue out of it. Once shaped properly, it is being used as an implant. The body takes the tissue as familiar, so there is no threat of rejection, and healing goes much faster. As a result, the newly grown bones grow into a monolith as if there was no injury.
Still in Petro's case the miracle wouldn't have been possible if not the persistence of the volunteers of the All-Ukrainian volunteer center People's Project, supported by Petro's own inimitable willingness. Today, the guy is undergoing a few surgeries a month; simultaneously he is studying Ukraine's tax system and masters the principles of social business. The ATO veteran is going to launch a business of his own.
"It was not romanticism that led me into volunteering"
Petro was born in Zhytomyr region. He graduated from pedagogical lyceum; later he moved to Kyiv where studied and then graduated from the Taras Shevchenko National University. He got the bachelor's degree at Physics. The guy planned to continue studying at the Innovative Technologies institute, still went on an academic leave and volunteered to the army in the summer of 2014.
"I volunteered to the front not because of some romanticism or even my patriotism. I just decided that I had to give a hand to the guys who fought there. Lots of my friends went to the ATO then, and I could see how hard the times for them were. I realized what the conditions were like then: no washing, no hot meals, no tea and so on. And the continuous ceaseless fear. We stood in the village Doslidne, in Donetsk airport closest vicinity. Each night Grad shelling occurred. It was quite natural to feel scared under these bombardments. Still once the idea came to my mind: "Why on Earth should I fear? Is the enemy better than me? He is just a human like me. But I'm on my own land, and he is just an alien here. Let him fear instead!" – Petro says.
Nevertheless, he is rather unwilling to talk on the war matters. The fighter gets excited only when recollects how he once encountered with his recently mobilized father at the forefront.
"I rarely used my phone – could keep it off for a decade. My father preferred the same way. We used to keep in touch via my mum, still she didn't know the number of my brigade well. So my father was dislocated to some new place. While smoking with his comrades, he once told them: "My son has also been in service. Tiger is his call sign". – "Is he from Zhytomyr region? We've got such a fighter here!" – Petro recollects.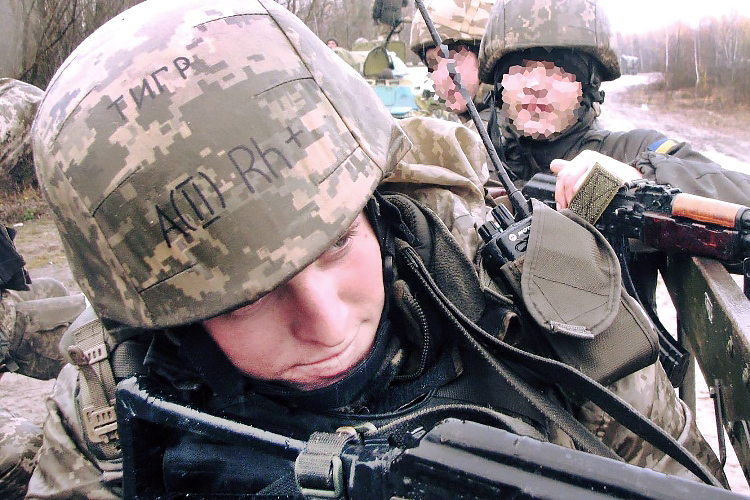 Once he learnt where his son was placed, Petro's father hastened to visit him.
"He came over when I was sleeping after the combat mission. He didn't wake me up. I awakened for myself because I heard his voice sounding from behind the wall. I thought I was still sleeping. So I got up and walked out of the room. And saw my dad seated amongst my comrades. Having a smoke and drinking coffee. Still there was no time to celebrate the meeting as on that very morning a Russian saboteur group advanced to our strongholds aiming to take them over. We fought back, and two our guys were killed then. One of these had accompanied me in my trip to my parents' place once. And on that morning, it was my father who had to evacuate his body from the "point zero".
"He squatted holding his foot tight; his teeth clenched…"
The veteran tells that he was always trying to wear maximum body protection: the body armor with all due equipment, kneepads etc. While de-mining the territory, he advanced cautiously, still the detector failed to spot the Russian landmine. It contains nearly no metal parts. By the way, PMN-2 use is prohibited by the Ottava Convention.
Our hero's comrades describe that day in the following way: "First it seemed that somebody threw a grenade. At the initial seconds we thought they are going to storm our positions. But no shots followed the explosion, and everything remained still. It was unclear what exactly went off. Petro was standing right where this happened, quiet, with his face wearing a surprised look. Then he muttered: "F…k, my leg". But he didn't fall down, tried to lay down slowly (not to hit another landmine). So he squatted holding his foot tight; his teeth clenched… Tryin' to utter something but cannot. He knew he shouldn't scream because if they heard the scream it would have ended in something much worse…"
The wounded fighter was carried on his comrades' backs for about two kilometers. Then he was delivered by a "tablet" (a sanitary vehicle) to a field hospital, then to Dnipro by chopper, later transferred to Odesa and eventually to Kyiv. At all stages, doctors insisted that the injury was too severe, and amputation remained the only way out. And each time volunteers pulled the guy off the surgery table.
"Firstly, doctors were concerned about possible inflammation, then they pointed out to the crushed bones and insisted that amputation was the only way out. At that time, I didn't care. The pain was almost unbearable, as if somebody hammered my leg with a huge bat. So I was ready to do anything to stop this", – Petro admits.
The volunteers describe the situation like this: "We pulled him out literally from under the blade. The amputation was due at 10 AM, and the doctors could not see any other options. Still arguing and almost fighting with them, we managed to get Petro out of hospital and brought him to ilaya clinic. Their surgeons believed the chances for successful outcome were fifty-fifty. We decided to take the risks. Actually, they could have cut the leg off in a week, still there was no way to attach it back," – Maksym Ryabokon, the coordinator at People's Project, says.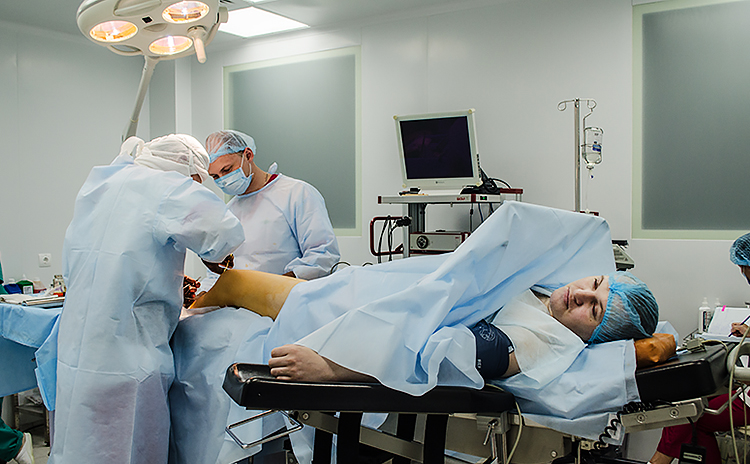 Overall, Petro has undergone lots of surgeries, and the sum spent for his treatment, amounted to 800 thousand hryvnias. Still amputation is not the option any more
"I'm not going to be a coach"
Over the time Petro spent in hospital wards, the guy has gained considerable medical experience. Today he quite confidently speculates on the influence amputation exerts on blood circulation which often results in various heart problems. Also, he says that the patients with active lifestyle need to undergo re-amputation each three or four years, and then change their prosthesis for a new one.
"Let's calculate. The cost of a prosthesis starts from 300 thousand hryvnias and up. Provided after being injured, a veteran will live for another 30 years. Over this period of time, he will need to change ten prostheses, and the state will spend on this about 3 million hryvnias, – Petro says. –  While biotechnologies present me a totally different option: once you recovered, you can live a full. And there's no better thing that your own living leg".
According to the volunteers, the guy is distinguished not only for his optimism and cheerfulness, but also for his highly responsible attitude and honesty. Earlier, on another release from the clinic, the guy worked as a Maths teacher. And sent the greater part of the earned money for his own treatment purpose, despite the fact nobody asked him to do so.
When asked about his further plans, Petro responds like that: "I could come back to the army and become a coach at some military training center. Still my joint will remain not fully functional. So I will need to use special footwear and will be able to walk only on even surfaces. But military center means not only parade grounds. I will watch the guys running and preparing to skydive. And I have always gone for that. So I may get a bit envious for them or perhaps feel embarrassed. Therefore, I have to find different ways of self-realization."