Last week, some four months after the  primary stage treatment of Evhen's upper left arm, the soldier had a fresh X-ray taken and the external fixation apparatus was removed.
The X-ray slides show the formation of new bone tissue at the injection site of the 3D-gel chips osteoplastic material and autologous stem cells and splicing if the previously displaced fracture.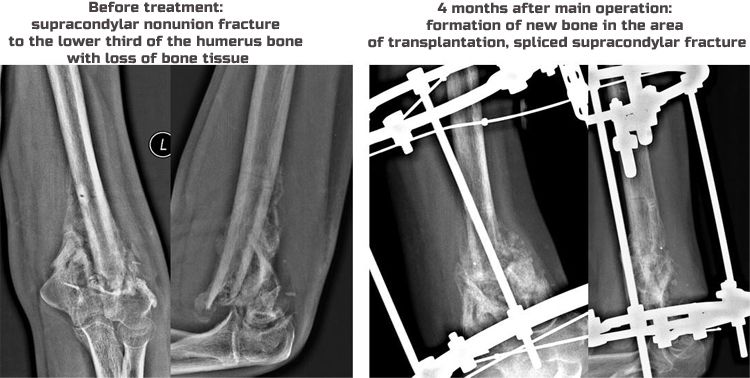 Evhen was injured in August 2014 during the shelling of border positions under Novoazovsk – suffering a displaced fracture of the lower third of the humerus bone with bone loss of up to 20 cm3. His elbow joint was significantly damaged, bending only 15 °.
In the framework of the project Bioengineering Rehabilitation for Wounded on February 26 treatment on the border guard commenced with his first operation: open repair of the fracture of the humerus, extrafocal bone fixation and sampling of cellular material (fragments of fibula and bone marrow).
On May 26 the primary operation was carried out – at the site of Evhen's left humerus defect 3D-gel with chips of osteoplastic material was introduced along and autologous stem cells.
Funds for the total cost of treatment of the fighter, 194,818 UAH, were collected through contributions from people to The People's Project crowdfunding platform.
For more about Evhen's injury and treatment follow this link.