Very soon, within days and hours, Petro will get into the doctors' hands again. This time they are going to remove a huge cumbersome Ilizarov apparatus fixing the ankle joint and some of the broken bones, for the fractures to fuse up and new soft tissues of the foot to be formed. For certain period of time Petryk's leg will remain in plaster, but, logically, the second stage of the entire course of treatment is approaching irrevocably.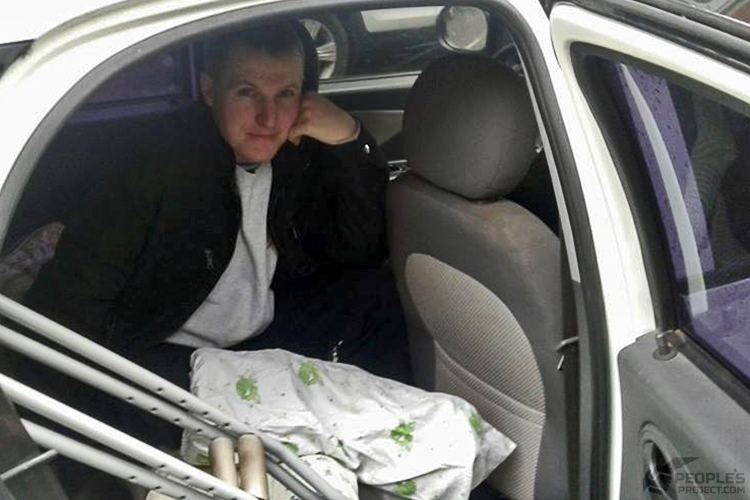 Morning. Sleepy Petro is heading to the clinic again
The misfortune occurred last May. Petro had struck an enemy PMN-2 anti-personnel mine: Petro eloquently shares the whole story and his impressions in the video. Miraculously enough, his leg had not got torn off completely which is rather a common experience, – the blast had just destroyed his heel bone and crushed the foot.
The guy had been immediately taken to hospital where doctors stopped bleeding and stabilized his condition. Seven surgeries, various hospitals – and the question aroused in a Kyiv hospital: as soon as doctors usually do not threat such injuries, there was nobody to try to restore his smashed foot. That is why they came up to the most typical option: just appointed amputation with further prosthetics of the foot. Dismayed Petro was ready to get rid of his leg as well. But friends together with volunteers did not agree to this decision because they were sure that the unique «Bioengineering Rehabilitation for Wounded» project where the most severely wounded military are being saved, could help.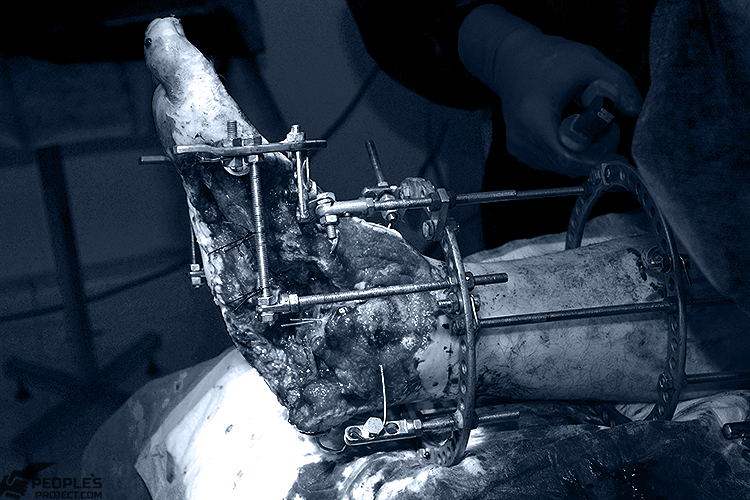 This is the remainders of the foot Petro had before
As soon as we heard about the threat of amputation, together we literally pulled pale and exhausted Petro down from the surgery table. An hour later, the drowsy because of anesthetics guy had been transferred to the ilaya clinic – the charity Project's medical base. To be honest, Petro's leg shocked everyone as they did not happen to see such a chaotic mix of crushed bones and cut flesh, for a long time. But that situation made us understand that despite all difficulties we were able to help!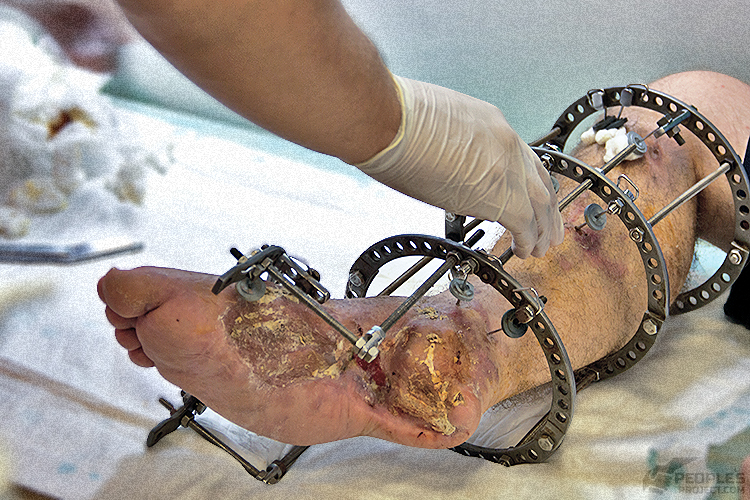 …this is the leg that doctors sculptured for Petro instead of that mash he had before. Still, there is quite a lot of work to do
Just look how observable the difference for today is. Let us dwell on the completed stages in detail. So, for the whole period of about three months during which Petryk has been undergoing treatment within the Biotech, the doctors carried out a number of surgeries and fused up some fractures. These operations have literally saved the leg: the surgeons managed to partially form a new foot and provide continuous blood circulation in the implanted skin and muscles. Yes, the defect in the soft tissues still remains large, but can you agree that the difference between the previous and current conditions of the foot is striking? All these residual defects are to be recompensed later, on completion of the main course of the bone structures' treatment. For this reason, the bioengineering technologists have already worked on Petro: while the guy's skin and muscles are being restored, they cultivate necessary cell cultures they will need when treating bone structures, out of the previously taken cell materials.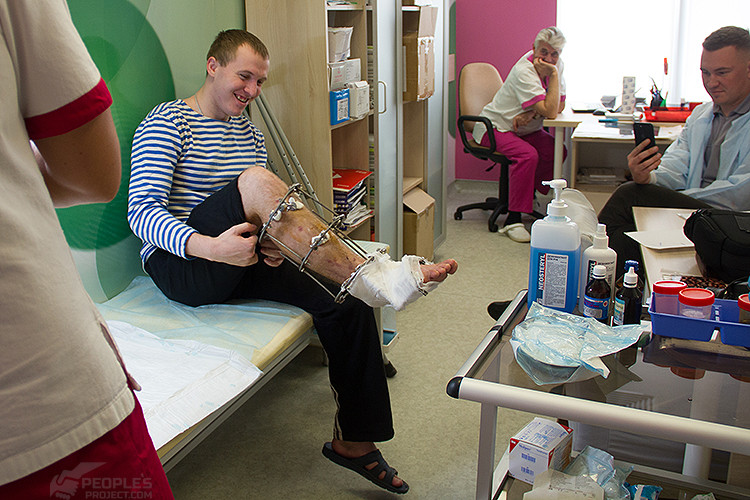 Some tissues will be grown up anew, the other areas treated locally, and certain joints are to be firmly fixed – time will tell. Let us repeat – like in Yevhen's case – the human organism is a wise biological mechanism able of self-restoration, and the foot is one of the most sophisticatedly configured body hubs. If some joints partially lose their functionality, the rest of them take their work up to share the load evenly on the whole leg considering the injury. that is why both the doctors (due to their practical experience) and we ourselves (because of our credence in miracles) are now sure that Petro will walk on his own two feet again.
There exists a down-to-earth belief that if anyone rubs this cabbage head he or she will become a parent soon. Not sure if Petro is aware of this idea but this guy should hold on anyway
Now to purely pragmatic issues. Petro's complete course of treatment costs quite a considerable amount of money: it is so sizeable that we had to split it into three parts in correspondence with three phases of treatment. For now, thanks to you and our anonymous contributors, we have already paid almost half a million hryvnias, and today we are preparing to pay the next bill for another 50 thousand. But full amount has not been raised yet: to complete it we have to accumulate as much as 300 thousand. Petro himself is participating the process vigorously: the guy moved to the capital and now gives Physics and Math lessons for primary and high school students. We would recommend everyone to pay due attention to his offer as the guy went to war immediately from Kyiv National Taras Shevchenko University where he studied at the Radio Physics faculty, and he is very good at teaching his favourite sciences to people.
The state refuses to support highly innovative methods of treatment based on cell technology, so far. So we can raise the necessary funds with your kindly assistance solely. Now when you press a big green button below and undergo the simple process of transfer, your money will be immediately directed to the «Bioengineering Rehabilitation for Wounded» project's account, and you will be able to track your input in our online report. All incoming money is accumulated up to the moment when the clinic submits us another bill, so we will be able to pay for Petro's medical needs soon. Dear friends, please do not hesitate to join our initiative as your contribution in this important action is essential. Because we just cannot leave our guys in need.