Severe injury is one of war's harsh realities and, unfortunately, something Ukraine's fighters are no stranger to. Telling the story of one wounded soldier from among tens of thousands of other stories gives a human face to the long list of casualties. Wounded soldiers do not want medals, accolades or pity, they simply want to recover as fully as possible – something understood by all people. Yuriy is one of them, a year after being wounded by a mine, he simply wants to be able to walk again unaided. It is for Yuriy and others like him The People's Project continues to collect funds for innovative treatment that gives them the best chance of a life without disability. 
Yuriy was mobilized from Rivne in April 2014 and sent to the East. Prior to the election of Ukrainian President Petro Poroshenko there was little indication of how the war would escalate and of future terrible events – battlefields that became cauldrons, the downing of MH17, thousands of wounded and dead – were still to come. On July 4, 2014,  Yuriy would join those ranks as one the wounded. He was on simple mission to restock ammunition when, in a moment, his life was forever changed by a powerful explosion the threw him from the cab of the vehicle. Today, 25-year-old Yura has only one desire, to be able to stand and walk without the use of the crutches he has now relied on for more than a year.
What do you remember about getting wounded? How quickly did it all unfold?
It was in the territory of a village near Slavyansk. I was driving in the middle of a column. At that moment a APC and a Ural were driving in front of me, and I took small turn. I know the rule – 'Move the column exactly the same way'. But I had not noticed how the vehicles in front of me had picked a course slightly to the left and suddenly: everything goes up, I fly from the cab through the door, the explosion hit me in the leg. I wad injured pretty badly but the guy next to me had only relatively minor injuries.
The first car drove on, followed by closely behind by water carriers. For some reason they decided that it was us who fired, so kept cautious when they came to approach us. Then shouting "do not shoot, everything is fine". The scouts arrived in an APC, provided first aid, and carried me away to nearby paratroopers where I was given shots, had my wounds washed and was sent to Kharkiv.
The same day in Kharkiv was lying on the operating table, when my open wound was sewn up. A week later I was sent to Vinnitsa. There I was fitted with an apparatus to straighten bones and had a fragment removed from my head, 10 days later the stitches were removed and I was sent home.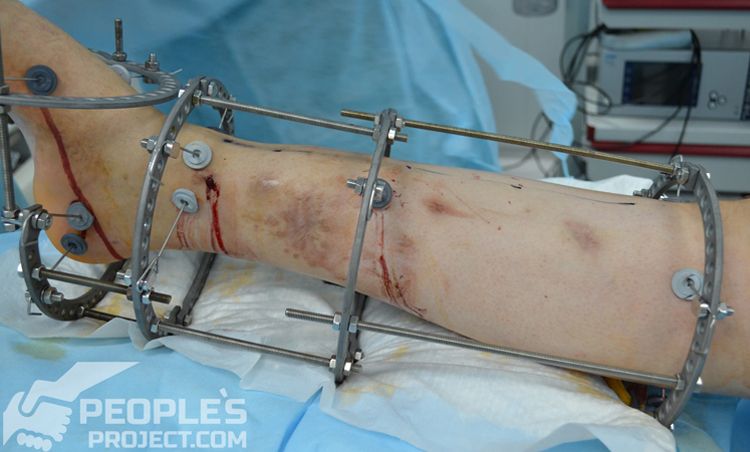 Have you learned what caused the explosion?
I hit a explosive mine – I understood this immediately. It turned out the whole field was full of buried mines. I'm following the column – turn off slightly and "BOOM!" And that's it.
How has your rehabilitation been?
Long and painful. My main goal now is to be able to stand on my leg. For more than a year – I haven't thought about anything but to recover. This is important.
Many volunteers came and helped. Then the Bioengineering Rehabilitation for Wounded project called, offered I come to a consultation and told me about the volunteers of The People's Project. So I went to the consultation. You know, in a year I've become already so used to this means of transportation (laughs).
What did the doctors of the Bioengineering Rehabilitation for Wounded tell you?
They said to me "why have you not come sooner?"
I said "what?" I also said that I was alright, despite the fact my bones had not healed.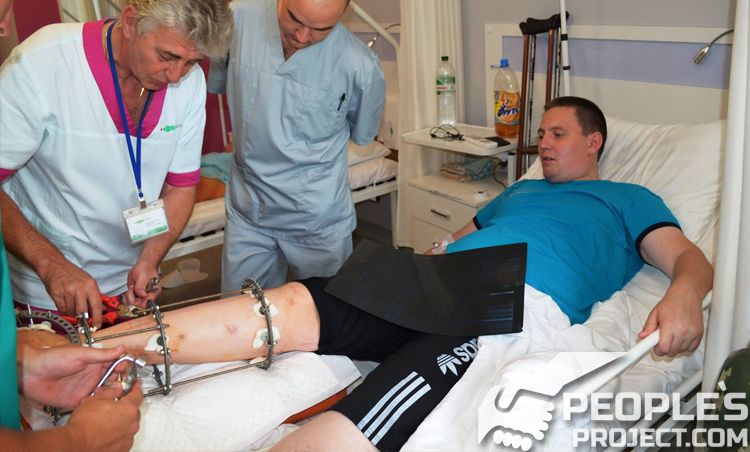 I agreed to come to Kyiv because of how much time has passed with no result. A Lutsk doctor said that everything was healing, but it was only talk, "do not worry, all is fine."
How quickly did your learn about your injury?
In the beginning I kept quiet to my family about the fact I was mobilized. I had to serve? Fine. I had been sent to the East for two days and still not confessed. My mother did not know for a long time, she had left (home) to work, she did not know for six months. And the explosion she didn't know about at all. A couple of months passed from the time I was wounded, I returned home about the same time she got back.
She would have had some stern words for you no doubt?
She reacted of course, as a mother. My father only wanted to kill me, which he does not admit (laughs).
My mother came with me here to the clinic. She is now more controlled. The experience of that helped her. I was afraid of what to say. She came, cried, understood and forgave.
I've essentially lost a year because of this leg. However, with the passing of time, I do not regret what happened. I fought for my country. Although many aspects of this war I do not understand, was I to hide? In life I you can't run away from things – they'll always catch up with you.
For more about Yuriy's wounding and treatment follow this link.
PrivatBank for UAH transfers
Mykolaiv regional charitable foundation "BLAGOCHESTYA REGIONAL FUND"
PC CB PrivatBank
USREOU: 36143302
MFO: 326610
Account: 26004053210825
Purpose of payment: charity donation. Bioengineering rehabilitation for wounded
SWIFT-transfer in USD
BENEFICIARY: Charitable Foundation BLAGOCHESTA
Account: UA803266100000026009053209659
Bank of beneficiary: Privatbank,Ukraine
Swift code: PBANUA2X
Intermediary bank: JP Morgan Chase Bank, New York
Swift code: CHASUS33
Correspondent account: 001-1-000080
Description: Donation for "Bioengineering Rehabilitation for Wounded" project
SWIFT-transfer in EUR
BENEFICIARY: Charitable Foundation BLAGOCHESTA
Account: UA413266100000026009053206287
Bank of beneficiary: Privatbank,Ukraine Swift code: PBANUA2X
Intermediary bank: Commerzbank AG,Germany
Swift code: COBADEFF
Correspondent account: 400 8867 00401
Description: Donation for "Bioengineering Rehabilitation for Wounded" project