Recently we published news about Yevhen – at that moment he was preparing for another surgery during which the Biotech's doctors had to restore his injured knee ligaments. On today's morning Yevhen arrived in the clinic for a check-up on his own legs – the surgery was performed a while ago, and now his leg's almost perfect condition allowed the surgeons to remove the stitches.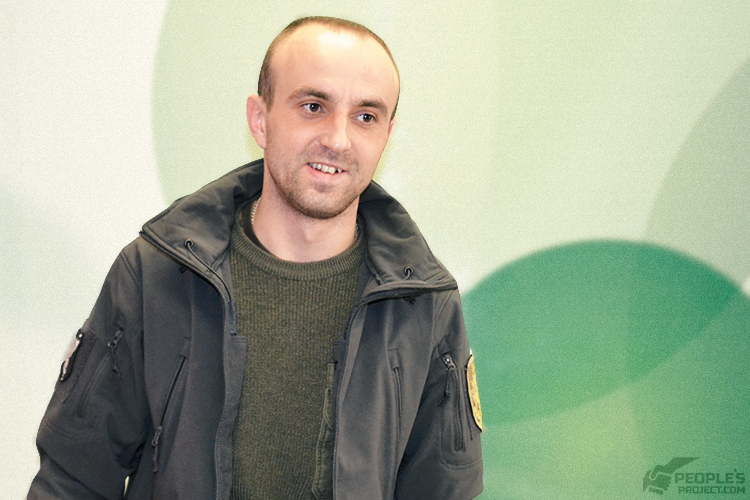 The only thing that reminds of another stage of treatment is a leg-long plaster cast. It is still too early for Yevhen to actively move his knee yet: the restored ligament needs some more time to get fused up and strengthened well. To monitor the condition of the wound following the surgery, the doctors made a small hole in the plaster – today they removed the stitches exactly through the same opening. Next time we will see Yevhen in spring: in early March the tiresome plaster is to be removed.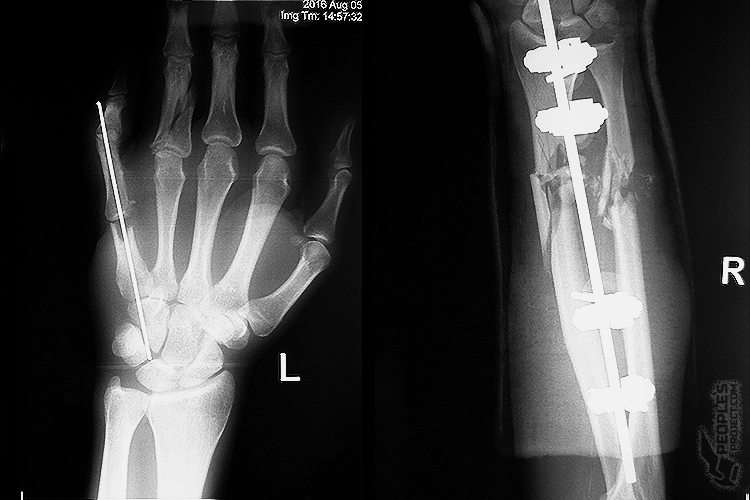 Here are Yevhen's arms at the very beginning of treatment. It is no use demonstrating his knee because the ligament injury is not visible on X-ray
The guy joined the Project with the record number of severe traumas as compared to other patients. There is no point in telling the whole story once again as you can read it by clicking the link, – let us just mention that the Project's doctors had to restore Yevhen's both arms and the knee. Now the process of treatment is coming to the end, and we are extremely happy to prove supportive for the Hero who sacrificed his well-being for our peaceful living and who is also just a decent good-hearted person.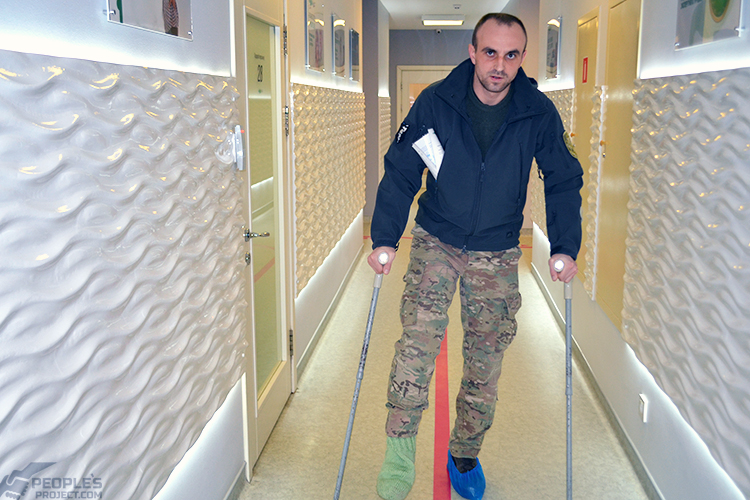 Still there are also other patients in the Project whose treatment has not been finished yet. Since the state refuses to sponsor such methods of treatment, similarly as it does not possess any methods of restoration of the severe injuries of the kind, – it means that we are the only ones who can support them. We have to bear the whole financial burden together alone, as People's Project is able to pay for the wounded guys' treatment at the expense of benevolent donations only. That's why we are asking you for help: the Bioengineering Rehabilitation for Wounded project has not been finished yet, and there are more patients requiring our active support. So kindly join us – your affordable contributions give the wounded fighters often the last chance for coming back to normal life.