A real colonel has been spotted at the clinic! Luckily, the officer of the Armed Forces of Ukraine, the commander of the 81st Air Assault Brigade Yevhen Moisiuk arrived there not to get treatment but to hand in an award to Petro! Maybe the clinic's interiors make not the best environment for such an event, still today Petro has been awarded the third class "For Bravery" order. Will anybody dare to say the guy does not deserve his insignia!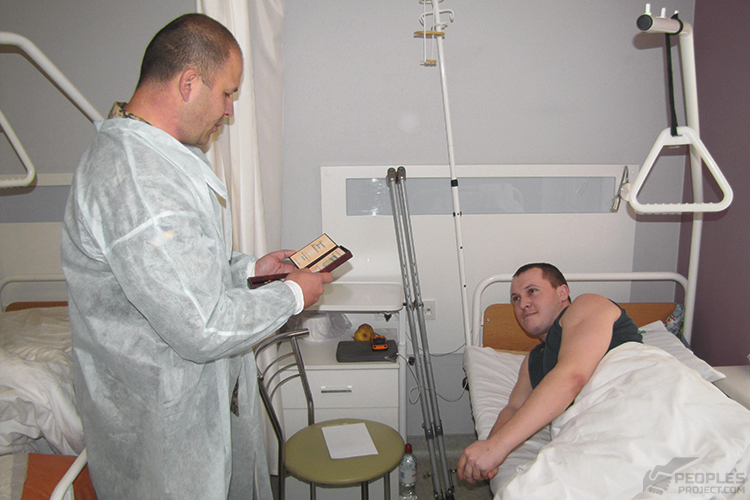 Petro himself is taking a rest – feeling slightly dizzy after anesthetics, the guy is recovering after a difficult surgery. Still no details so far, let the guy feel a bit better, and in a few days we will tell you about the course of surgery and its results in detail.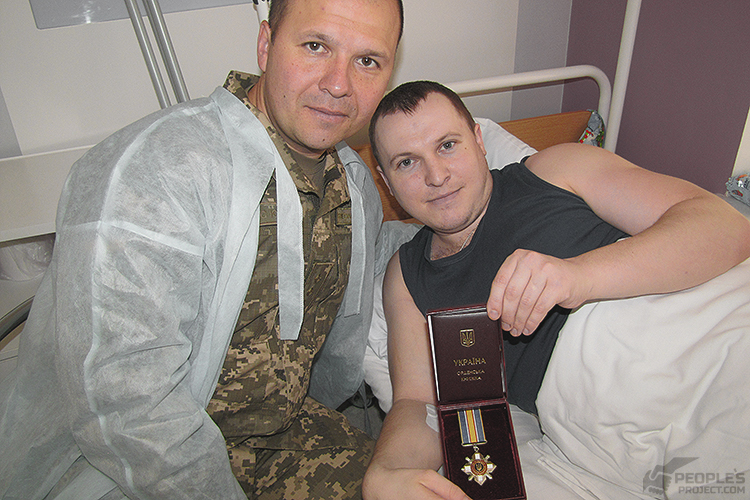 It worth mentioning that Yevhen Heorhiyovych himself is decorated with the same order, still his award is a class higher
Petro is a fighter with the 81st Air Assault Brigade. Last May he stepped a landmine, and its explosion torn off a major part of his foot having severely damaged the rest of the limb. In a state hospital, they were going to amputate the injured foot, and being totally worn out by his heavy wound, Petro agreed to it. Still his friends along with volunteers managed to convince him to try another way of treatment, and Petro agreed. Literally, they pulled him off the surgery table and transported to the Biotech. Within the initiative, Petro has undergone about a dozen of surgeries: first the doctors performed the reconstructive part of work in their endeavor to restore the foot's soft tissues; later, they are going to start the restoration of the bones.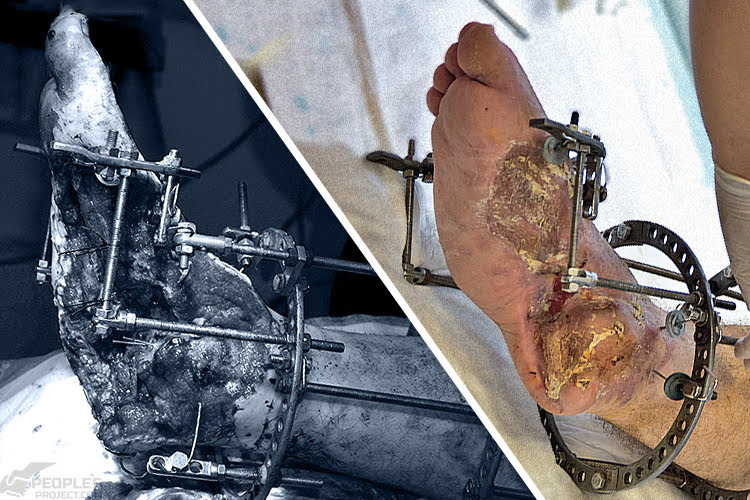 There have been about ten surgeries between these two pictures
At the moment, almost entire course of Petro's treatment has been paid for. Exactly thanks to compassion of ordinary kind-hearted people we, the volunteers of People's Project, have raised and paid almost 800 thousand hryvnias, but we still need to collect a much smaller amount of about 20 thousand hryvnias. Thus, Petro presents a clear example of the situation how plain people's sympathy is able of changing the world. A couple of hryvnias, a dozen, a hundred; a bigger contribution of thousand hryvnias – and a very young guy who could have been left to limp on his prosthesis for his lifetime, has got the chance for normal human life. Dear friends, please do not stop, as your assistance within the Project is highly welcome and truly appropriate!