This is a crucial point in Serhiy's treatment. The man joined the Biotech not so long ago, and underwent the main stage of treatment rather fast; therefore, he left the most difficult part of it behind. Recently Serhiy has been released from the hospital: after over two years of suffering, the man has at last got the chance for a normal life. In some time Serhiy will come back to the clinic again, to complete his verification check-up; still until then he will recuperate at home, with his family.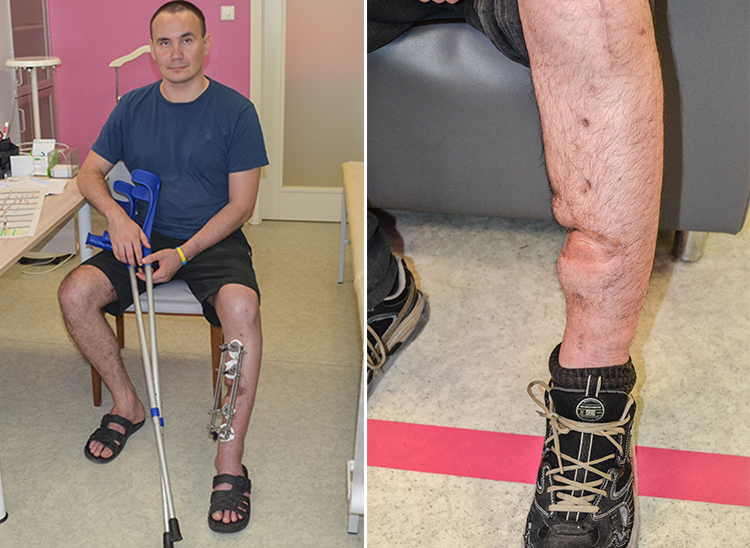 This is where we had to start: the leg hardly kept together
Within the Project, the medics succeeded in fusing up the complicated tibia fracture that had previously refused to heal for one and a half year. To achieve this, the doctors performed a sophisticated operation, having joined the tibias and the remaining bone fragments into a single structure – an artificial surgical synostosis – allowing the bones to support one another and get the fractured one fused up. This proved effective: consequently, the area of complicated fracture filled with connective tissue which has already started to harden and turn into a good solid bone. Moreover, the surgeons have also performed a number of reconstructive operations: by means of transplantation of the patient's own tissues, they recompensed huge defects of soft tissues in the injured leg. We agree: at the moment it looks a bit scary in the picture. Still in time this area will fuse into a solid bone which will allow Serhiy to walk on his own two legs easily.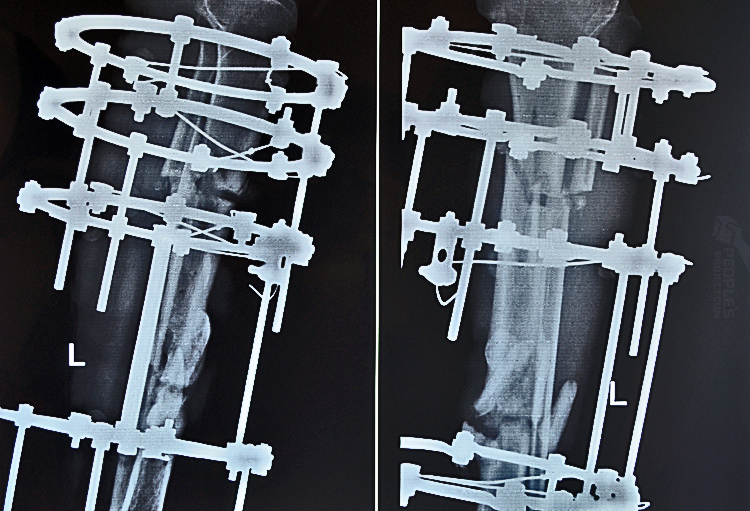 This was the mess we had to begin with: below, the complicated fracture. Above, the newly grown centimeter
Besides, a couple of days ago the doctors have set Serhiy free from Ilizarov apparatus. This wonderful machine allowed to stretch Serhiy's bone up to 5 cm in a natural way. The bone had been dissected below the knee and gradually stretched, millimeter by millimeter, by means of the metallic structure. Now the stretched section has been filled with tissues which will steadily harden to the state of a regular living solid bone. Normally, such a process takes about a year, so until then Serhiy will have to take care of his leg.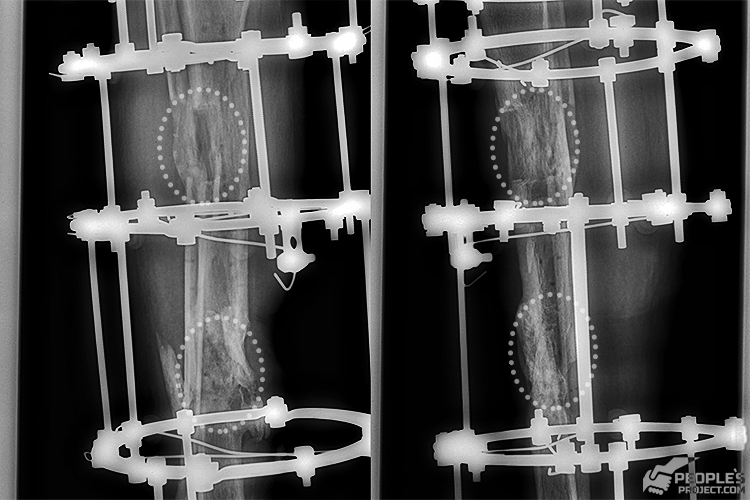 This is how the leg looks today. The fracture got fused up well, and the missing five centimeters successfully stretched
Serhiy got severely wounded while on service. Previously, the man had gone through all the hot spots of the war with the 81st Airmobile Brigade. Later he joined the mobile operative group countering smuggling activities in the ATO zone. In February of 2016 Serhiy was on watch at a checkpoint near Avdiivka. Suddenly, a stone drunk local drove into a group of our fighters on full speed. Serhiy had suffered, probably, the worst: multiple severe injuries nearly cost him life. In critical condition he had spent 10 days at intensive care. Luckily, the doctors managed to do practically impossible thing – they saved him from imminent death, and later healed his main injuries. Still the leg remained the hardest issue. Transplantation of his own tissues proved useless as well: his body, exhausted by problematic recuperation, just lacked resources to fuse that poor destroyed bone up. What was next, nobody could predict.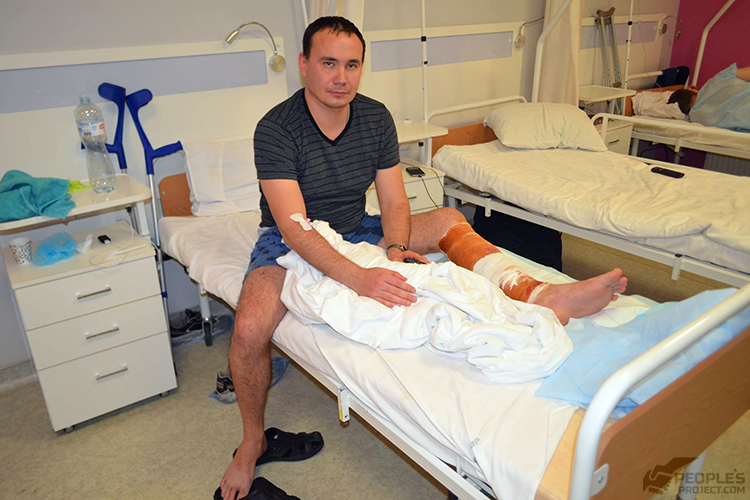 A few days ago, following another surgery: so far Serhiy will have to carefully walk with crutches. Later he will add certain workload, then walking with a cane and, finally, he will move to normal walking on his own
Luckily for Serhiy, even before the treatment within the Biotech started, an individual contributor got interested in his case. The benefactor immediately transferred the required amount, so Serhiy joined the Project possessing the entire sum necessary for his treatment. Still there are more guys who were less lucky: it is their treatment that we, the volunteers at People's Project, have to accumulate your donations for, hryvnia by hryvnia. The state still keeps standing aloof from rehabilitation of such soldiers, so their treatment is possible only at the expense of your compassion and generosity.
That is why we beg you for your assistance once again. Dear friends, your contributions in the «Bioengineering Rehabilitation for Wounded» project are critical: they help us bring those wounded abandoned by conventional medicine, back to normal life. We just cannot leave them without help on purely benevolent reasons – hopefully, you do stick to this position, too.