Lately, Strength of the Nation competition took place in Odesa, where 22 wounded veterans showed off their abilities. The injured ATO warriors demonstrated their perfect form, eagerness for new achievements and unstoppable live of life. The men competed in cross-fit which included lifting weights, twisting, dragging a wheel, working out with dumbbells and exercising on trainers. The competition was intense still the contest did not feature any ranking: each participant has become a winner!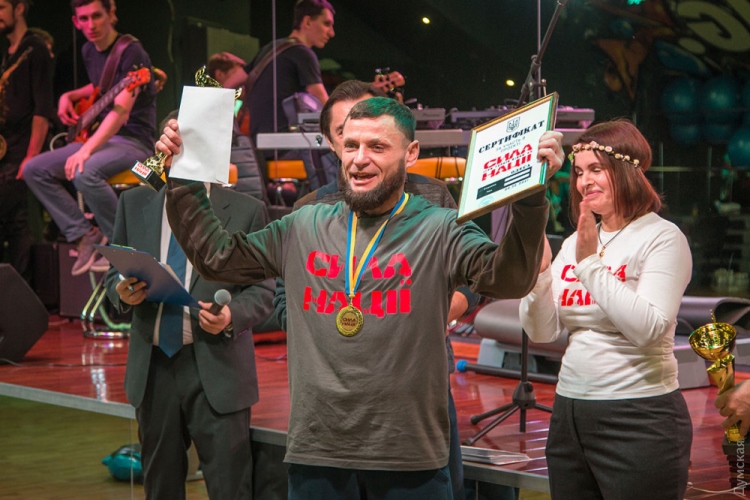 One the Victors project's heroes, Kostyantyn Fisher, participated in the Games, too. In the following video (starting from 01:55) he tells why it is so important for him to go in for sports. Kostyantyn believes that it is children who makes our nation's real strength. The man himself is a father of three sons, and he has been always trying to lead them by his own example.
Other participants stressed that the state fails to sponsor sports prostheses for disabled fighters. Yes, they all possess ordinary prostheses enabling them to walk and perform their day-to-day activities. Still numerous amputees would like to continue or start going in for sports. It is important not only from the point of view of adaptation to civilian life – thanks to physical activity the fighters learn to control their bodies. Before the war, Kostyantyn practiced Kyokushin, the toughest style of karate, one of the oriental martial arts that features full-contact sparring during which the fighters perform without any body protection. Even today, Kostyantyn participates the veterans' competitions. Still to be able to return to full-time training, he needs a special sporting prosthesis, for which we are raising funds at the moment.
Just take a look how incredible the workout shown by this strong in spirit and body man is, and this is using just an ordinary walking prosthesis. Imagine how much an innovative sporting device will improve his performance and enrich his possibilities!
Kostyantyn is aspiring not only to proceed with his own sports activities – he is planning to train his comrades and interested youth. And we can assist him in this! We are not urging you to donate more than you can, but even a few tens of hryvnias of your benevolent contribution into The Victors project can make his courageous man's aspiration closer to its satisfaction.