A happy surprise happened for one of the patients of The Bioengineering Rehabilitation for Wounded Project, soldier of the 128th Separate Mechanized Brigade Dmytro, who celebrates his 26th birthday today. Because today is also the day for another pleasant event. Volunteers of The People's Project finally collected and completely paid full amount of money required for the treatment of the guy. Today Dmytro arrived into the walls of The Ilaya Clinic where here will he celebrate his special day, and will be receiving further treatment.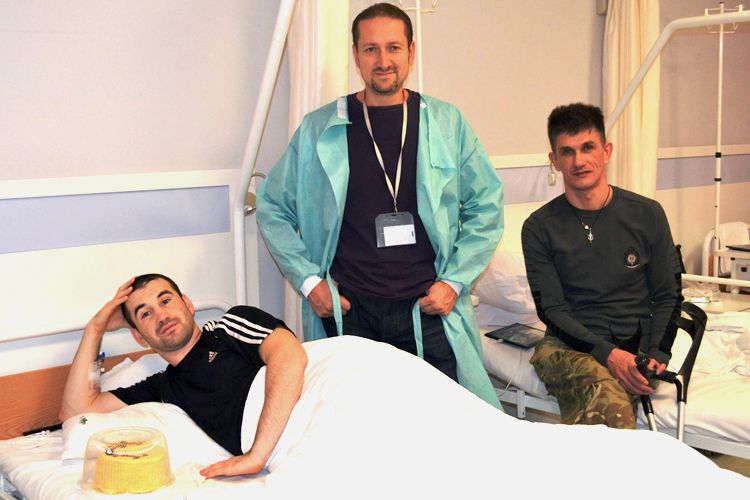 On the photo: Dmytro, coordinator of The Bioengineering Rehabilitation for Wounded Project Stanislav Kushnarov and Olexandr
Dmytro is suffering from the severe skin lesions in the popliteal fossa. On the January 1st, 2015 he got the injury while transporting the wounded boy near Debaltseve city with his group and hit the enemy ambush. When Ukrainian soldiers were shelled with the rocket-propelled grenades (RPGs), one of the fighters got killed and Dmytro got his legs seriously wounded. Dmytro has been through the Artemivsk, Kharkiv and L'viv military hospitals, where dozens of debries were pulled out of his legs. Despite all the efforts of the doctors not one of the wounds healed till now. The skin below the knee constantly torn from each move thus an open wound can not completely heal. This hole in the skin constantly hurts and makes it almost impossible to walk. That's why plastic surgery using cellular technology has become the last resort for the Ukrainian soldier.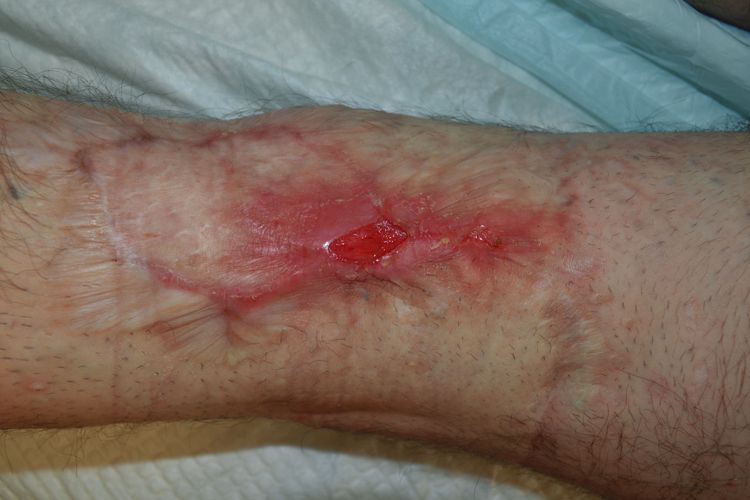 The last resort to heal the wound is cellular technology
We are happy to congratulate Dmytro with his birthday and sincerely wish him fast and full recovery and all the best in life right after.
Unfortunately, Dmytro is not the last seriously wounded Ukrainian defender who needs the cellular technology to be used during the treatment. Since the budget of Ukraine does not cover such kind of treatment the contributions only can help to save life of defenders with severe injuries. The donations made through The Bioengineering Rehabilitation for Wounded Project give Ukrainian soldiers hope for normal life after the treatment. Each contributed dollar is another chance for these guys to get back to healthy life.