Dear friends, there are few days left to Christmas and the New Year, so like everyone else, we are preparing certain gifts for the holidays. For the participants of the «Bioengineering Rehabilitation for Wounded» project these will be encounters with the doctors on surgery tables: the forthcoming surgeries are aimed at improving of the guys' condition and bringing them a bit closer to normal life without pain and limitations. Hence, according to treatment schedule, we will have three heavily wounded soldiers treated until the new year.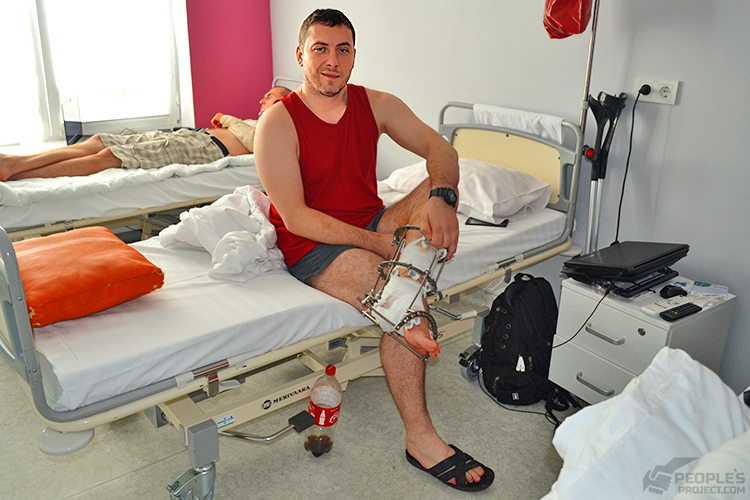 The first of them will be our old friend Volodymyr. This nice man has got his torn leg restored in full: the Project's specialists grew a new heel bone for him, implanted it into the damaged area and accurately covered all this up with a fragment of transplanted skin and subdermal tissues. Thanks to our combined efforts, the previously injured lifeless leg resembling rather a seal's flipper, now has acquired its natural form and become partially functional.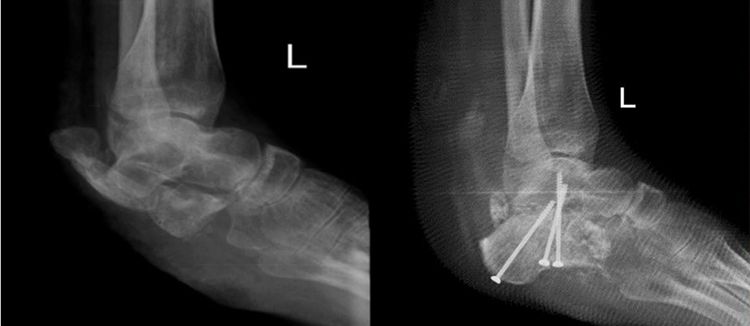 This nice heel bone was grown up out of a just a few cells
Volodymyr recuperated and even managed to find a job, still the doctors do not hasten to let him go yet: now Volodymyr Oksymets is assembling his muscle structures up like a jigsaw puzzle, to enable the leg restore its normal functions in full. Of course, the surgeons could have performed arthrodesis, that is stiff fixation of the injured foot to the tibia which would allow Volodymyr to limp as he moved. Still why to stop midway when it is possible to restore the leg in full, do you agree? So now the doctors have stretched the muscle up to its normal natural length, and are going to get the corresponding area prepared for adjusting the ligament to the new bone, during the next surgeries. Of course, this have affected the total cost of treatment a bit, still we are sure you understand that the decent young guy's health and well-being is worth more than just pieces of paper. Total cost of treatment has made over half a million hryvnias, and we have to raise and pay a bit more.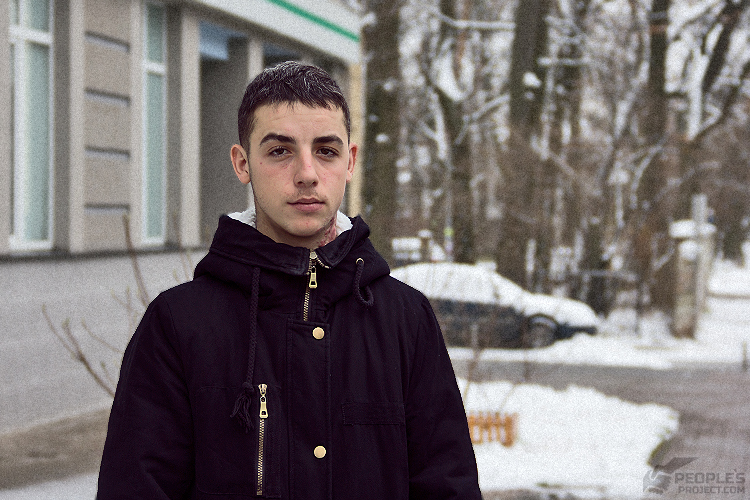 The young Marine Dmytro will be the second one: in the nearest future he is to undergo two surgeries in a row. During these, the doctors will take out the massive of necessary cell materials from which they will grow a new shoulder for him; besides, they will also get the area of injury cleansed and ready for further reconstructive surgeries. Dmytro himself is suffering from the consequences of a severe large wound: the enemy expanding bullet had hit him on the shoulder having totally destroyed the majority of the bones forming the shoulder joint.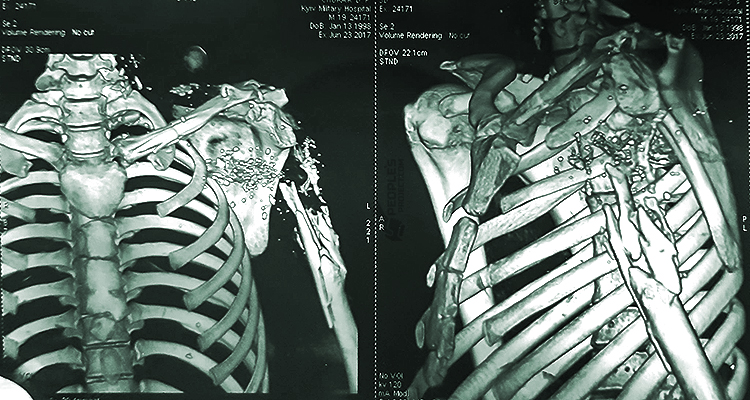 The external part of the injury does not look that terrifying: the shoulder seems a bit deformed. Still inside the things are rather bad
Hence, the Project's doctors will have to grow up the missing fragments to reassemble the joint anew. But we are convinced that even despite the complicatedness of treatment, Dmytryk will be able to use his arm, now entirely immovable, in full soon. And he will definitely need it as the guy is just 19 years old, and his whole life is still ahead of him! Total cost of Dmytro's treatment will made up almost 675 thousand hryvnias, from which we have already accumulated and paid about 153 000 thousand.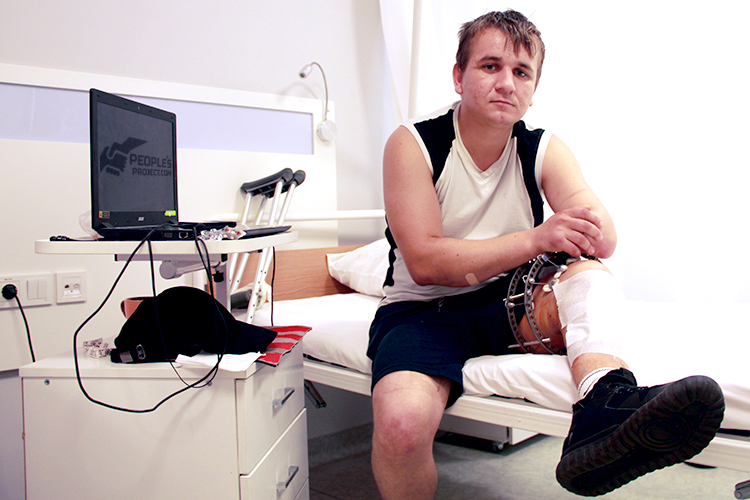 The third patient will be another old friend of us, a good charismatic guy whose name is Victor. Unfortunately, despite being too young, he has suffered a lot. He has spent a few years in hospitals, clinics and even in the Project due to his severest injury. Luckily, together we managed to save and restore his badly damaged leg and arm.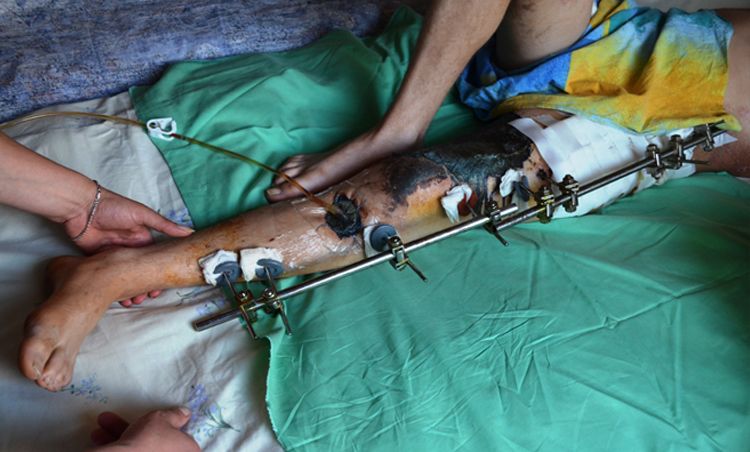 Victor has already collected so many dreadful x-rays these would be enough to illustrate a separate scientific study. So we will just show how bad his leg was at the very beginning of his treatment
Now the doctors are approaching the finale: soon they are going to remove the Ilizarov apparatus, a conventional tool helpful in stretching Victor's leg out to its normal length. Being proactive and enthusiastic, even if supported by crutches, Victor mostly moves faster than others do. So it is hard to imagine what this wonderful kind-hearted fellow can do after his leg is restored in the upcoming year. Victor's arm and leg rescue cost all of us 818 thousand hryvnias.
---
All of us, the volunteers at People's Project, are truly happy that our community's humble efforts, if combined, bring such sizeable and important results. Since thanks to everyone engaged in the «Bioengineering Rehabilitation for Wounded» project, thanks to everyone who at least once helped it with just a hryvnia; because of each doctor thanks to whom fantastic technologies become a day-to-day reality, these suffering guys who sacrificed their health and well-being for Ukraine, are step by step coming back to normal life. Unfortunately, we are still far from completion: such treatment is rather expensive. We need to pay more money for Volodymyr, accumulate the main sum for Dmytro, which is still being raised, and need more money for Victor's treatment – all these figures as well as the movement of funds can be seen in our Project's report which is being updated in real time. And we are begging you for your assistance once again: can you see we do not even mention the state's participation any more. But friends, your contributions increase the chances for each of these guys and bring them closer to the victorious accomplishment of their treatment. We are entreating you for them – the tortured and crippled boys who rushed to the war to defend each of us. Dear friends, could we please try once more and support them again? Please do this for the good.