Few days ago volunteers of The People's Project transferred to the military one more drone, produced in terms of The Seven copters PC-1 Project. After a radical upgrade we sent this unit to the Ukrainian defenders, who have been using it for a long time. Defenders conduct dangerous operations on both sides of the front line, so light reconnaissance drones are just what they needed.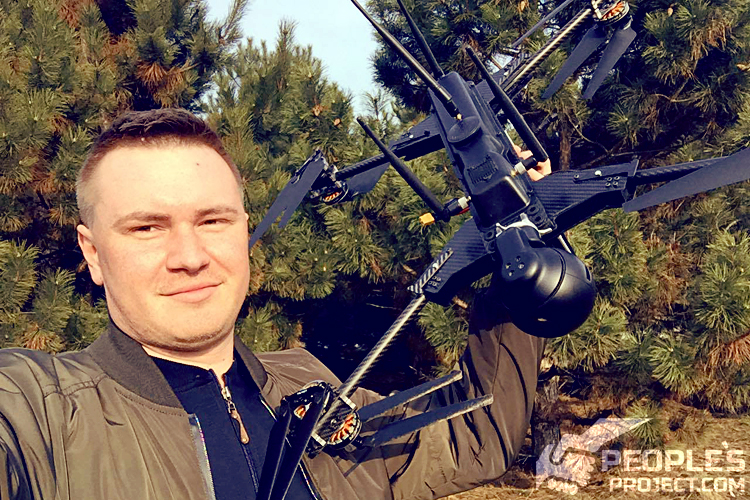 Manager of The People's Project Maxym Ryabokon at trials of PC-1 drone
Our good friends and partners, the specialists of the Ukrspecsystems company, who make UAVs for the needs of the Ukrainian army, shared with us some fresh photos. They started upgrading one more drone. On a photo is represented one of the final stages of the process. Company's engineer adjusts and inspects hyromechanism, which will carry powerful optics for observation.
The UAV PC-1 is an octocopter of an improved design, which has not only excellent technical indicators, but also confirms its advantages during practical use at the most demanding field conditions. This model is not the first one that we produced for the needs of special units of the Ukrainian army. We are pleased to publish a video on our drones. Not every day you're dealing with such a technically perfect and at the same time aesthetically designed unit.
New drone will be used at one of the hottest spots of the front line by the soldiers of the famous intelligence brigade. Defenders will observe russian enemy's positions, its artillery and ghost tanks. Production of those magnificent aircraft was made possible only thanks to your donations. All UAVs are made at the expense of your contributions in terms of The Seven copters PC-1 Project. We call you to engage the project. Together we are strengthening the Ukrainian army, and steadily bring victory.