This text may sound rather bitter but we are convinced that you're going to get our point. Why it is we who has to take on charity projects, why not the state? Why aren't these sponsored at the expense of budgetary resources? Why the municipal authorities spend so much on entertainment or other whims while they could have allocate excess funds to medicine? These are the questions our inquisitive readers have been continuously posing since we launched the latest charitable initiative. Well, the answers look rather obvious, and we have been giving them for the fifth year in a row, still seems appropriate to remind you of the apparent truth and sad reality.
Hence, at the very first moment when the question about supporting of another hospital arises, the "Hot Potato" game starts. Some of our readers think that as long as the matter is related to hospitals and doctors, the Ministry of Health is responsible for everything. The MOH officials with whom we had the chance to communicate, in their turn send us to the city authorities: in their opinion, as most hospitals are owned by the city authorities, then it is entirely the city's concern to take care of these. One part of officials point to another, and vice versa, and the process repeats.
When it comes to research institutes as the highest body of practical medicine, everybody seems lose the ability to speak perplexedly pointing to the Academy of Sciences as the institutes are financed at the expense of budget money assigned to development of science. Let us be realists: it is easy to imagine the levels of this funding based on the budget deficit, war times and the place science occupies in our country.
Still one should keep in mind a very simple thing: when a disaster strikes, no one is inclined to figure out to what authority the hospital in which the sick person was taken to, belongs. The most important thing seems to find necessary medications, competent doctors and calculate how much you will need to buy all due materials and expendables at your own expense. That's why we have to work for perspective, for future, trying hard to fill that black hole that directly affects the quality of treatment for certain category of the most difficult patients.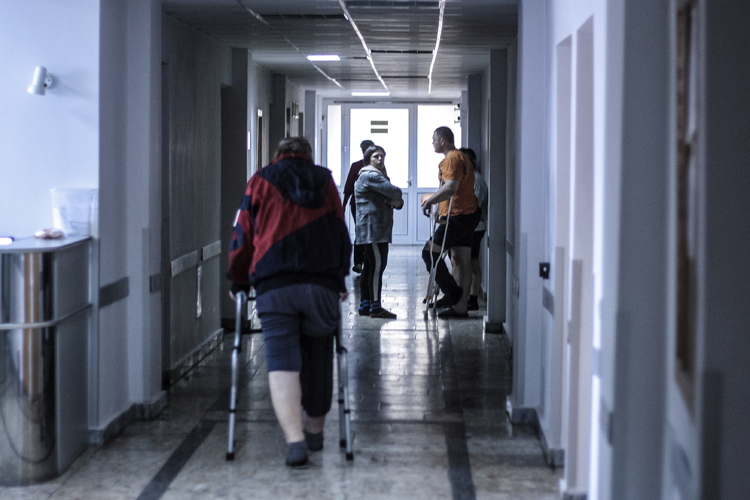 Within the Last Hope Unit initiative, we are raising funds to buy an ultrasound cavitator. It is the device that allows healing serious infected wounds without excessive surgical intervention and, logically, without excessive traumatisation. We are going to purchase this apparatus for the Bone purulent surgery department of the Institute of Orthopedics and Traumatology which needs this device urgently still lacks it, just as it lacks hope to get its purchase sponsored at the expense of budget funds.
The department's patients are ordinary Ukrainians from all over the country. Those who sustained explosive injuries, combat wounds, car and domestic accidents that resulted in complications, the most difficult injuries, and who have neither money nor energy for recuperation, nor hope for anybody's assistance, unless local doctors' help. None of us is protected against such a misfortune. That is the main reason behind our activities: this explains why it is we who must prove useful. Not the mythical authorities, city or MOH. If a disaster comes, they are not going to get treated here. It is us who is going to get medical aid within these walls if bad happens. On the other hand, aren't we those who form the state ourselves? So, dear friends, please join in. Consider that we are working for everyone, for each of us, against possible catastrophe that may happen to anyone and anywhere. This seems worth of our shared responsibility and common struggle, isn't it?