As the war being waged in Eastern Ukraine drags on peoples' attention is shifting. Moving slowly towards beginning to forget about the exploits of the soldiers who have defended Ukraine and its people from the enemy – allowing them to live relatively normal lives almost untouched by the war.
Here's a reminder of the reality of the conflict. Meet Oleksiy Bondarenko. A volunteer and a hero who suffered one of the consequences of fighting – being wounded. Together with his fellow fighters from the Right Sector, Oleksiy had been defending his homeland in one of the hottest spots of the conflict – Donetsk Airport.
After a long stay in a military hospital, the condition of his fractured leg deteriorated. In September, Oleksiy turned to us and has, thus far, undergone two surgeries at the ilaya Medical Center in Kyiv, doctors are making optimistic forecasts, however there is one condition – his treatment can not be interrupted. Funds raised for his treatment so far have almost run dry, Oleksiy needs your help!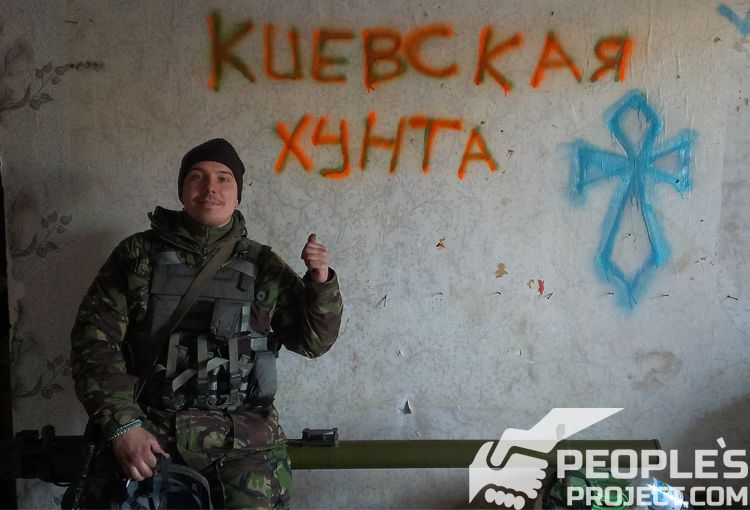 Piski, February 22, 2015, Right Sector photo.
Can you tell us about the circumstances of you getting wounded?
We came under Mortar attack from separatist artillery. Two (comrades) were killed instantly, while I and another guy were heavily wounded… He's rehabilitating in Brovary, incidentally. Whether his treatment there is a successes, however I do not know. He had brain trauma after a severe injury to the head.
Was it possible to avoid being hit?
We were boxed in, parallel to the enemy. Performing tactical tasks.
We simply didn't have enough weapons! We were absolutely without enough cover… Several mortars – that's all our artillery had.
The Armed Forces artillery was 4 km from the defensive line… Of course there was going to be casualties.
Were you evacuated quickly?
The battle was not yet over, we had already run from our position – to announce that we were under open fire and wounded (I had to run about 100 meters under mortar fire), others immediately ran to us… A pickup arrived but without stretchers… my bro and I were dragged, helmets dropped… dragged on our spines. We were thrown in the vehicle and driven from there to the Republic Bridge (Piski) – near Donetsk. That's where the position of medics and the hospital is.
There they overloaded me with medicine, provided emergency medical assistance, Wounds treated, injected with anesthetic… I remember being taken to Krasnoarmeyskaya, then I do not remember anything … I switched off.
The next day I came to, looked – to see if everything was in place. I had been taken to Dnepropetrovsk, in  Mechnikov initially and after transported to a burn center…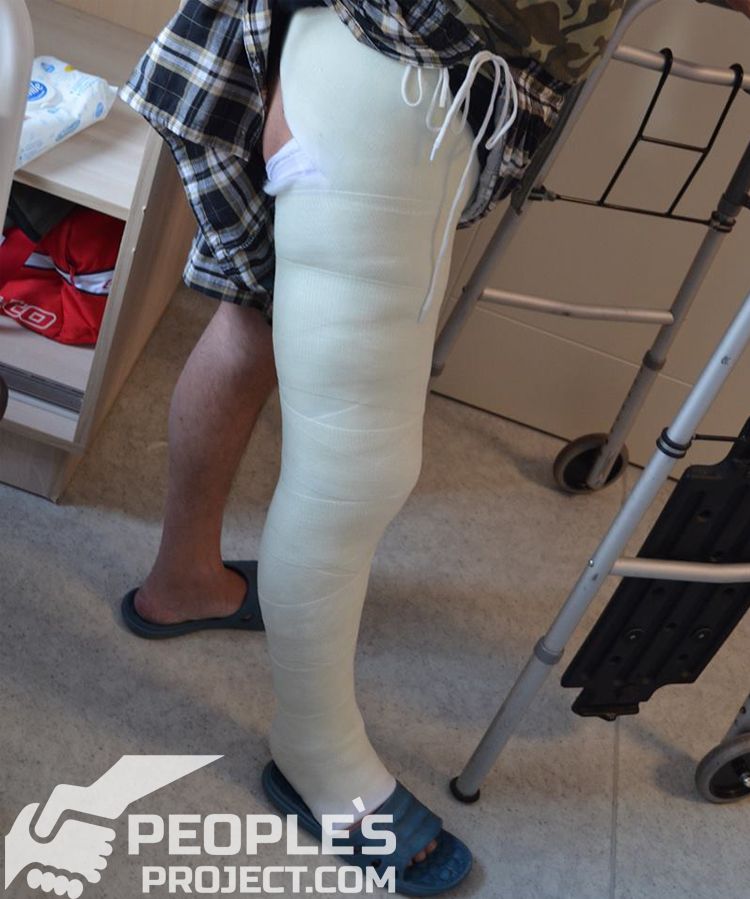 Your opinion of state medical treatment?
The burn doctors did everything they could… I was treated there for about four months, then had the Ilizarov apparatus fitted to work with the bone. In Mechnikov they offered to continue treating me, and I hesitated. So I was sent to Kyiv Military Hospital, which I'm terribly sorry about.
What specifically do you regret?
Just sorry that I got there at all.
But why is that?
When the situation (with my leg) became worse, festering. began an abscess on his leg in the hospital … I dragged time wait, wait, wait, wait …
A friend from the Right Sector brought me here. I'm in ilaya for three weeks for treatment. Two complicated surgeries are done. On Thursday – I will be treated further… the bone will be hacked and manipulated. So two major operations and many more but they are less complex.
Doctors say six to eight months until… well, hopefully, I recover.
****
We have managed to collect 249 874 UAH from the necessary total of 415 785 грн, thanks to one donor's  generosity and your support.
In order to pay for Oleksiy's full treatment we are short 165 911 грн, he awaits your support.
PrivatBank for UAH transfers
Mykolaiv regional charitable foundation "BLAGOCHESTYA REGIONAL FUND"
PC CB PrivatBank
USREOU: 36143302
MFO: 326610
Account: 26004053210825
Purpose of payment: charity donation. Bioengineering rehabilitation for wounded
SWIFT-transfer in USD
BENEFICIARY: Mykolaiv regional charitable foundation "BLAGOCHESTYA REGIONAL FUND"
Account: UA803266100000026009053209659
Bank of beneficiary: Privatbank,Ukraine
Swift code: PBANUA2X
Intermediary bank: JP Morgan Chase Bank, New York
Swift code: CHASUS33
Correspondent account: 001-1-000080
Description: Donation for "Bioengineering rehabilitation for wounded" project
SWIFT-transfer in EUR
BENEFICIARY: Mykolaiv regional charitable foundation "BLAGOCHESTYA REGIONAL FUND"
Account: UA413266100000026009053206287
Bank of beneficiary: Privatbank,Ukraine
Swift code: PBANUA2X
Intermediary bank: Commerzbank AG,Germany
Swift code: COBADEFF
Correspondent account: 400 8867 00401
Description: Donation for "Bioengineering rehabilitation for wounded" project