We are glad to present you an interview recorded by Mr. Andriy Dubchak, a good friend of ours and RFE/RL special correspondent, with the commander of the 36th Marine Infantry Brigade of Ukraine, colonel Dmytro Delyatytskyi. We are publishing the material as is, in its original form and with original photos taken by the author himself.  
---
The RFE/RL correspondent recorded the interview with the AFU's colonel Dmytro Delyatytskyi during his one-week stay on the Ukrainian marines' positions in Shyrokyne, at ground zero, just several hundred meters away from the russian occupying forces' positions. Mr. Delyatytskyi is the commander of the 36th Marine Infantry Brigade of Ukraine engaged in holding defense immediately on the contact line in Mariupol sector. This is the brigade that liberated Shyrokyne and Vodiane as well as managed to push the occupiers' troops by 5–7km back to the russian border. In 2014, during the Ukrainian–Russian conflict in the Crimea, the m/u A2272 of the 1st Marine Infantry battalion got blocked by the russian military. The Feodosia marines headed by Dmytro Delyatytskyi refused to lay down their arms. During fighting Mr. Delyatytskyi's several ribs got broken, and the commander himself captured by the occupiers. He resolutely rejected their offer to defect to the russian side, and was released in three days.
– Do you often visit frontline positions?
– Yes. As a commander I must do this. A head immediately possessing good handling of the situation throughout the places where his troops implement their duties, is usually good at taking well-considered practical decisions. A commander has to supervise current situation and know what his unit needs to implement their tasks the most effectively. This means he must handle the circumstances in any unit, starting from the forefront positions to logistic support. All these components make a single organism that has to work consistently.
– The marine infantry are now accomplishing their tasks in an off-beat environment, in the surroundings to which they did not get used to, – in the dugouts, buried underground. Can we say they are in the right place?
– The marines are engaged in implementation of a combat mission determined by our military command. They are in the place where they belong according to their duty, that is onshore, on the sea coast.
– Do the opponents know who holds this segment of the frontline?
– Yes. The enemy realize they face the positions taken by the marines. At the moment, we know that the opponents are reinforcing their positions and getting ready for any undertakings on our part.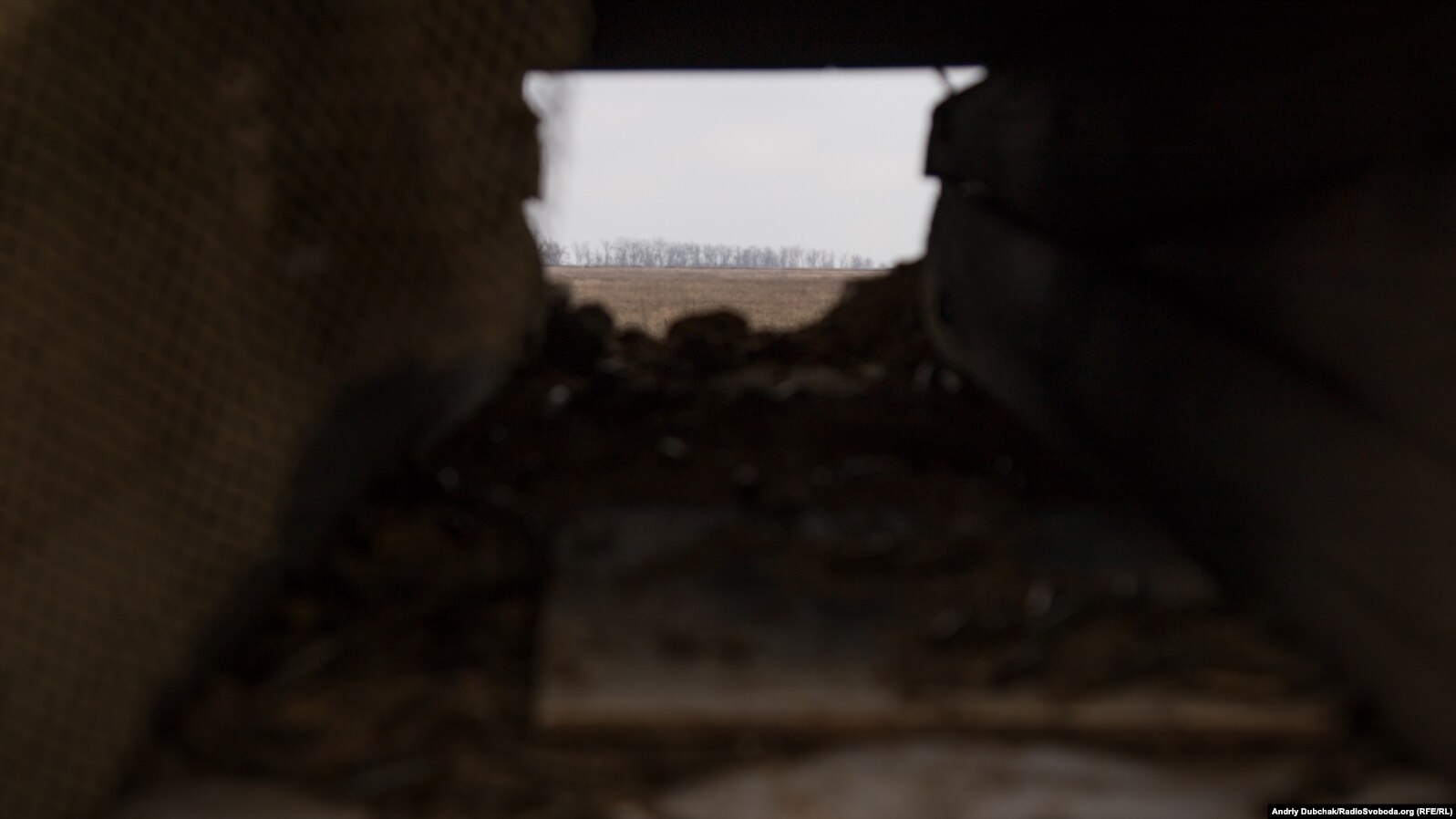 View from an embrasure on the positions of the russian hybrid forces near Shyrokyne
– Does this mean they are afraid of you?
– We are sure the enemy is afraid of us. This is our mission, and we have come and stood here to liberate the Ukrainian land from the russian occupiers.
– Do you personally recognize your enemies?
– Not everyone yet, still we've learnt lots of them (laughs).
– What are the opponents' distinctive features and their most dangerous qualities?
– Their worst characteristics is they never fulfill any agreements. You can expect violations on their part any minute.
– How do the marines use arms in response to the opponents' fire?  
– We deploy arms when there is a threat to our military personnel's lives or attempts of taking our positions. We never fire back in case of provocative fire.
– What is the Marine Infantry's motto?
– "Always loyal". This means that a marine is loyal to the traditions of the marine infantry and the oath he swore; he always keeps faith in the marine Infantry and its traditions.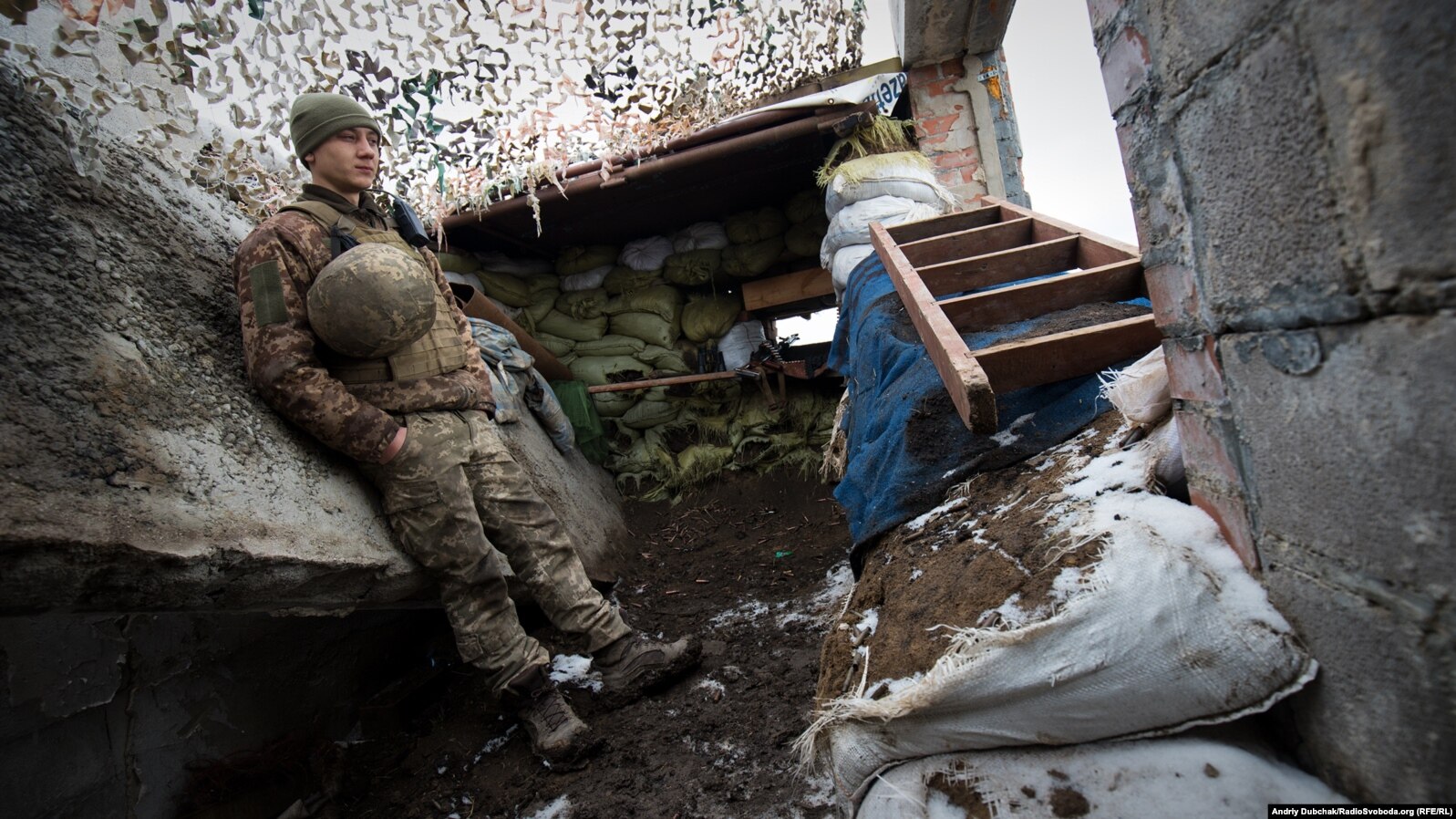 A marine with Archie callsign at ground zero near Shyrokyne
– What distinguishes the Marine Infantry among the rest of troops?
– To me, first of all it is their authenticity, loyalty; their black berets and their commitment to duty. The marines act coherently and are famous for their innate fraternity, readiness to assist their comrades any time.
– What are the features that differenciate marines' training?
– Predominantly, it is advanced physical training. To deserve the right to wear a black beret, a marine – irrespectively of his rank, be it a deckhand, a sergeant or an officer – has to pass the marine recruit obstacle course. On completion of this exam he is allowed to swear an oath and later gets the right on wearing a black beret. Still only those selected by a superior officer are allowed to run the obstacle course. A recruit has to be prepared for this test as it implies he retains advanced powers of physical endurance.
– How the current character of military actions differs from the one we had earlier?
– Now there is almost no open fighting, but the opponent's behavior became more provocative. The enemy often starts shooting trying to draw us into fire exchange and make us use our arms. At this they always try to film everything on camera. The most often they initiate firing when the OSCE SMM officers are present. Lately we noticed that in sector of defense our battalion's is holding, the opponent brought children who walked along the village streets while the enemy moved along delivering ammo to their fire positions without any limitations.
This again proves their barbarous behavior as well as unwillingness to obey to any rules of warfare. Also, the opponent started to widely use the anti-personnel landmines triggered by any movement. Formally, their depletion is prohibited, still our enemy feels free using armament of the kind.
– If to take defense and security in general, what has changed as compared to the 2014–2015 years?
– The situation has become totally different. As of 2018, we have gained great experience. Besides, there have been lots of changes as regards military divisions' state of armament and equipment. In comparison with the previous periods, provisioning and supply throughout our units have got considerably improved. This can be easily seen as regards weaponry and equipment, and as concerns logistics as well.
– Russia is continuously carrying out military drills. What can this mean for Ukraine? What does it mean for the marines? What do we have to be prepared for?
– Russia has been turning the Crimea into a single military training ground, unceasingly amassing their military presence there, both through the ground forces and their naval component. Russians' behavior is evidential of the fact they turn the Crimean Peninsula into a single military springboard.
Nevertheless, our task is to get ready for taking the Crimea back to Ukraine. And we have been continuously preparing for that. Both here and at our state's other military grounds our army has been getting ready for the actions that will allow us to take our land back as soon as possible.
– In your opinion, why should Ukraine improve the Naval Forces and how this affects our defense capabilities?
– Ukraine is a maritime country as it owns two seas bordering, primarily, Russian Federation, – the state we are at war with. That is why we have to do our best to improve our defense capability both on land and at sea. This is the Naval Forces' main goal.
As to our opponent, they will most likely violate agreements not only aground but at sea as well. The events that happened over 2014–2015 prove the fact quite obviously.
​
– How would you describe the marines you command?
– These people are exceptionally well-trained and highly coherent servicemen. They are motivated, brave and ready to perform their mission at any time. I would not emphasize that we differ from other troops, still these guys are so motivated they could beat other forces and divisions. Personally, I can assure anyone that where there are the Marine Infantry servicemen, all the set tasks will be completed in the best way possible.
– How do you cope with the "trench war" exhaustion?
– To my mind, a soldier or a crewman gets tired the most when he is doing nothing. If he is digging a dugout and exercises regularly both on the positions and on military grounds that we are trying to arrange nearby, then any decline in morale is out of question. Also, we try to get our personnel on leave quite often, and try to organize various leisure activities for them here on the spot.
– How did the attitude of the locals change with time?
– As compared to the very beginning, their estimation of us improved. At the place where we are carrying out our service tasks, locals have grown more pro-Ukrainian as far as I can see. This affects their behavior, their perception of the military and can be seen even in the amount of Ukrainian flags and other state symbols in the town.
– What are the prospects for Marine Infantry? What is this force going to be like in the future?
– Generally speaking, the Marine infantry is the Naval Forces' elite division that has been and will always remain engaged in completion of the tasks essential for our homeland's defense. We never cease training as we realize that we have to be ready for any new missions anywhere else, anytime.
– Do you mean Crimea by saying "anywhere"?
– Yes.
– What would you like to say to the Crimeans?
– To traitors or to Ukrainians?
– To both categories, separately.
– Well, both these should expect our comeback as we are going to be back very soon. We have lots of things to regain. Perhaps this will happen not today or tomorrow, still we will certainly get back home one day.