We have repeatedly recollected how friends and comrades saved a young paratrooper Petro – first on the battlefield, and later here, in the far rear. You already know how they literally forced him out of the hospital on the very day of his pre-scheduled amputation. But how his comrades had saved his life right under the enemy's nose – this was another story that ended well thanks to Petro's comrades' coherent efforts and their skills that they had acquired prior to the war.
We are meeting at the clinic where Petro arrived for applying another bandage following another surgery. A bit later, Pavlo comes over – he just underwent arm surgery and left his hospital for a few hours to support his friend. Pavlo, callsign "Malyi", is one of Petro's comrades who evacuated the wounded guy following his injury caused by landmine explosion that nearly torn off Petro's leg. Both guys volunteered to the war in 2014. They make friends at the UNA-UNSO training camp, and since then have been like brothers.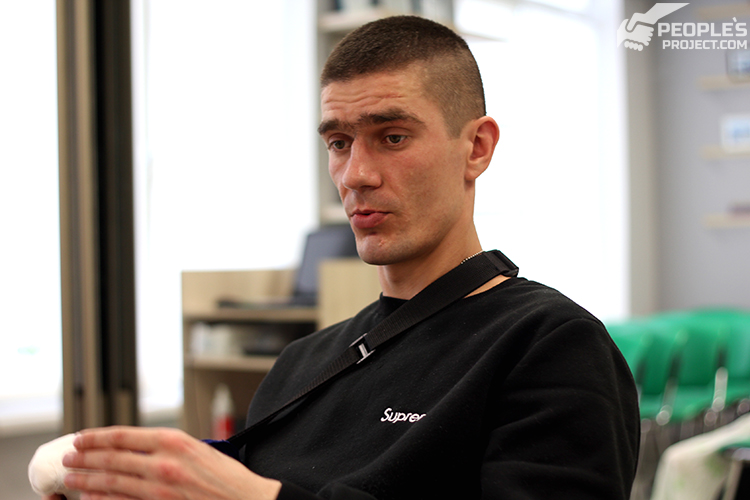 As a kid, Pavlo had injured his forefingers on both hands. So, quite naturally, he failed to pass the medical panel during mobilization. He tried to sign up as a volunteer, still all the volunteer battalions rejected him. Well, how could he really handle a gun with his both hands injured? Still, in the long run, this did prevent him from neither fighting, shooting, nor saving lives. He told us about the day he witnessed Petro's dreadful injury, trice. Because the guy was just following his comrade. Most likely, that day imprinted in his memory for ever… Well, listen to the story told in his own words.
---
– Pavlo, could you tell how you actually got to the army?
Pavlo. I just wanted to! (Laughs) I've been fighting from the very beginning. I started in 2014, in summer. I happen to get into UNA-UNSO organization, – they were based in my town. At that time, I was a commander of the self-defense unit, so I was engaged in supplying them with spare parts, food and other stuff.
During the first and second wave of mobilization I had been routinely rejected due to my hand injuries. So I appealed to my superior asking him about the possibility to join at least any volunteer battalion. He said that he will put a word for me. And he did. At the camp, they met me and explained at once that nobody would force me. There were no contracts, and everything happened accordingly to your own will. Still if you wanted to leave, you had to explain why.
I spent a month and a week at a training camp. Then I got back to my home town where training was on as well, and I got my weapon for the first time. I can recollect that I got a PKM then. I took it into my hands and thought: "Wow, it's so heavy, what should I do with it?"
– Did you meet Petro then?
Petro joins the conversation.
Petro. Can I tell the rest please? I just remember very clearly that in the mid-September of 2014 I determined that I was going to join the UNA-UNSO camp. So I arrived in the Vinnytsia city camp from where they sent me to the camp located in the village of Petryk. On arriving there, the first thing I did was getting acquainted with all the guys who were present at the camp. In this way, I learnt that Pavlo was my fellow townsman. Since then, we have been friends.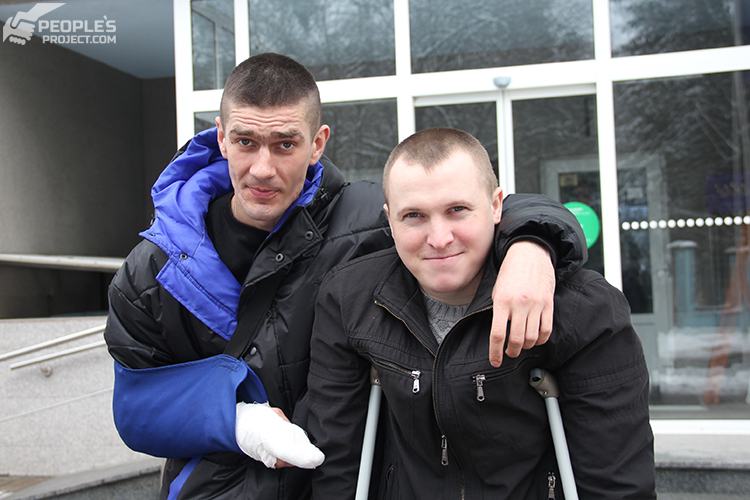 Pavlo. In Vodiane, we were accommodated at the same house. Petro was absolutely keen on everything that could be set on fire and explosives – this really was his hobby horse. He is very clever and he read a lot of books. He is good at physics, chemistry, math and loads of stuff… Since Petryk, he was distinguished for his reliability, pro-active position and knowledge. He was always in the spotlight. And the drop-out rate was rather high at that camp.
– Why did you choose scouting then?
Petro. Just UNA-UNSO battalion was designed as a reconnaissance and saboteur unit. It had been planned to become this, so we got trained as scouts.
Pavlo. Why reconnaissance? Because it is the best, man! Broadly, scouting is truly among the best specialties in the army. Yes, it is dangerous, still… captivating! (Laughs).
– But now you are a paratrooper. How did this happen?
Pavlo. From the very beginning, we served in the UNA-UNSO volunteer battalion, in the 4th company. In about a month after training we arrived to the base of the 25th Air Assault Brigade where we got to serve further on.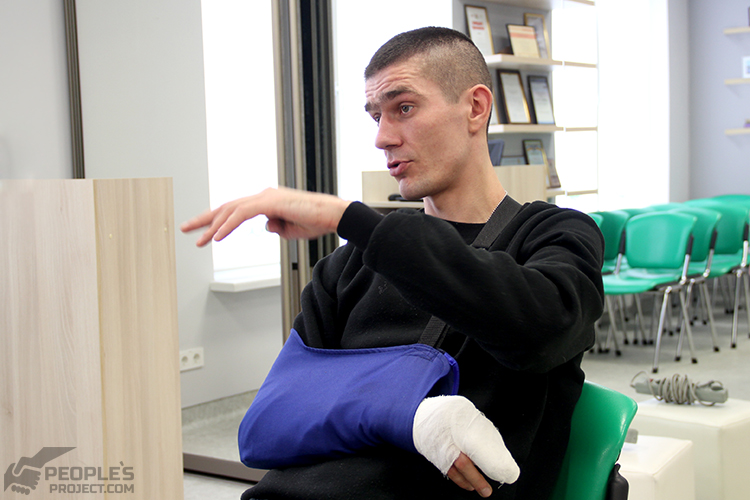 Petro. For that moment we already joined the 81st Brigade.
Pavlo. It happened rather spontaneously. We thought we had been assigned to this brigade. Still later it turned out to be that we had been listed in the airborne troops a while ago. We happened to realize this later. So we said to themselves: "Guys, we are paratroopers now!". But we started as volunteers, so first we thought we got assigned there for temporary service. Still alas – we got officially appointed to the 81st Air Assault brigade. OK then… What should we do, we had to obey. There were lots of jokes about this then (they laugh looking at each other).
– How long have you been in Vodiane?
Pavlo. About half a year we were fighting there. We had losses. Many guys did not stand it. They returned to the base and left home; it is rather difficult to get in contact with them now. Still those who stayed there, proved to be good soldiers and did a lot of job. To me it is an honor to serve with them. It is quite different from a regular service in peaceful time. In the time of armed aggression against your country, it is precious to meet people eager to support and follow you anywhere, at any time. There were no excuses like: "I cannot do this as I have a mom or a wife…"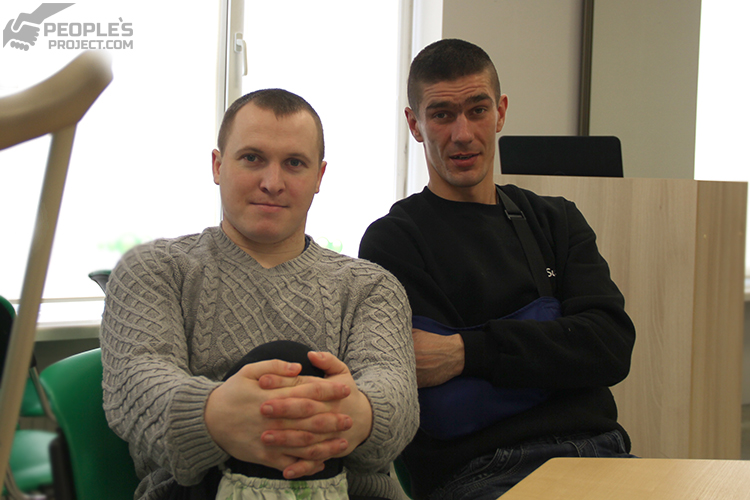 – Where else did you fight?
Pavlo. After Vodiane, we served in Druzhkovka, Donetsk region. It was near "Ulybka" (Ukrainian for "smile") camp…
Petro. "Ulybka Illicha", yes! It was a former Soviet youth's camp titled "Lenin's smile", and there was a Lenin standing in the center of it.
Pavlo. There was almost nothing of that camp left. Ancient buildings, all worn-out and in need of repair. So we moved in and started to renovate it step by step. Removed that Lenin out of sight. Some inhabitants of the town approved this, but the other asked why did we took him out. Later, we knocked down another statue of Lenin in downtown (both laugh). The seniors yelled at us like: "Look at these Ukrops who came in here and destroyed our Lenin!". Well, we coped with this somehow (laughs).
– Petro told us a bit about how he got injured, but you happened to witness it, didn't you? How did it happen?
Pavlo. We were moving into the field together then: we had to hold our sectors, watch and get the defense line prepared, to say, we needed to fortify our positions. I was following him on his right back side, and another comrade was moving on the left. It was quiet and calm, no artillery was working, seemed everything was fine. And, all of a sudden, – boom! Just imagine: you are walking along the path carefully, and when you unexpectedly slip up a bit… there's bang! At first, I thought it was a grenade. The next thought was: storming! Still no shotguns followed the blast and everything remained calm, so I started to figure out what kind of explosion it was. Nobody was moving, everything looks motionless… Petro was standing still on his feet, – there was no scream, no falling down, just a surprised expression on his face, as if he tried to realize what exactly happened. And then Tiger says in a whisper: "F–k, my leg!". Then he is trying to get down slowly, – not falling, just laying down. He was neither screaming not crying, – just squats holding his leg tight, with his teeth clenched… He was obviously going to say something but did not utter a word! He realized that screaming was not a very good idea. Because if were got heard by anybody…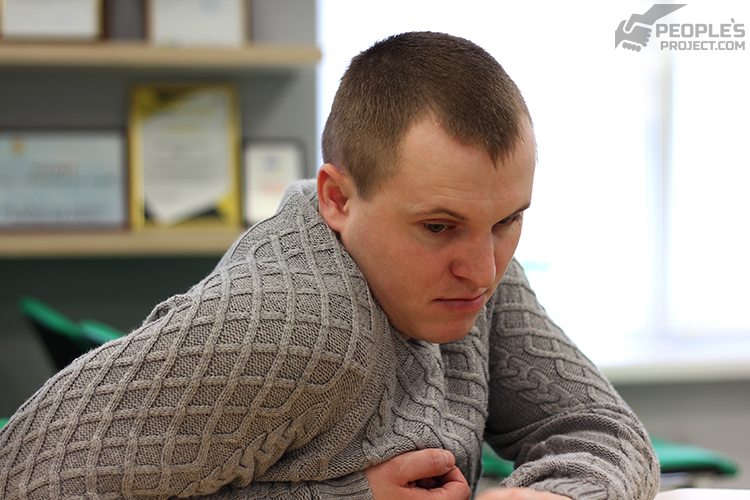 Petro. The sound of explosion was heard distinctly, still it could have been a dog, whatever.
Pavlo. Yes, if there is a sound of a blast anywhere, the enemy just sits and waits for yelling or screams to follow. So Petro kept silent and did not give a word until the end. I cannot tell about the sanitary vehicle as I wasn't present there, still while we giving him first aid applying a tourniquet, bandaging his wound and putting him on a stretcher and getting him evacuated – all this time he behaved with ultimate courage. Not everyone has guts to endure this. His entire heel gone torn off, and the leg got broken in the blast.
– How did you save him? Were there any medics at the spot?
Pavlo. At that time, we grabbed our weapons by reflex, and rushed to him. And Tiger himself took his leg, hold it tight and bent underneath himself. We checked up his entire body liking for more injuries. One of our comrades applied tourniquet immediately to make sure there was no bleeding any more, get the stretchers ready and called the medevac by radio: "We've got a WIA, moderately wounded." Before we carried him to the place of evacuation, the vehicle arrived. He had been provided medical aid fast. This testifies that we had been trained well. And this does matter at war. Eventually, as you can see, he is fine now, alive and even has two legs!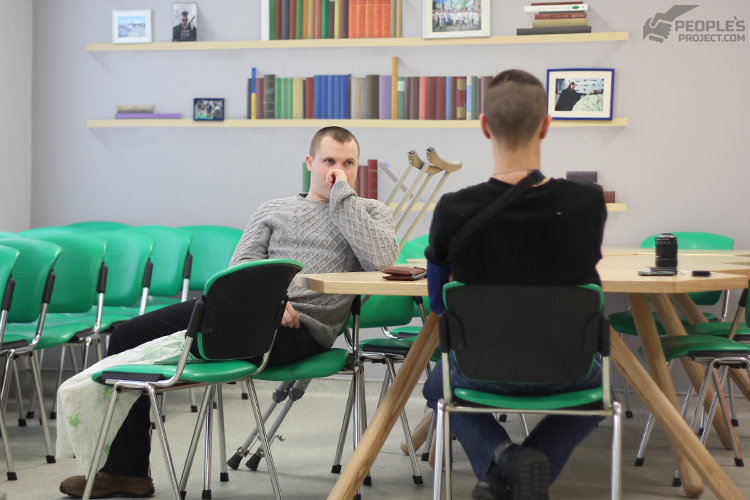 Pavlo. The only thing I asked for while evacuating him, was to tell the medics that they should try and save his leg. I thought it could have been saved then – and I was right! This is thanks to the volunteers. Over time I got to know that it was volunteers who took Petro on and brought into this project for him to get properly treated. Because to have your own living leg is important. It is much better than any prosthesis!
… The guys are leaving the clinic. It is cold outside, so they zip their jackets up. Pavlo, with his arm bandaged, froze up with his zipper for a moment. "Let me give you a hand," – Petro fixes his crutches under his arms to free his hands. – "Leave me alone, I can cope for myself!" – Pavlo jokingly rejects his assistance. Then both guys laugh realizing they are the same cloth. A truly colorful couple of friends, indeed! We say goodbye to one another. The guys are leaving for Petro's – they have a lot of things to talk about. Most likely, the majority of their recollections are just between them, still constituting military secrets.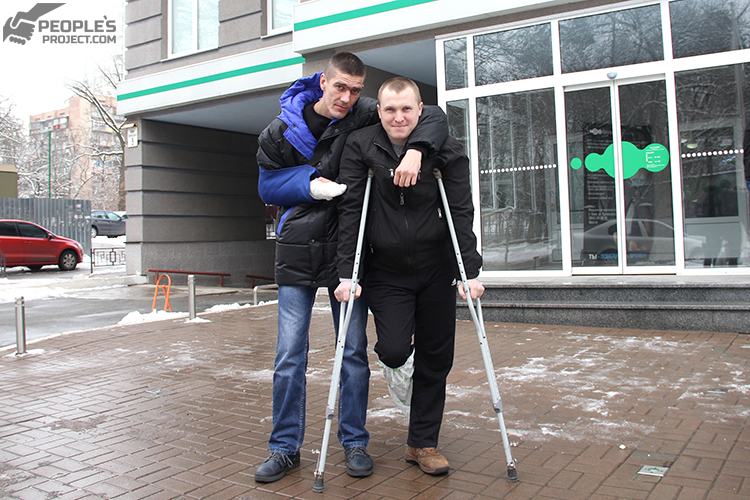 This was Petro's neither the first nor the last visit to the clinic. At the moment, new bones are being grown up out of Petro's own cells at the Biotech's lab. The main stage of treatment, the most challenging one, awaits Petro in the nearest future. The guy is exceptionally lucky to have a great supporting group of friends, family and comrades who are always ready to cheer him up. Still financial support would be highly appropriate. Conventional medicine offered Petro nothing but amputation; accordingly, sponsoring of treatment with application of innovative biotechnologies seems just fall out of the state's zone of interest. So the only hope we have is for you, dear friends! Each penny donated to Petro's treatment within the Bioengineering Rehabilitation for Wounded project, will make the most honorable reward for the young Hero.