Mariupol neighborhood is burning. Russian enemy destroyed almost all front line villages shelling with all available weapon for week. Enemy started with a heavy artillery, then used Grad, and recently Ukrainian Marines found on their positions the remains of MLRS Smerch missiles. International observers witness terrorists mobilizing prohibited weapon and heavy machinery very close to the front line. More details about present situation at the front line in a TSN video.
The blindages, which appear on a video are made at the expense of people's donations in terms of the respective project
Our good friend, former military intelligence officer, and now a volunteer of The People's Project Sergiy had just returned from the front line's hottest spots, where he spent a few days among the Marines. Sergiy is a man of war, and he knows all nuances of the front line life. He told us an exciting story about Marines' wild nights from the first hands.
---
"Have a funny night!" – say Marines to each other, instead of a "good night".
Front line nights can be quiet, empty, dark, wet, restless, and sometimes they are "funny".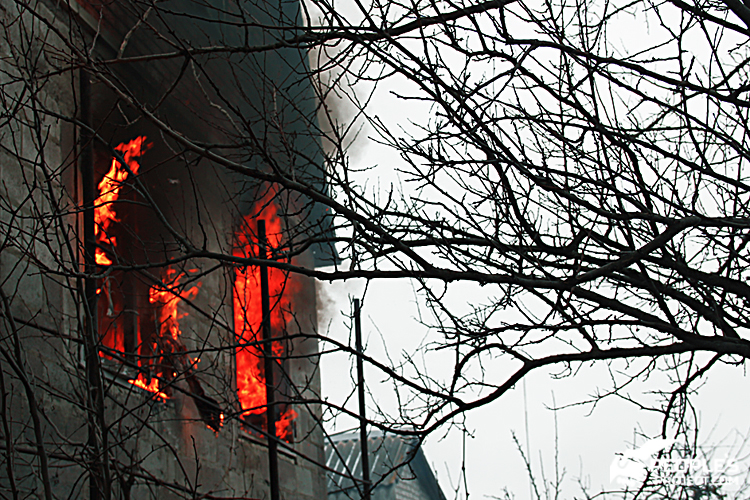 The consequences of the "funny night" are ruined front line villages, destroyed by the enemy. And there are still people living here
It starts with an unidentified loud and powerful explosion. Than RPGs, AGSs, LNGs and other infantry continue attack. In a 5 seconds after the first explosion radio comes alive with loud calls, landmarks, distances, teams codes and furious curses.
Soldiers run in full ammunition to keep defense. Less than in a minute whole first line fight back as actively as possible with all available equipment. During this time radio communications and reports are constant. A soldier, who uses RPG to fight back, grabs two more charges, and angrily hissing quickly runs back to the battlefield.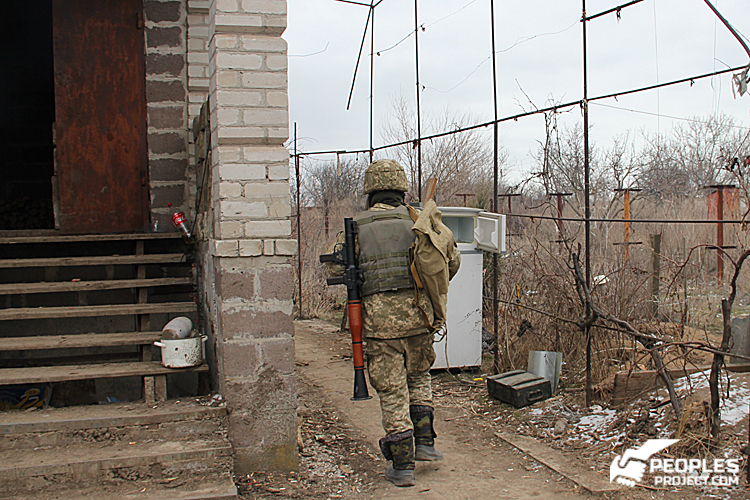 Soldiers try to keep the defense as effectively as possible. And this particular one will keep his duty effectively
For a while only the rifles can be heard on the street. Outside 2 Ukrainian soldiers with guns, wearing body armor and helmets carry a box of ammunition. A door to the blingade opens again, a soldier runs in and starts awaking his colleague:
– Wake up Dima.
– What?
– Get up, it is time to fight back.
– Is this 4am already?
– No, its an attack again.
– Oh, Ok! Lets smash some enemies, – and sleepy soldier wakes up and starts to pull up shoes.
At this time enemy's 120 mm mortar grenade hits the ground. In 4 seconds arrives the second one, and another in 2 more seconds, and then third, fourth, fifth, sixth… And each next one is getting closer and closer.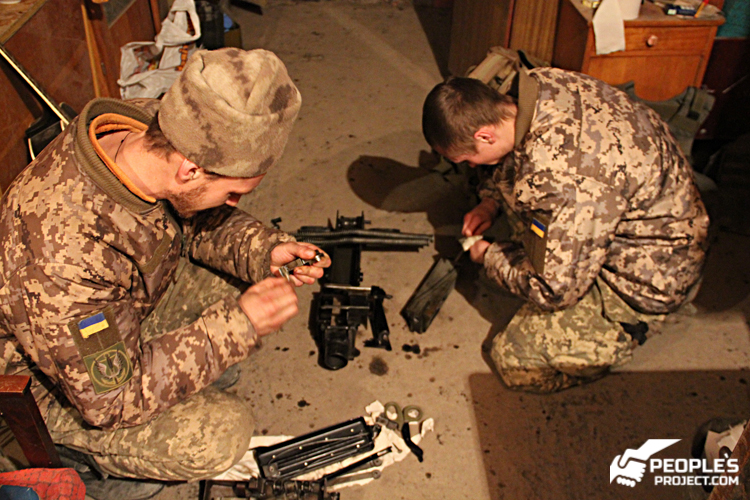 Ukrainian defenders prepare AGS for the next "fun night". Well kept weapons is a key to survival
From time to time distracting to the messages from the radio, platoon commander provides guidance to those soldiers, who instantly disappear in the darkness. They listen attentively, and quickly leave. In 20 minutes explosions become less frequent, and in another 15 fire almost stops. Only rare grenades explosions and PK machine gun shots break the silence. Shortly after voice of a commander tells about an enemy's retreat. Soldiers gets back to the blindage one after another, loudly discussing details of the fight, smoking and laughing. Someone turns on a dirty kettle, someone just go to sleep, and machine gunner charges a tape.
---
Marines must continue to defend the city. They must hold their positions. They should gradually squeeze the enemy out of the border of Ukraine. Day and night they should calm down the sabotage of an enemy. The job is not easy, and we are able to help defenders of Ukraine. Your contributions in terms of The Mariupol Defenders Project give us an opportunity to purchase the most necessary equipment for the marines.
Join the project. Your donations are a great and significant contribution to the defense of Ukraine.