Oleh, a 47-year-old volunteer with the "Donbass" Battalion has been discharged after surgical treatment of his femoral defect with the use of stem cell-based biotechnology.
On December 9, 2015, doctors at ilaya Medical Center completed replacement of the 14-centimeter hip bone defect using 3D-gel chips of osteoplastic material and autologous stem cells and fitted the femur with an LCP-type metal plate. To further recuperate the fighter will return home.
In 1.5 months an X-ray will be taken, so the next update on Oleh's condition will be in the New Year.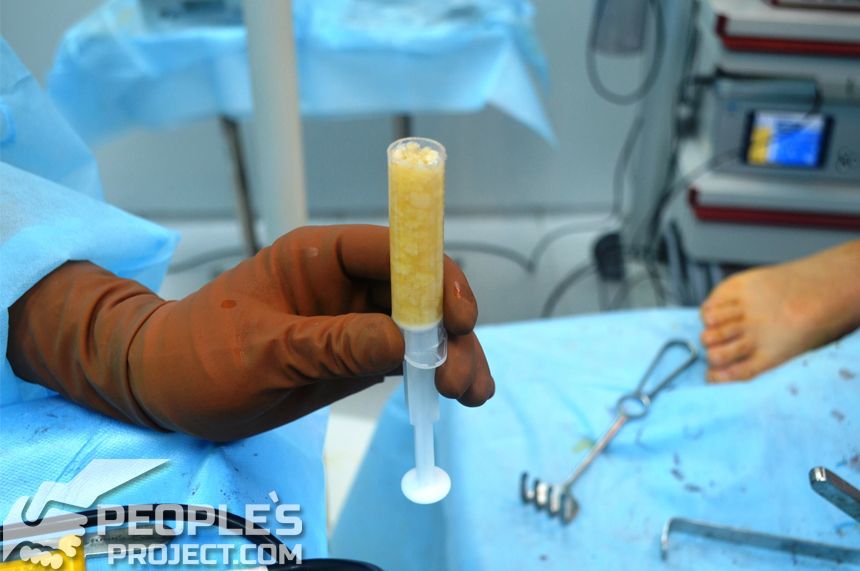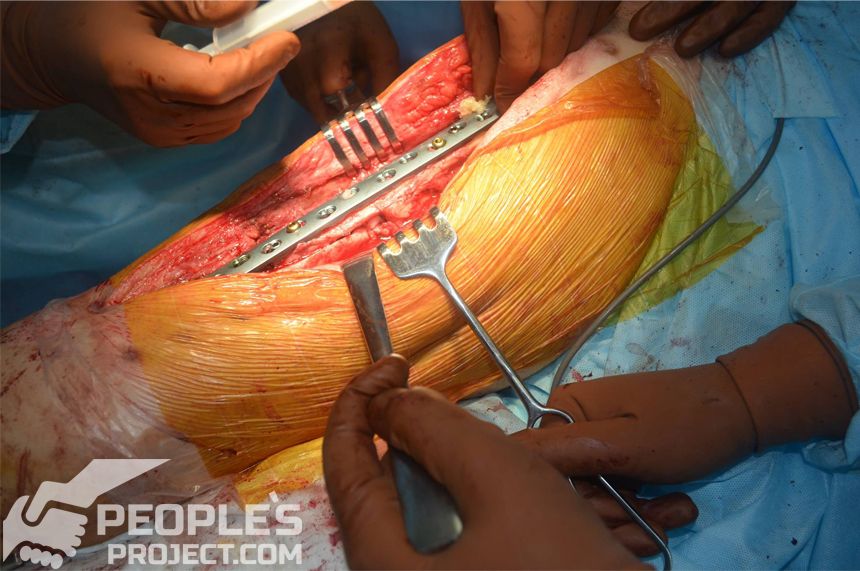 ---
Oleh was injured in Ilovaisk on August 19, 2014, when an enemy sniper shot him in the leg, resulting in the loss of a large fragment of femur. The soldier was treated in a Dnepropetrovsk hospital, and to restore the lost 14 cm of bone was sent to Lithuania – to a hospital in Vilnius, which is treating Ukrainian soldiers wounded in the ATO. There Oleh completed the replacement of a smaller tibia defect, however, after 9 months ot treatment his fibula bone was still not healed and the fighter could not move without the use of crutches or a walker.
It depends on the technology – in fact, according to doctors, after the transplantation of the patient's bone at the site of the defect, about 40% of the cells die in the first day after surgery. That is why the traditional treatment of bone defects is generally unsuccessful. Whereas bone cultivated from stem cell biotechnology, shows successful merging with damaged bone – that is usually noticeable after only 1.5 months after surgery in a control x-ray.
Oleh had lost all hope of recovery, but a fellow wounded soldier advised him to seek assistance from the Bioengineering Rehabilitation for Wounded project
Timeline of Oleh's treatment as part of the project:
19.06.2015 – First sampling of red bone marrow and bone fragments, after which preparation ot cell-tissue material began in biolaboratory;
29.10.2015 – External fixation device removed, and is replaced with a plaster cast;
09.12.2015 – Basic operation of the replacement of the defect conducted using 3D-gel chips osteoplastic material and autologous stem cells and fitting of osteosynthesis LCP-type plate.
Oleh's treatment history can be found at this link.
P.S. Thanks to your support, all funds for the treatment of Oleh were collected. Currently, fighters recently enrolled in the project, need your help.