---
How Oleh's treatment is progressing:
19.06.2015: Wounded volunteer Oleh of Donbas Battalion begins treatment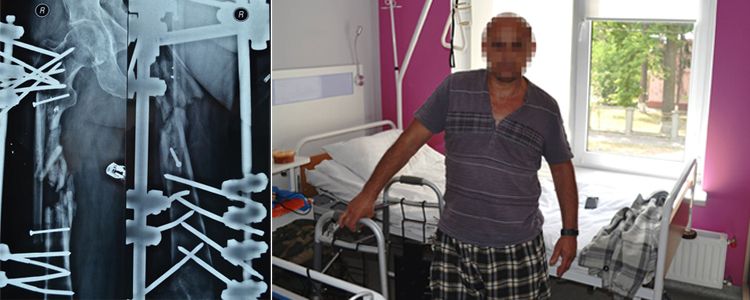 ---
Wounded:
Oleh, 47, a soldier with Donbas battalion, wounded in Ilovaisk
Wound:
Right leg: gunshot wound to hip, 14 cm femoral defect.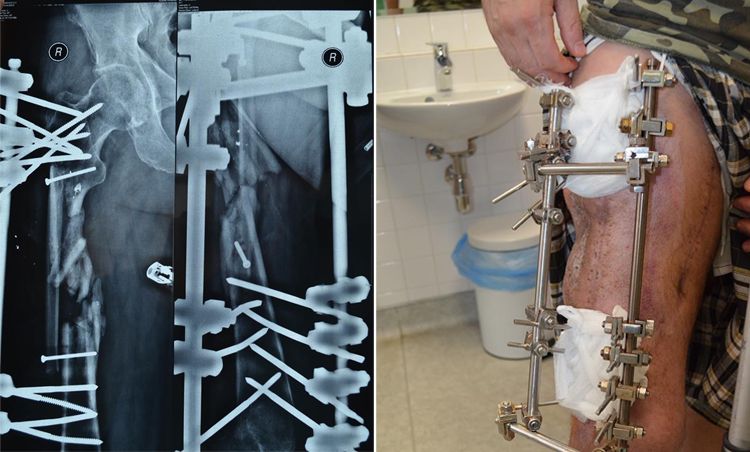 After nine months of treatment using traditional medicine the soldier's bone loss shows no improvement, further progress could result in permanent disability due to the loss of the leg's ability to support weight or even amputation because of the dysfunctional limb.
More information about the wounded:
Oleh is a volunteer with the Donbas battalion, who was wounded in Ilovaisk on August 19 when his battalion was performing an operation to strip the city of illegal armed groups. However an enemy sniper wounded Oleh and several of his military colleagues. Oleh was hit in the leg. Wounded, Oleh was dragged away from the hail of bullets attack, and brought for first-aid in Starobesheve.
Then the soldier was treated in a Dnipropetrovsk hospital, before being sent to Lithuania in a bid to restore the bone in a hospital in Vilnius, which treats Ukrainian fighters wounded in the ATO zone. There Oleh underwent surgery for hip replacement and on the defect to his fibula. However, after nine months of treatment in Lithuania the bone did not heal, and the fighter is still reliant on a walker for mobility.
Over time, Oleh almost lost hope of recovery, but in Lithuania he was lucky enough to meet a fighter from the Dnepr-1 battalion called Michael whо had taken part in the Bioengineering Rehabilitation for Wounded project and has already seen full restoration of his collarbone. In addition, Oleh's military colleagues advised he seek out our project.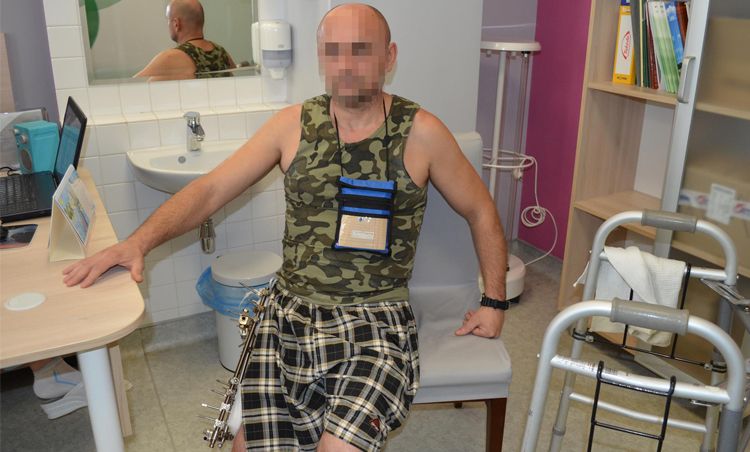 Oleh is a resident of Zhashkiv, Cherkasy region. He is a true patriot, and during his treatment in Lithuania after being in the country for three months he could have taken citizenship, but he decided to return to Ukraine. He says that it is closer to him.
Before the war, Oleh worked as a driver in Kiyv – in a taxi and other enterprises. After the first big battles of the conflict in the east he and his friends joined the ATO in June last year. Since then, the hero took part in the liberation of many cities at Donbas, including Popasna and Lysychansk.
Required treatment:
Reconstructive-restorative treatment of femora using cellular technology.
List of procedures included in the treatment:
• Diagnostics and examination: 4,055 UAH
• Collection of material and manufacture of cellular material: 202,766 UAH
• Treatment of femoral defect: 139,286 UAH
Budget update:
In 2015 Oleg's femur was restored, he had a defect of about 14 centimeters. Now he can load fully restored bone in a usual way. However further rehabilitation is complicated by the plate that used to hold the bone during treatment and contracture of the knee joint. In addition, the hip has shortened by 3 cm – in the course of treatment, due to the huge area of the defect, it was impossible to restore bone in the exact length. Now an additional stage that includes two surgeries is needed. First – to remove the plate and extrafocal perosseous osteosynthesis. After restoring the physiological bone length doctors will dismantle the external fixation device. The cost of all additional stages will amount to 95 215 hryvnias.
Oleg joined the Biotech project with the defect of the femur bone of 14 cm. Now, after a series of complex operations using cell technologies and two years of treatment, the integrity and natural hip lengths have been restored. The demounting of the external fixation device is planned for the spring of 2018.
The treatment of such injuries is a complex and lengthy process that can not always be calculated in advance. Sometimes there is a need for additional procedures. In Oleg's case, there was a need for additional examinations and a number of cell materials needed during the transplantation was much larger than originally planned. Additional expenses amounted to UAH 46,845.
Updated cost of treatment including medical center discount of 34.51%: 488 167 UAH