Time to tell you some good news, dear friends! Lately, a group of Ukrainian ATO veterans who underwent a course of psychological rehabilitation, has come back from their Carpathian mountaineering tour. We, the People's Project volunteer center, actively assisted in preparation of the tour by launching a fundraising project aimed to sponsor the purchase of touristic equipment for them.
During six days the tour lasted, its participants made over 100 kilometers of mountain tracks, swam in cold upland rivers and lakes, took a good rest in highland meadows in sunshine, enjoyed picturesque scenery at Carpathian Mountains and, which is essential, unwinded psychologically and get over their distress.
Overall, 11 people took part in the tour: these are vets from Kropyvnytskyi, Dnipro and Lutsk. Some may feel rather skeptical about such way of psychological rehabilitation, or doubt its effectiveness, or even get a bit envious about their possibility to take a rest while others need to stay in cities busy with their day-to-day things. We have to object these suggestions. First, the tour was a nice opportunity to take a wishful rest. Logically, positive emotions and the chance to escape from mundane reality at least for a while, to relax and unwind a bit is a wonderful opportunity to displace traumatizing memories. Second, during the tour the veterans were supported by professionals, Mr. Serhii Noha and Ms. Natalia Salimova, the organizers of the initiative.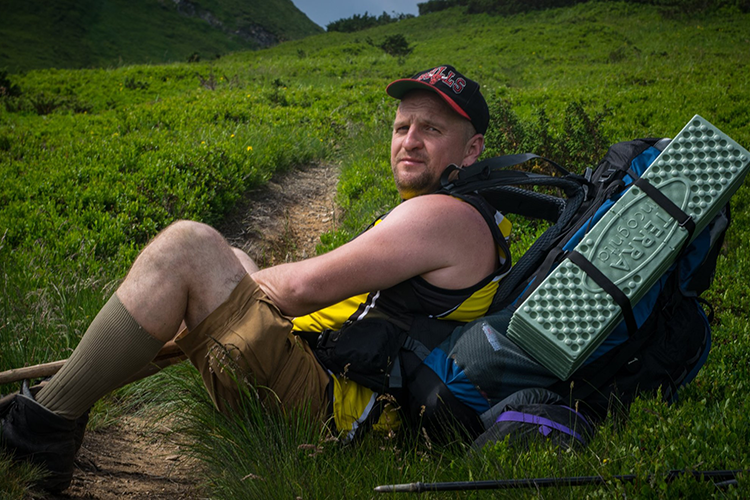 This nice man who looks like a Hollywood actor Woody Harrelson, is Mr. Serhii Noha, one of the founders of the initiative
Mr. Serhii is a war veteran himself; at the moment he serves as a police special operations officer. Some time ago, he faced the psychological consequences of the war as well, so had the opportunity to estimate positive effect of a mountaineering tour on recovery from these consequences on himself. Since then, Mr. Serhii has studied and analyzed lots of professional works and materials, got the support of professionals, carried out thorough preparations and developed his own program of psychological rehabilitation of fighters, which resulted in the Mountain Therapy project.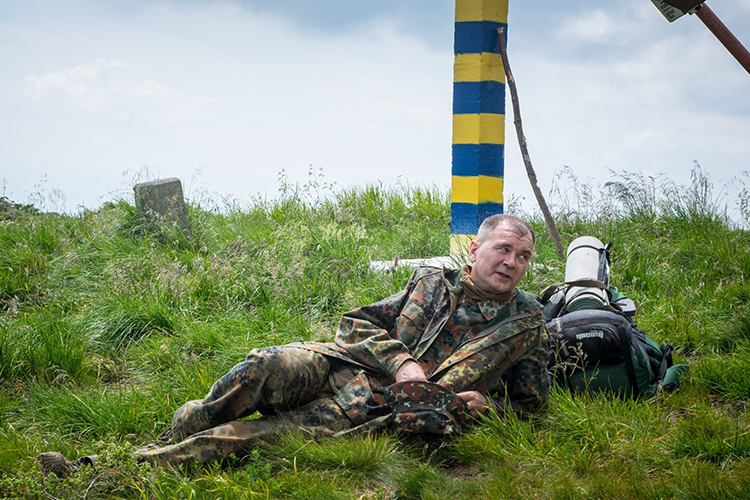 Quite surprisingly, we found an old friend of ours, Mr. Vladyslav who underwent restorative treatment within the Bioengineering Rehabilitation for Wounded project after the severe injury he sustained in the frontline
"During these six days of the tour we had a hot summer period mixed with cool gloomy weather that felt like either fall or early spring 😉 During the period we learned what a supportive friendly shoulder is, and experienced high level of responsibility for both themselves and our mates. Learned to concentrate and keep significant details in mind. Inhaled some fresh air, tasted fresh Carpathian mineral water, enjoyed beautiful mountain landscapes and wonderful scenery around, and, eventually, just got that inspiring feeling of happiness and satisfaction," – Ms. Natalia describes the participants' impressions.
Now to less optimistic matters. We have inspected the equipment the participants of the initiative used while touring. We can see backpacks, tents and sleep mats we bought at the expense of your donations within the project. These look quite good, comfortable and durable. But the gnarled sticks the vets use as trekking poles, are totally outdated, so we had to buy these as well. But at that time, despite huge discounts granted to us by the manufacturer, Terra Incognita company, we found we did not have enough money. Shortly, another group of veterans is to go on tour as well. That is why we ask you to join the project and to give us a chance to improve this shameful situation. A comfortable tour implies presence of all the necessary equipment, doesn't it? At the moment, we need to raise another 11 thousand hryvnias. Dear friends, all together we have got the chance to say thank you to our defenders and support them with a small amount we can afford, haven't we?