Description
Why is this important?
The lack of effective government rehabilitation programs for soldiers wounded in the ATO is an extremely acute problem at present. Unfortunately, in most cases, after standard medical care is provided and the patient is stable, the soldier is simply discharged from the hospital with no follow-up care. The soldiers and their families face the challenges of recuperation on their own. These courageous and independent men have a hard time accepting their inability to look after themselves. In addition, a lot suffer from constant pain, thus, to all the problems already described depression can also become a factor. However, with proper follow-up medical care and attention, many of them might get back on their own feet.
Clearly, this is a complex problem and it should be addressed systematically, the Ministry of Defense is making fumbling attempts to try to deal with the problem, the Nodus Neurological and Neurosurgical Rehabilitation Research Center is already successfully helping ATO warriors, mostly at their own cost.
To date, the Nodus Center, which is based in Brovary just north of Kyiv, has helped 27 wounded soldiers. Half of them were considered to be hopeless or incurable. Among them are:
Pavlo, 25, wounded in the Donetsk region in an explosion which led to him being pinned down by a concrete slab;
Dmitro, 28, after being seriously wounded he arrived at the clinic in a wheelchair, unable to walk;
Victor, an artillery member, due to shrapnel wounds he lost his left hand and could not move his right hand;
Vitaly, 35, during ATO operations he suffered a stroke, spending a subsequent 10 days in a coma, and was completely immobilized;
Vadym, 37, received a serious spinal injury and paralysis of his limbs;
Ilya Karpov, 27, Kulchitsky battalion, suffered extremely serious injuries that left him unable to move or even speak;
This is only handful of those who were given hope of a more functional life due to the efforts of the professionals at the Nodus Center.
After the positive results of Nodus' rehabilitation programs became known, other clinics and hospitals started sending their patients for rehabilitation to Nodus. The capacity of the center is now at a tipping point. Without help, they will not be able to continue to treat the warriors, and yet demand for their services continues to grow as the number of wounded in Eastern Ukraine continues to mount.
Where does the money go?
The Nodus Center has vast experience in providing specialized assistance and comprehensive neurological rehabilitation to patients with various neurosurgical pathologies, including complicated trophic wounds that take a long time to heal, and inflammatory injuries to soft tissue.
Now, we face the urgent need to acquire a Sonoca 185 Ultrasonic Wound Debridement apparatus. Made by German company Söring, It uses a technique known as low-frequency ultrasonic debridement for the removal of unhealthy tissue and bacterial load in wound management . At the moment, the queue for rehabilitation using this apparatus in Nodus stands at almost 60 wounded.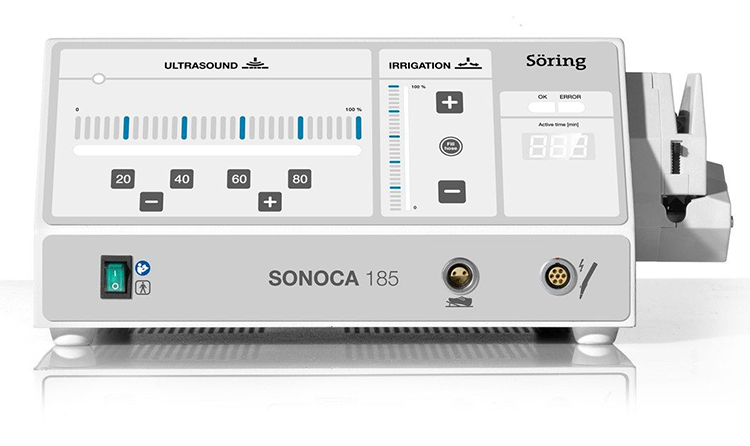 Many of the complications doctors are facing now are as a result of lack of opportunity to promptly cure the wounds. This device will significantly reduce the time needed to heal wounds and can serve up to 10 patients a day!
Video of the Söring Sonoca 185 in action (CAUTION: Graphic footage):

An ultrasonic wound debridement apparatus is of vital importance. With it, doctors can significantly speed up the process of rehabilitating fighters and reduce or avoid a number of complications related to the time taken for severe wounds to heal. Procedures using the Sonoca 185 will be an integral part of the rehabilitation process and greatly enhance its effectiveness.
27

July

2015

Project budget reduced by 72 200 UAH. Thanks to the help of official representative of Söring in Ukraine we have received a significant discount on the purchase of apparatus.

20

July

2015

Project budget increased by UAH 107 400 due to increase of Euro exchange rate. Now we are in process of reaching final agreement on price and volunteer discount with official dealer.

07

March

2015

UAH 100 000 donated by Druga Rika band mistakenly credited to the Supporting Rehabilitation Center for Wounded project account has been transferred to Bioengineering Rehabilitation for Wounded project.

Sonoca 185 Ultrasonic Wound Debridement apparatus
535 200 UAH
Totally:
535 200.00 UAH