The best battle is the one not fought. If you can't avoid conflict, save as many lives as possible. Therefore, for a soldier of the Armed Forces of Ukraine, it is important to have an effective weapon and a properly equipped military first-aid kit. An individual first-aid kit significantly increases the ability of a fighter to provide self-help. This first aid kit offers emergency care for the two main causes of death on the battlefield: severe bleeding and respiratory failure. Each military first-aid kit in the Armed Forces of Ukraine multiplies the soldier's survival rate. It is also important to know what exactly the military first-aid kit of the army of the Armed Forces of Ukraine includes because you should not forget the main rule of assisting "do no harm."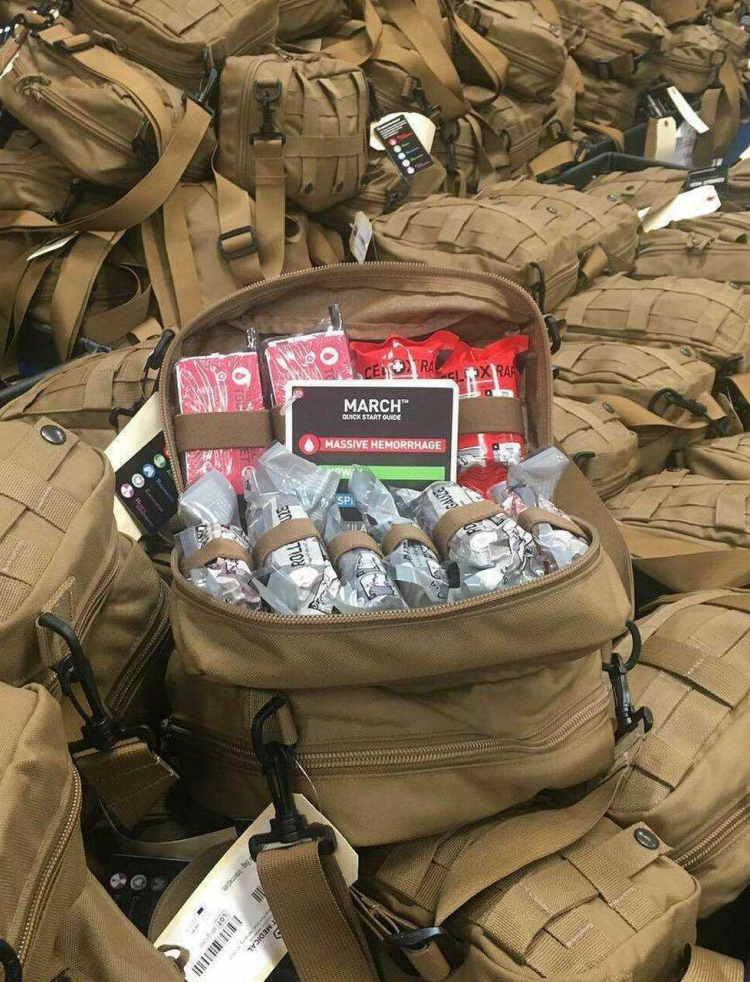 We will answer how to supplement a standard first aid kit and what should not be put in it. At the end of the article, you will learn how to choose the right hemostatic tourniquet.
What does the AFU first aid kit consist of?
When preparing equipment, it's important to balance its weight and the minimum needed items. The items listed below, included in the army first-aid kit, are the very minimum of what can save health or lives. The enhanced set is determined individually.
sterile gauze bandage;
individual emergency bandage pack;
non-woven adhesive plaster;
a corrugated hemostatic bandage;
a pair of medical gloves;
thermal blanket;
two tourniquets CAT type;
emergency shears for cutting clothes and shoes;
a marker pen for applying information;
nasopharyngeal airway;
medical stowage bag.

Sterile gauze bandage
A sterile bandage is used in many cases: burns, fixing a limb, fixing tampons, stopping bleeding, dressing wounds, applying fixing or pressure bandages.
The bandage should be tight enough to securely fix on the body, without seams, pressed along the edges to prevent falling apart into threads, with even weaving, well absorb moisture, sterilized without bleach, and no damage on the packaging.
Emergency Bandage
A more advanced version of the bandage is used in the armies of most modern countries. The emergency bandage is also called the "Israeli bandage" it is designed specifically to help fighters independently apply a hemostatic bandage even with one hand.
The dressing complex consists of an elastic bandage with an absorbent pad. Above it, on the reverse side, there is a plastic fastener that helps fix the bandage effectively. The emergency bandage is packed in a sealed sterile package with brief instructions.
Non-woven adhesive plaster
A very versatile tool both in peacetime and in wartime. The plaster should be hypoallergenic, wide, in the form of a coil, and viscose. Such a plaster does not stick to clothes or hands; unlike a fabric patch, it is easy to tear off the segment with your hands.
Hemostatic Bandage
A special sterile bandage is impregnated with a hemostatic agent, which is used to stop bleeding. The bandage is tamponed into the wound in hard-to-reach places (inguinal fold, axillary zone, etc.). Hemostatic bandage replaced the hemostatic powder as it was ineffective in combat.
Features of a hemostatic bandage:
It has a specific shape in the form of a bandage folded in zigzags. This arrangement helps quickly pack the wound without needing to unwind the roll.
Corrugated bandage structure for better absorption.
The bandage is impregnated with a special hemostatic agent.
The material does not peel or disintegrate for easy removal from the wound when providing professional assistance.
Medical Gloves
A pair of regular latex or nitrile medical gloves. There are no tricky ways to use gloves. They protect the wounded and the person who assists from infections and contamination. In the field, there is not always time and opportunity to devote time to hygiene and putting on gloves correctly without damaging them, but their presence is a must in the first aid kit.
Thermal blanket
A thermal blanket or isofolium is a polyethylene foil 1.5×2.5 m in size with an aluminum coating, which has many uses familiar to every survivalist or extreme tourist. The main purpose of a thermal blanket in combat conditions is to cover the victim and retain up to 90% of body heat. In some cases, isofolium can be used to transport the wounded.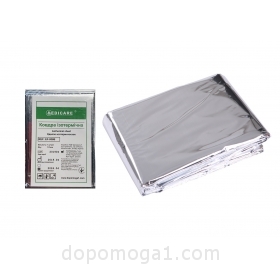 The thermal blanket is cheap, light, strong, and elastic, so it probably has 1001 uses. Here are some of them:
keep warm in the cold or hide from the sun in the heat;
use as a heat shield by the fire to keep warm;
you can make a funnel to collect rainwater;
in the form of an awning, you can protect yourself from rain or wind;
by cutting the blanket into strips, you can make a rope.
Tourniquet
CAT type tourniquet is an effective tool for quickly stopping bleeding in the upper and lower extremities. Such tourniquets are used by the US armed forces and most of the European armies. CAT tourniquets have passed seven generations of innovations, and with each generation, the design and materials of the tourniquet have improved.
In addition to marketing features like the "10 Great Inventions" award and a lot of fields and medical effectiveness tests, the CAT tourniquet has several quite practical advantages:
stop bleeding quickly;
one-handed use;
application in any weather conditions;
secure fastening with a clasp.
Emergency Shears
Steel military tactical atraumatic scissors with plastic handles.
These shears are specially designed for use by emergency personnel and military medics. The shape of the shears is perfect for cutting clothing or footwear without the possibility of injuring the victim.
This type of scissors has a special and recognizable design that allows them to cut clothing without getting stuck or clinging to it easily. Shears are guaranteed to cut most types of fabrics, as well as the following materials:
thick genuine leather up to 2 mm.
Cordura with density up to 700-1000 D.
Marker Pen
The most common permanent marker indicates the tourniquet's application time and important information about injuries. Since a soldier can be (and be injured) in various weather conditions, it will be advantageous if the marker is solid enough, with a tightly attached cap.
Nasopharyngeal Airway
The nasopharyngeal airway is a flexible tube made of special silicone. A trumpet is inserted into the nasal passage to allow air into the airways.
If an injured person loses consciousness, the tongue can sink into the throat due to the relaxation of the jaw muscles. This can cause airway blockage and even death by suffocation.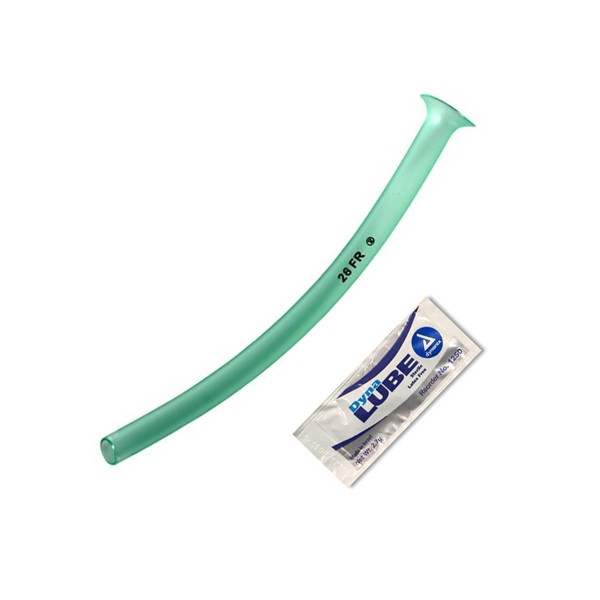 The nasopharyngeal airway hose creates a free channel for breathing in an unconscious person.
The kit should always include a package with a special lubricant used when inserting the tube and to prevent damage to the mucous membrane.
Bag
There are no strict standards for manufacturing pharmacy bags, but the main requirement is convenience and moisture protection. If we consider the army first-aid kits used by the soldiers of the Armed Forces of Ukraine in more detail, we have the following characteristics:
The rectangular shape measured 20x14x10 cm.
Material waterproof nylon (Cordura or Oxford).
The most commonly used color is olive or coyote.
MOLLE is used as a mounting interface. This type of fastener makes it easy to attach the first aid kit in a convenient position to any tactical vest.
Drainage hole at the bottom of the bag.
The ability to easily open the bag with one hand.
Inside there are several pockets and elastic slots for attaching contents.
How can I improve the army first aid kit?
The easiest way to make your first aid kit more effective is to put more of everything:
Two tourniquets.
A few bandages.
A couple of hemostatic agents.
An extra Band-Aid.
The second pair of gloves.
This extra set will help provide individual care at the highest level, as there may be more than one injury.
As additional funds that can be placed in the first-aid kit, the following are distinguished:
Halo Chest Seal. A special plaster is used to close wounds in the chest with pneumothorax. Comes with two pcs packed inlet and outlet openings.
Along with HALO, it makes sense to take needle decompression kits, which are used to lose air from the lungs in a tension pneumothorax.
Set of anti-inflammatory drugs, antibiotics, and painkillers. Tablets must be in rigid packaging.
Anti-burn hydrogel bandage. The imposition of such an application does not require special training. The bandage has a cooling effect and prevents burn blisters.
As an additional means to stop the blood, you can add a hemostatic in the form of granules.
What is better not to take in an army first aid kit
It is quite easy to increase the effectiveness of an individual first-aid kit; making it less useful or harmful is also not difficult. So think twice before putting the following in your first aid kit:
Powerful painkillers. Such medicines have few benefits, but enough harm can be done. An overdose of drugs leads to serious complications or death.
Hemostatic powder. Compared to bandages or capsules, the powder is considered the least effective. The powder is difficult to use in the field due to rain, wind, or handshaking. In the case of bandages, it is taken out of the wound almost entirely.
Esmarch's tourniquet. Once, such a tourniquet was considered quite effective, but now it is a relic that is obsolete. The USSR troops used such tourniquets in the last century, and now they are used by the invading forces of Russia. That's why Putin's army is fighting not only with medieval methods but also with medieval provisions, which means they are doomed to failure.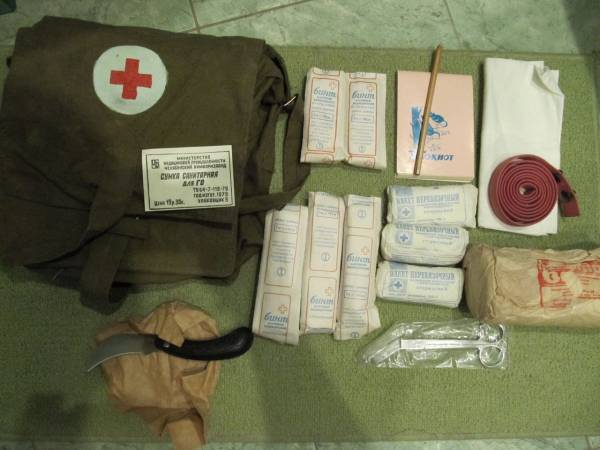 How to choose the right tourniquet
A tourniquet is the most important tool in an army first aid kit that can save a life. When large arteries are damaged, the count goes on for minutes. How quickly and effectively the tourniquet is applied depends on whether the victim survives. Therefore, information on how to choose the right tourniquet can be extremely important.
CAT Tourniquets
Competition in the army support sphere has honed the standard design for modern hemostatic tourniquets. The most popular company manufactures them is CAT (Combat Application Tourniquet). There are several generations of this tourniquet. Generations 6, 6.5, and 7 are considered the most modern and effective. CAT tourniquets are trusted by the armies of most countries of the world.
SOF Tourniquets
Many companies began to manufacture new tourniquets, and some simply copied them. SOF manufactures sufficiently high-quality analogs. They have all the advantages of CAT tourniquets and offer some quality differences: metal collars and fittings instead of plastic ones and denser nylon. These qualities suggest that SOF tourniquets can be used more than once, although the manufacturer does not indicate this.
By choosing a CAT or SOF tourniquets, you can be sure that:
the tourniquet can be easily applied with one hand;
thanks to a well-thought-out design, the tourniquet is securely fixed on the limbs and does not rub or slip;
thanks to a convenient collar and stop, you can easily increase and decrease the tension if necessary;
Unlike old-fashioned rubber bands, the modern tourniquet works in all weather conditions.
Chinese counterparts
In addition to brands officially used in the world's power structures, there are a lot of Chinese replicas, the quality of which is practically not controlled in any way. For this reason, buying Chinese-made tourniquets is not recommended. You can buy one well-made copy of sufficient quality, but having purchased a batch of such products, half of them may be unusable.
Army individual first aid kits for the Armed Forces of Ukraine
Unfortunately, we still spend years in military development and field testing figuring out more effective methods of killing. At the same time, a lot of work is being done to save lives. One of the results of such work is a modern individual army first-aid kit. We get the optimal set of tools that can save the life of a soldier and fit in a small bag that does not burden movement.
The military first aid kit is essential to save the lives of Ukrainian soldiers in the fight for independence. Each of us can bring closer the long-awaited victory and Ukrainian liberation from invaders. We can save the lives of the soldiers of the Armed Forces of Ukraine by providing them with the most necessary.