Choosing a generator once seemed to be a particular task for specific situations: periodic power outages, living in places far from power lines, the specifics of work, etc. Unfortunately, during the war, even residents of large cities have to think about this problem, which is not used to keeping even candles "in reserve". In this article, you will find a comprehensive answer to the question of how to choose an electric generator depending on the electricity consumed in your home. You will also understand what kind of generators are.
The main criteria for choosing a generator
Finding the correct type, size, and power generator is essential, as it is easy to buy a very noisy over or under-rated machine. Some generators are designed to work with certain types of instruments. Some are quite difficult to maintain.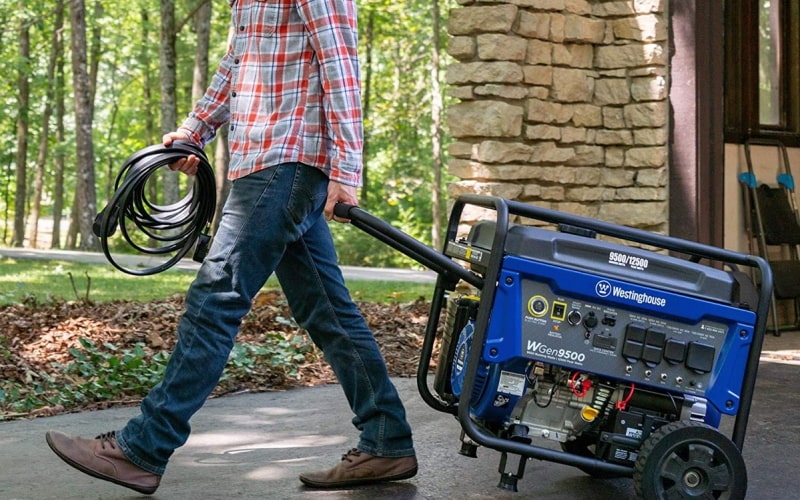 The same story applies to the number of equipment connected to the generator. For some, it is enough to purchase a generator to recharge gadgets and work on a laptop, which is extremely important in times of total remote work. You may like not to notice the loss of light at all and use all the usual devices as usual. In some cases, generators must support the repair work, production or functioning of institutions or establishments.
For each case, it is necessary to know the power consumption. First, we'll look at general information about generator types. Next, we will learn how to calculate the amount of electricity consumed and, based on this information; we will choose a generator depending on the power.
What consumers will be connected to the generator?
First of all, it is necessary to understand which consumers will be connected to the power generator. This is necessary to know for further calculation of the device power.
Types of consumers for a power generator
When choosing a generator, you must first understand what sources of consumption will be connected to the station.
All sources of consumption are divided into:
Active (omnic) – convert electricity into light or heat. Do not create starting currents that are much higher than the rated ones. Examples: incandescent lamps, electric stoves, household appliances, small household appliances (irons, hair dryers, kettles), and electronic appliances (TV, computer, office equipment).
Reactive (inductive) – have electric motors in the design, which consume several times more energy at the time of launch than during the main work. Example: lightly loaded consumers (jigsaws, drills, grinders), gardening equipment, loaded consumers (pumps, air compressors, welding equipment). For reactive consumers, part of the energy is spent on forming electromagnetic power to create a rotating electromagnetic field or pump capacitors.
Some generators are specialized to work with specific sources of consumption.
Which generator is better to choose: gasoline, diesel or gas?
Being interested in the question of which generator to choose, you will find out that they come in three main types: gasoline, diesel or gas. If we compare them by price, with equal power, diesel power plants are more expensive than gasoline. However, they have twice as many resources.
Gasoline generators
Gasoline generators can be selected if backup, seasonal or emergency power is needed. Gasoline power plants have a shorter resource but are more convenient to use due to their weight, size and noise level than diesel generators. Gasoline generators have less labor-intensive and simple maintenance.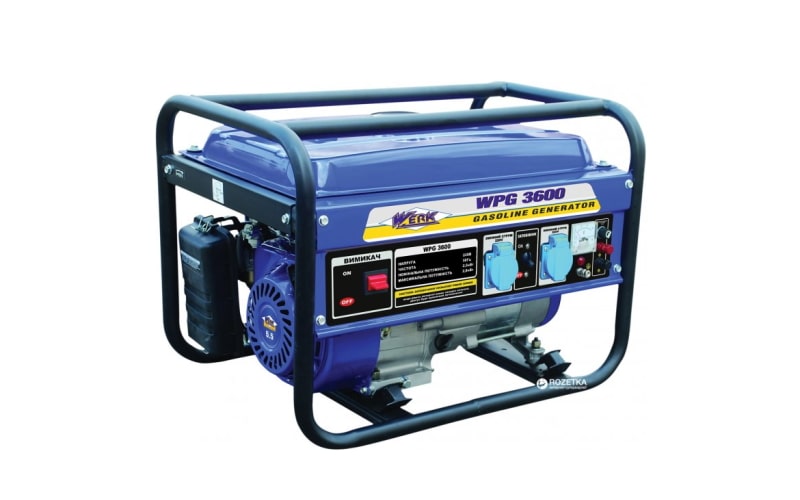 Benefits of a gasoline generator:
Relatively low price (high-quality models are sold from 6000 – 7000 UAH) due to the absence of additional subsystems and an open case design.
Lightweight and easy to transport. Wheels are usually installed on slightly more expensive generators (from UAH 10,000).
Less maintenance cost.
Lower price for the same fuel consumption compared to gas and diesel units.
Diesel generators
Diesel generators are chosen if a long-term operation is required (from 8 hours daily) or if power is required from 10 kW. Diesel power plants stand out for their durability and long service life.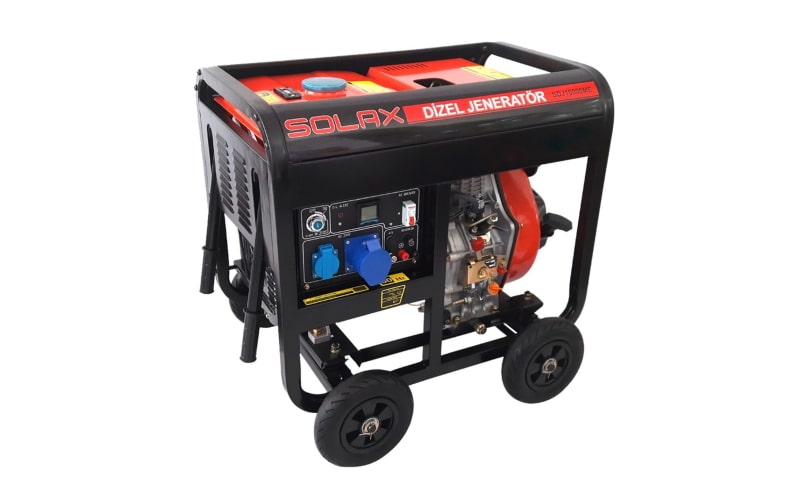 Advantages of diesel generator:
Diesel devices are considered more reliable, but the need for a preheating system for operation in winter and a higher price makes them significantly less popular.
ATS (automatic transfer switch) is already installed on most models, but their minimum price is significantly higher than gasoline and is about 15,000 UAH.
The presence or possibility of optional installation of a protective casing allows the generator to be used in any weather throughout the year.
The protective housing significantly reduces the noise level. The average performance for such models is about 70 dB, like a calm conversation.
Gas generators
Suppose it is necessary to use it permanently. In that case, a gas generator will be the most economical, but its price (from 40,000 UAH) is unreasonably high for irregular and short-term switching on. The main disadvantage is maintenance and repair. Their cost is significantly higher than that of gasoline and gas devices.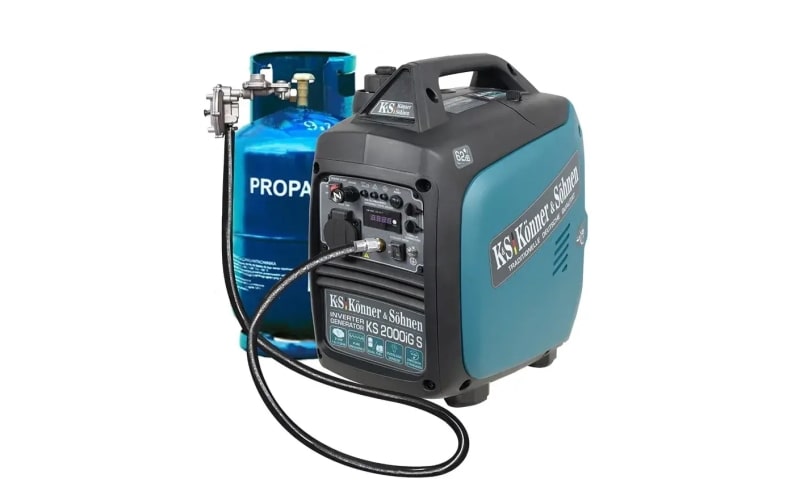 Advantages of the gas generator:
Some models allow you to connect directly to the line. That is, they do not require the replacement of a gas cylinder. But this requires the appropriate permission.
Gas models are less noisy and do not emit harmful exhaust gasses during operation.
There are "hybrid" models that run on LPG or gasoline.
What phase to choose for the generator?
The next step is to select a generator depending on the phase. The generator can be single-phase (220V) or three-phase (380V).
Only single-phase (220V) сonsumers (refrigerators, microwave ovens, light bulbs, TV) can be connected to single-phase power plants. The main thing is to calculate the required power correctly.
Three-phase 380V power plants are used when connecting three-phase consumers (some devices, electric motors, and electromagnets). They can also provide backup electricity to cottages with a three-phase network wiring.
When connecting single-phase consumers to three-phase power plants, evenly distributing the load between the phases is necessary. The power difference in different phases should not exceed 20-25%. Otherwise, phase imbalance occurs, which will cause damage to the generator.
How to choose a generator depending on the power
Having determined the consumers that are planned to be connected to the generator, it is necessary to add up the power of all devices planned to be connected simultaneously. It is better to look at the power of each of the devices in the technical data sheet or in the instrument power table.
It is important to correctly classify electrical appliances and take into account their starting power when calculating.
The table shows the approximate power of popular household appliances and tools.
| | |
| --- | --- |
| Appliances | Power Watt |
| Hair dryer | 450-2000 |
| Iron | 500-2000 |
| electric stove | 1100-6000 |
| Toaster | 600-1500 |
| Coffee maker | 800-1500 |
| Heater | 1000-2400 |
| Grill | 1200-2000 |
| A vacuum cleaner | 400-2000 |
| Television | 100-400 |
| Fridge | 150-600 |
| Oven | 1000-2000 |
| Microwave | 1500-2000 |
| A computer | 400-750 |
| Electric kettle | 1000-2000 |
| Electric lamps | 20-250 |
| Boiler | 1200-1500 |
| Mixer | 200-1000 |
| Washing machine | 1800-3000 |
| Power tools | Power Watt |
| Drill | 400-800 |
| Perforator | 600-1400 |
| electric grinder | 300-1100 |
| Circular Saw | 750-1600 |
| electric planer | 400-1000 |
| Electric jigsaw | 250-700 |
| Grinder | 650-2200 |
| Electrical appliances | Power Watt |
| Compressor | 750-2800 |
| Water pump | 500-900 |
| A circular saw | 1800-2100 |
| Air conditioner | 1000-3000 |
| Electric motors | 550-3000 |
| Fans | 750-1700 |
| hay mower | 750-2500 |
| High pressure pump | 2000-2900 |
The whole variety of generator models presented on the modern market can be divided into five groups that differ in the direction of use.
Mobile inverter for personal needs (for example, outdoor use) with a power of up to 3 kW.
Emergency power supplies for summer cottages or construction sites with a small number of consumers with a capacity of 2 to 6 kW.
Emergency power supplies for a private house with a medium or large number of appliances and power from 6 to 12 kW.
Professional stationary generators for construction sites and commercial facilities up to 650 kW.
Units for welding works.
Let us consider each group in more detail and approximately calculate the optimal power indicator.
Mobile generator selection up to 3 kW
The most compact devices are intended for domestic use, such as charging various portable electronics or lighting. More powerful inverters can be used with music equipment and bright lighting for outdoor events. Another alternative is private construction using a small number of power tools.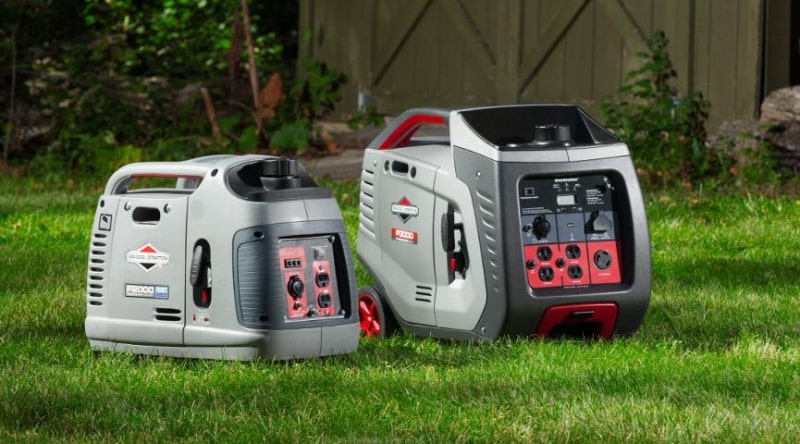 The most important parameters:
Ease of transport – you should pay attention to the presence of carrying handles or transport wheels. It is advisable to immediately assess whether a person can transport the device alone.
Weight and dimensions – the smaller they are (and the weight of the generators in this group can vary between 8-30 kg), the more convenient it will be to take the unit with you.
Availability of additional 12V outlets – This may be useful for using additional equipment. Moisture protection of all sockets will be an additional plus.
Existence of a noise-insulating casing for quieter work.
Built-in voltage regulator – available in the vast majority of generators, which allows them to be used to power equipment that is sensitive to voltage drops.
Complete cable with terminals for charging the car battery – if necessary.
Built-in overload protection – most devices have it.
A four-stroke engine is quieter than a two-stroke engine and uses less fuel. Additionally, you can pay attention to the manufacturer of the motor – not always the generator and the motor made by the same brand.
Approximate power calculation:
For short (maximum 1-2 days) trips to nature, a generator with a capacity of about 3 kW is sufficient. This should be enough to charge smartphones, and laptops, illuminate the area with a couple of light bulbs and even install a portable refrigerator.
To calculate the required power, it's not enough to determine the sum of the capacities of consumers. It is important to consider that many devices consume many times more current at the startup time. The inverter will be overloaded and turned off if this is not considered.
Choosing a generator for giving up to 6 kW
As a power source in the country for connecting the minimum necessary equipment. For short-term power supply of power tools at the construction site. Use in emergencies by special services (emergency, fire Ministry).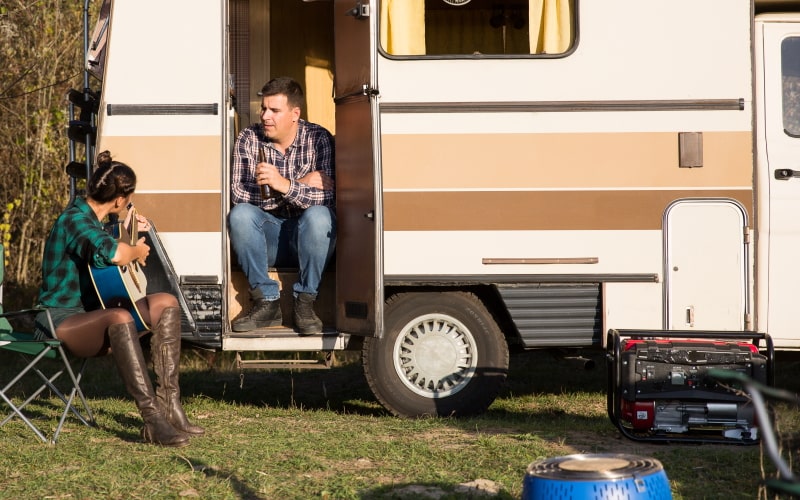 The most important parameters:
Single-phase or three-phase sockets – if three-phase equipment is not used, it makes no sense to overpay for the possibility of powering it.
Dimensions – even among the most powerful models of this group, you can find relatively compact ones that will be conveniently transported in the trunk of a car or stored in a garage.
Weight – the smaller it is, the more convenient it is to prepare the device for use.
Noise level – some models can be used even at night while not disturbing others.
Price – with equal power indicators, gasoline units are cheaper than gas and diesel ones.
Approximate power calculation:
Usually, there is a refrigerator and a TV in the house, and in economy mode, the house will be illuminated by two bulbs. As a reserve, provide for the need to turn on the vacuum cleaner.
Thus, in case of an unexpected and long power outage in the country, you should have a 3-4 kW gasoline generator.
How to choose a generator for a house up to 12 kW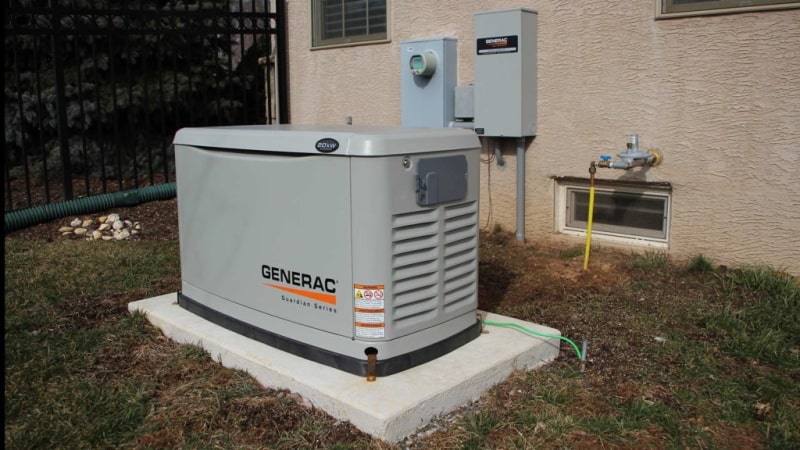 Generators up to 12 kW are designed to operate in a private house or cottage as the main source (in the absence of an electric line). As well as supplying backup power during extended outages.
The most important parameters:
As in the previous case, you should look closely at three-phase models only if you have the appropriate equipment. Otherwise, the overpayment will be meaningless.
For use as a stationary backup source, the generator should be equipped with an automatic transfer device (ATS) – a subsystem that turns on the unit as soon as the voltage in the main network disappears and turns off when it appears.
Many models do not have an ATS but allow its additional installation. Respectively, if this function is not urgently needed, it can be neglected when buying.
Approximately the same situation is with the noise cover – for some models, it is included in the kit, and for others, it is purchased separately.
Approximate power calculation:
Generators of this size already give you the average level of comfort you expect. If the generator is equipped with an ATS, you may not even notice the lack of electricity in the network and, at the same time, will use all the necessary equipment. For a private house, 10 kW will be enough.
How to choose a stationary generator from 100 kW
As a rule, stationary generators are used in industry and on large construction sites as emergency sources in hospitals and other public places. Basically, such generators are full-fledged stationary substations capable of regularly providing power to many devices.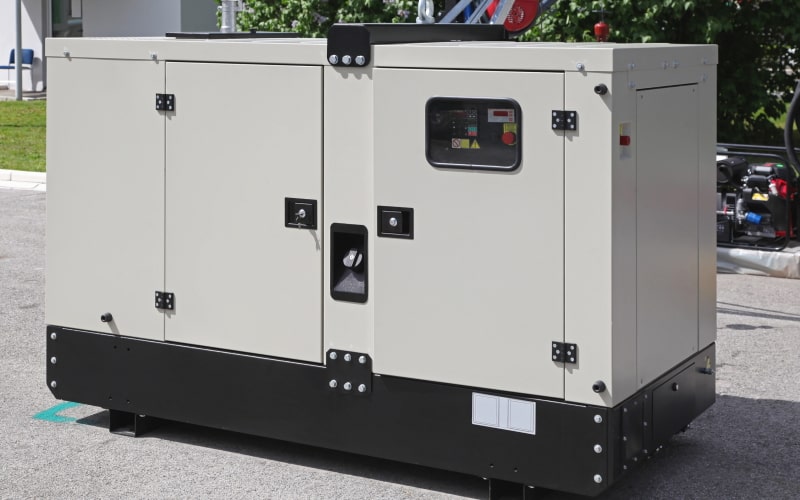 The most important parameters:
When choosing a specific model, it is necessary to consider the number of devices connected simultaneously, their power, the safety of the design itself and the quality of sound insulation since the machine will work constantly.
Before buying, immediately consult with a specialist to determine the installation possibilities and warranty issues.
All models have a secure connection and overload protection.
The main drawback is the very high price. It starts from 80 000 UAH.
How to choose a welding generator
How to choose a generator for welding? Welding generators are always allocated in a separate category. Such devices have design features compared to conventional generators. The welding generator is equipped with a special module that converts mechanical energy and generates current and voltage at a level sufficient to ignite the welding arc.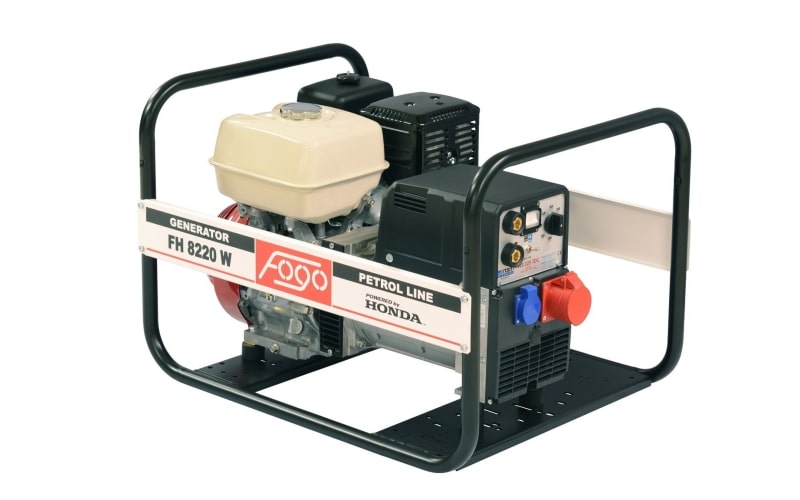 Aggregate types:
Alternating current – use special electrodes. Differ in availability and ease of handling.
Direct current – they work with electrodes but are initially equipped with a voltage rectifier, affecting the equipment cost. Due to the rectification of the current, a small loss of power is formed, but in the end, the welding is of better quality.
Inverter – the most popular among buyers. It can be used as a backup power source due to resistance to voltage drops.
Semi-automatic – the most high-tech and expensive generators. When welding from the coil, the wire is automatically fed, which requires a control unit. Models can work with gas and without it.
The most important parameters:
Current strength – usually, it is possible to adjust within 10-250A. The larger the value, the thicker the electrode can be applied.
Diameter and type of electrodes – 2-3 mm electrodes are suitable for simple household tasks. They also differ in coverage (more details below).
Dimensions and weight – as in the previous cases, the smaller the dimensions and weight of the device, the more convenient it is to use.
Additional Generator Selection Criteria
Having studied all the technical details of the question of how to choose a generator, it is worth paying attention to simpler but no less important issues of convenience. Some functions and features must be taken into account when choosing a power plant for a house, cottage or plot:
Noise level. The normal value is no more than 74 dB for gasoline devices and 82 dB for diesel ones. At the same time, if a casing protects the power plant, the noise level should be no more than 70 dB.
The presence of a protective cover and silencer. Some manufacturers supply additional soundproofing means in the kit. Well, if there are such in the model you have chosen.
Fuel tank volume. Everything is simple here; the more you choose a tank, the longer the generator will work until the next refueling, but the dimensions/weight will increase.
Existence of protection against an overvoltage and short circuit. When choosing, be sure to pay attention to the fact that your power plant has additional protective devices that will extend its service life.
Cooling system: air or liquid. The second option is more common on expensive stationary models because liquid cooling is more efficient.
Start type: manual, electric start or auto start. For a summer residence, you can choose an inexpensive option – with a cord you just need to pull to turn it on.
If you want to choose a generator for the autonomous power supply of a private house, it is better to stay on a model with auto start. In addition, the automatic transfer system (ATS) allows you to display information about how many hours the power plant operation will last.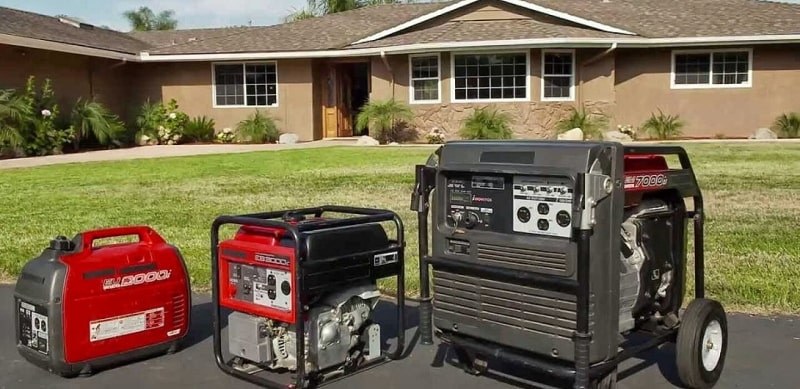 How to choose the right generator
Choosing a generator is not a very difficult task, but acquiring the right equipment can keep you safe, allowing you to live and work at your usual pace. Guided by the above information, you can choose the right generator precisely for your needs without overpaying for extra power and functionality.