---
The process of Vasyl's treatment
Wounded
42-years-old Vasyl
Soldiers of 30th Separate Mechanized Brigade.
Injured near Savur-Mohyla
Trauma
– Shortening of the right shoulder for 4 cm
– Nonunion of the right humerus fracture, even after bone fragments were fixated with a plate and bone autoplasty surgeries been performed
– Obsolete damage of right radial nerve.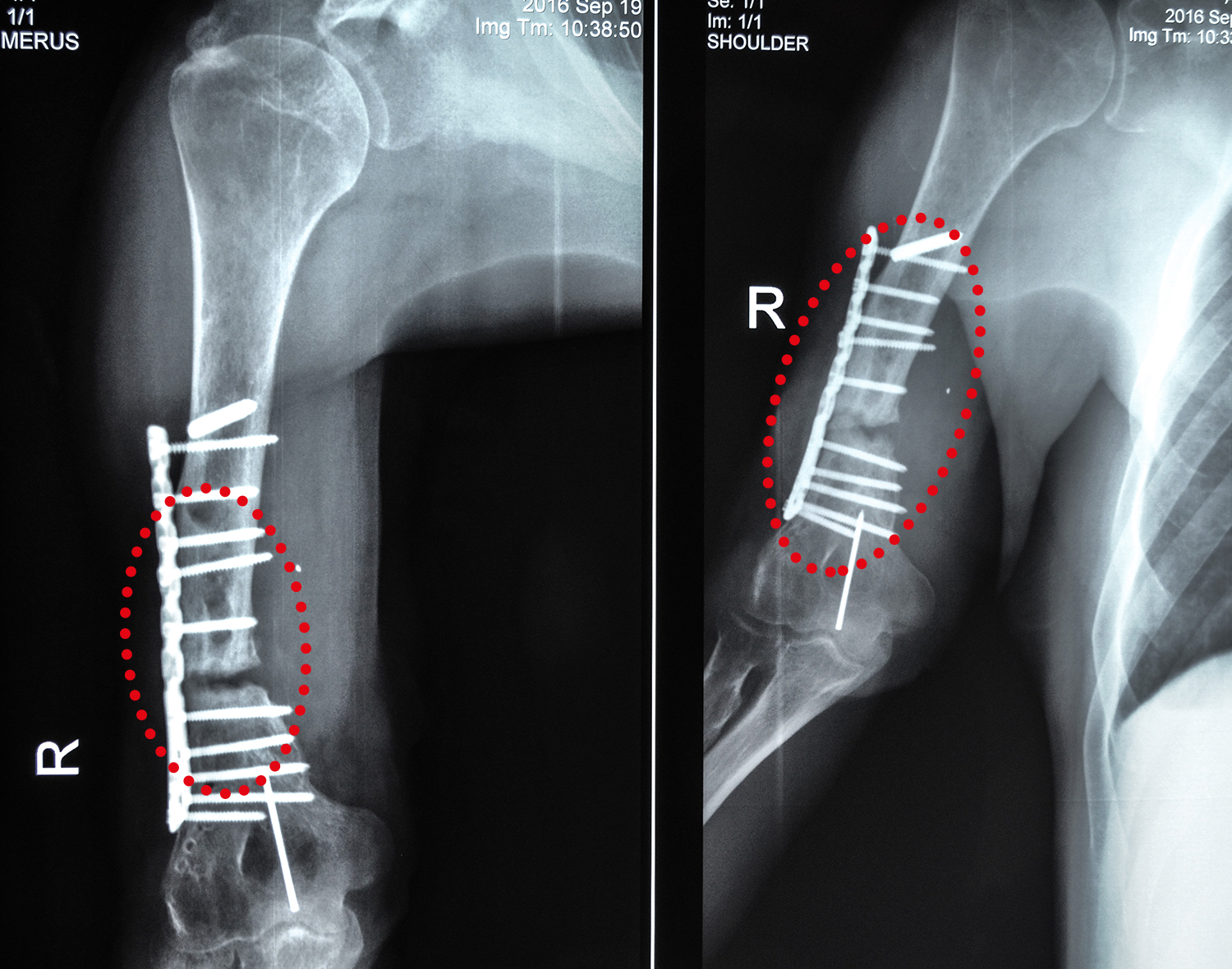 It is already 2 years since Vasyl been injured. All this time he was treated with traditional methods which gave no results. The right humerus has not merged, so Vasyl's hand not function. The only chance to fuse the fracture is biotechnology. Otherwise Vasyl will end up with disability.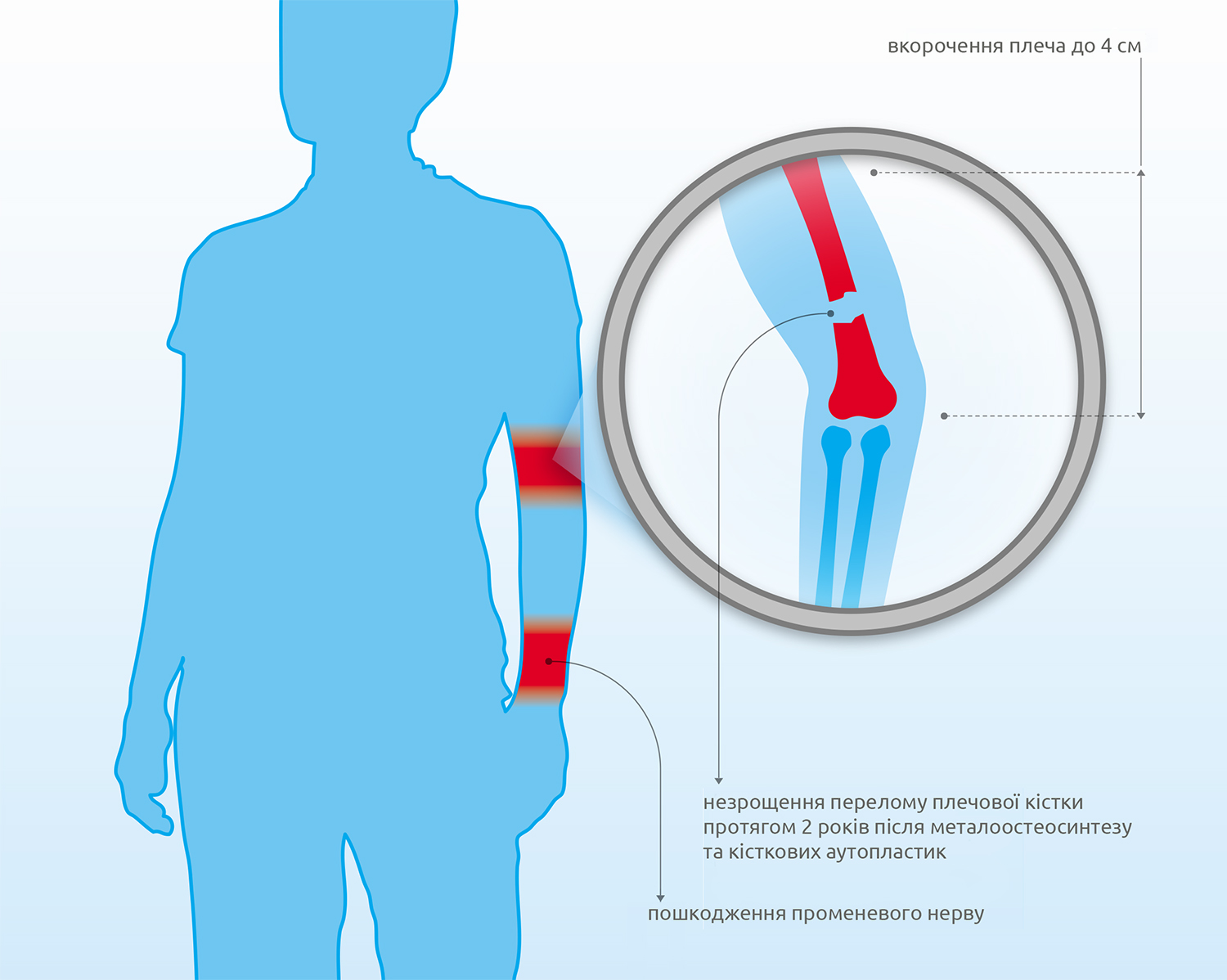 More about the wounded
Vasyl was mobilized to 30th Mechanized Brigade in 2014. For a long time brigade participated in a defense of an area near Savur-Mohyla. Vasyl received serious hand injury there in August of 2014. During the attack, near the village Stepanivka fragment hit Vasyl's right shoulder bone. That time many Vasyl's colleagues suffered.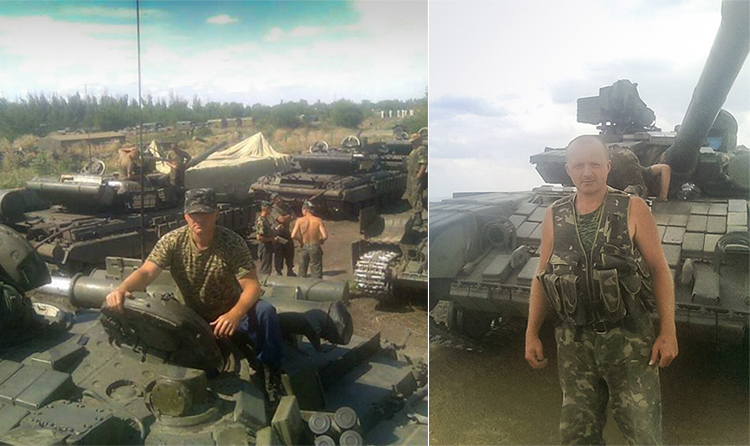 Vasyl was treated in hospitals of Dnipro, Odessa, Kyiv and Irpin, and received 4 surgeries. Fixating plate was attached to a broken bone twice, but after 2 years nonunion still remains. When Vasyl realized a threat of disability he used an advice of a volunteer Natalya Romanenko, and turned to The Ilaya Clinic to join The Bioengineering Rehabilitation for Wounded Project.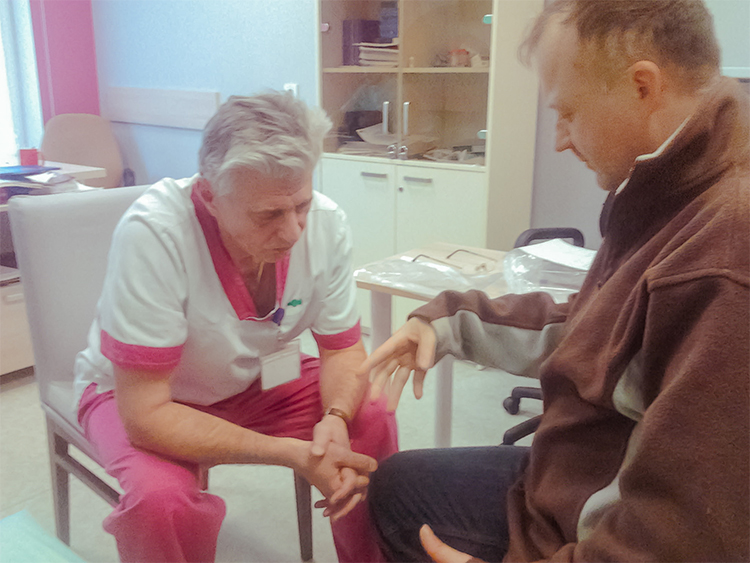 Vasyl is a citizen of Malyn city of Zhytomyr region. He was mobilized to army in March of 2014 in the first wave. During his service at the ATO area he participated in battles near Andriivka, Ambrosiyivka, Sonyachne and Saur-Mohyla.
Before the war he worked at a local paper plant. At home for the recovery of Vasyl are waiting his wife, 20-year-old daughter and 14-year-old son. Vasyl have a beautiful and peaceful hobby. He love to paint, especially portraits and landscapes. Now here is an opportunity to help Vasyl recover and get back to normal life.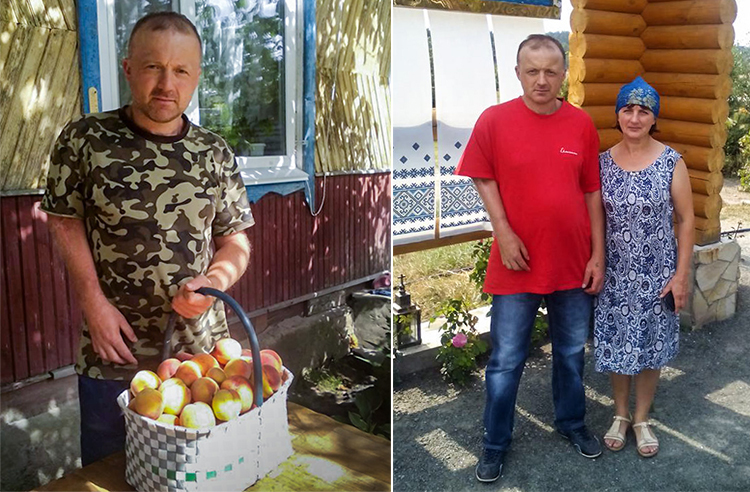 Required treatment
Reconstructive and restorative treatment of a bone defect of the right shoulder, with a use of biotechnology.
Itemized costs for diagnosis and treatment
Examination during treatment (therapy, orthopedics, bioinsurance) – 10,125 UAH
Sampling of a fragment of the fibula and bone red marrow (discount 40%) – 18,060 UAH
Endothelial cells, 40 mln cells (50% discount) – 33,600 UAH
Periosteal cells, 40 mln (50% discount) – 33,600 UAH
MSC from bone marrow, 100 mln (50% discount) – 74,025 UAH
3D cell carriers – bone blocks and bone chips (40% discount) – 24,600 UAH
Anesthesia (15% discount) – 5,023.5 UAH
Reconstructive and restorative treatment in hospital (40% discount) – 263,700 UAH.
Budget update
In 2017 Vasyl underwent all stages of the planned treatment to replace the defect of the humerus. The course is quite complicated, thus additional costs that could not be foreseen at the planning stage has incurred. Among them: additional analyzes and tests, prolongation of anesthesia during surgical manipulations and additional days of stay in the hospital. These expenses amounted to UAH 17,206.
The rehabilitation period is already in progress. The bone has grown and is getting stronger. But due to the complexity of the fracture, instead of one plate, as it was planed in the budget, doctors had to use two to fix the bone. In addition, now that the bone has already grown and slightly strengthened, it is necessary to remove the plates to exercise the arm. Now the plates cause discomfort during the exercises. The additional expenses for the soldier's treatment amounted to 65 321 UAH.
Total cost of treatment, including 43% discount of the clinic –  545,260 UAH