Description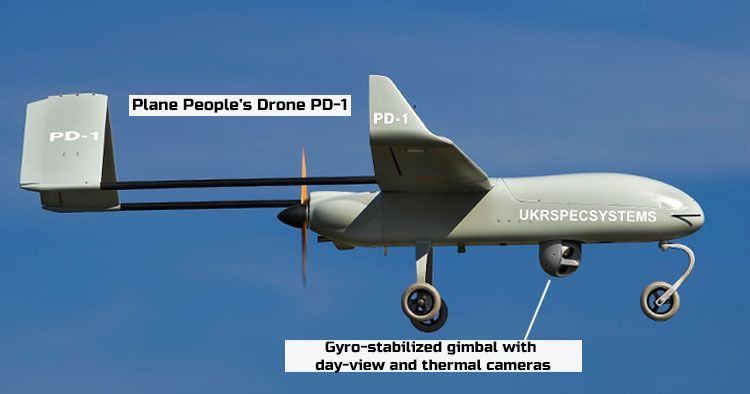 The First People's UAV Complex – is the first Ukrainian drone designed for aerial reconnaissance and monitoring of enemy movement and locations. The drone is equipped with a gyro-stabilized gimbal with day view and thermal cameras. With its spacial sensors and electric motors, the gyro-stabilized gimbal compensates vibration and sudden maneuvers of the aircraft, thereby providing for stability and the smooth movement of the two cameras, which in turn allow for shooting high-quality video both by day (using 30x day view camera) and at night (using a thermal camera).
The number of cases of the enemy using radio-electronic interference against Ukrainian UAVs significantly increased recently. This type of technology is designed to jam UAV control and video signals and GPS navigation. This led to the question of developing measures that could provide for more or less normal use of UAVs regardless of countermeasures on the part of the enemy. After analyzing the problem, we have developed a range of technical solutions. Thus, our plane can continue a mission or automatically return to its starting point if it detects external interference in the communication systems or navigation. It uses an inertial navigation system, which through the built-in position sensors (accelerometer, gyroscope, compass, etc) tracks the direction of the plane and its current position relative to its start position.

Wingspan
3 meters
Flight time
more than 5 hours
Cruising altitude
up to 2000 meters
Cruising speed
90 kilometers per hour
Maximum speed
140 kilometers per hour
Real time video and telemetry transmission range
40 kilometers
Payload
8 kilograms
Weight of fully loaded plane
23 kilograms
Functions and features


Automatic flight on a given route;


Auto-return in case of GPS failure or signal interference;


Inertial navigation system;


GPS navigation system;


Automatic takeoff and landing;


Encrypted digital channels, telemetry data and video.


Video of our UAV in test flight
Please note: the video from the UAV was recorded from the monitor of the ground station, thus resulting in poor image quality. Videos received by the operator during the flight are of better quality.
---

Two cameras are installed on the gyro-stabilized gimbal, a day view camera with 30x zoom and thermal camera. This provides for effective use of UAV both day and night.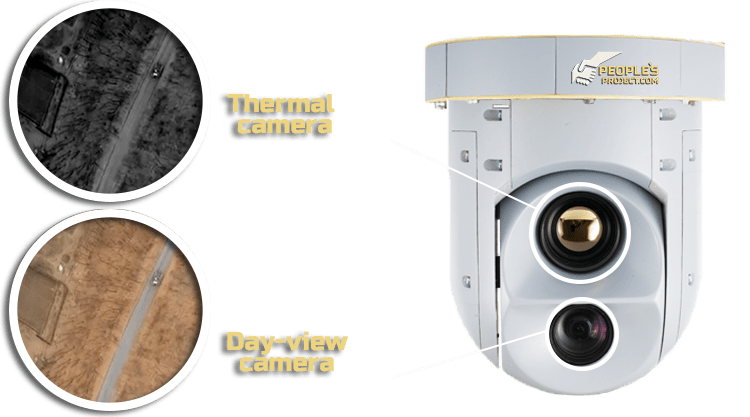 The thermal camera provides for quick and effective identification of an accumulation of machinery and manpower.
Usually drones fly at a high altitudes in conditions of strong vibration, wind and turbulence meaning video from the plane may be illegible. To resolve this problem position sensors (accelerometers) are built into the gyro-stabilized gimbal. The sensors track even smallest changes in the position of the gimbal in space and send a command to electric motors to compensate for external influences. In addition, we use an electronic image stabilization board to avoid even small vibrations in the video and provide a clear image. Below you can see a video showing the capabilities of our gimbal.



Day view camera with 30x zoom;


Quality thermal camera with resolution of 640×540 pixels and frequency of 30 Hz;


Gyro-stabilized platform;


Electronic image stabilization module;


360 degree turning mechanism;


Ability to be used in all weather conditions;


Weight 1650 grams.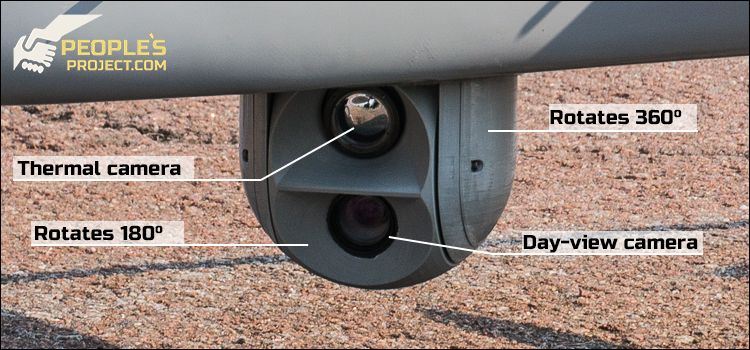 Video of how our gimbal platform works

The operator sees not only the image from the drone, but all telemetric data: speed, altitude, the UAV's coordinates, distance from the point of take-off, direction from the take-off point, the temperature and speed of the ICE (internal combustion engine), etc. In this mode, the on-board camera records the photo and videos of the highest quality that can be used for further analysis after the drone returns. Also, the operator sees the operational UAV location on a satellite map. However, at any stage of the flight theoperator can specify a point on the map or route where the UAV must go.
---
The portable ground station is designed as a box with all necessary equipment fitted inside it. The box has protection against mechanical damages and inclement weather conditions. The portable ground station was designed to meet all the needs of operators. It allows the user to start operation and review video information anywhere.



Digital receiver Diversity, with ability to connect two antennas;


DVR (digital video recorder) for recording and playing video;


Can be powered from batteries, from 220 V or from a car battery;


Laptop to manage and control the autopilot;


Monitor to display recorded images;


Usable in any weather conditions;


Up to five hours operation from an autonomous battery;


Protection against mechanical damage;


Box Dimensions 102x40x16 centimeters;


Weight 10 kilograms.


---


The van is fully prepared for safe transportation of the UAV and personnel. For the comfort and convenience of drone operators there is folding table that can carry the ground station installed.

Where does the money go?
Funds are being raised for the production of a UAV complex that consists of a drone with ICE (internal combustion engine), gyro-stabilized gimbal with high-quality thermal and day view cameras, a van and portable control station.
We already have a clear understanding of what drones should be equipped with to improve their performance.
25

September

2015

Project budget reduced by UAH 27 470, due to reduction of the price of the gyro-stabilized gimbal.

28

April

42015

Project's budget increased by UAH 70 400. UAV ground control station added to the project and the price of the minivan has changed.

122 400 UAH
A van equipped with ground station control, antennas and other equipment

440 350 UAH
Fully equipped UAV platform

Gyro-stabilized multi-sensor gimbal
126 650 UAH
Dual sensor (EO and IR) gimbal designed for UAV

UAV ground control station
48 000 UAH
portable ground station in the form of a case with all essential equipment installed
Totally:
737 400.00 UAH