Our friends at ilaya Medical Company have been recognized at a national level. The May issue of the Ukrainian edition of "Forbes" has named ilaya as being among the  "20 most innovative companies in Ukraine" (website in Russian or Ukrainian).
One of the main topics covered in ilaya's spread in the issue is the medical company's involvement in the revolutionary "Bioengineering Rehabilitation for Wounded project, which treats wounded Ukrainian ATO soldiers.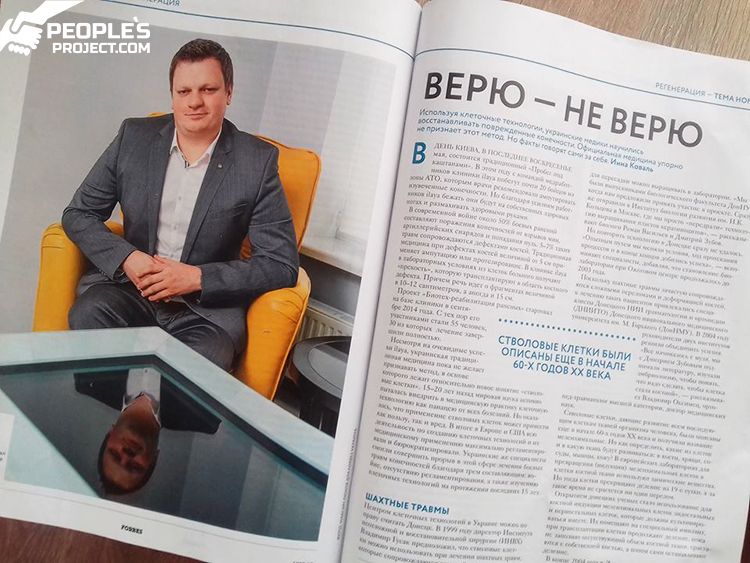 Where conventional medicine was powerless to treat wounded men threatened with permanent disability or even amputation – the ilaya clinic (Facebook page in Ukrainian) has successfully returned function and movement to limbs. To a layman this may seem incredible or even impossible. However our results speak for themselves. Follow our news here and on social media (Facebook, Twitter and on  YouTube) for updates on the progress of wounded soldiers enrolled in the project.
Meanwhile, the latest issue of "Forbes" answers all questions regarding cellular technology including:
– What difficulties did the clinic face in obtaining a license for the use of cellular technology?
– What are the specific skills of cellular biologists Roman Vasilyev and Dmitry Zubov that make this Ukrainian bio-laboratory and clinic unique?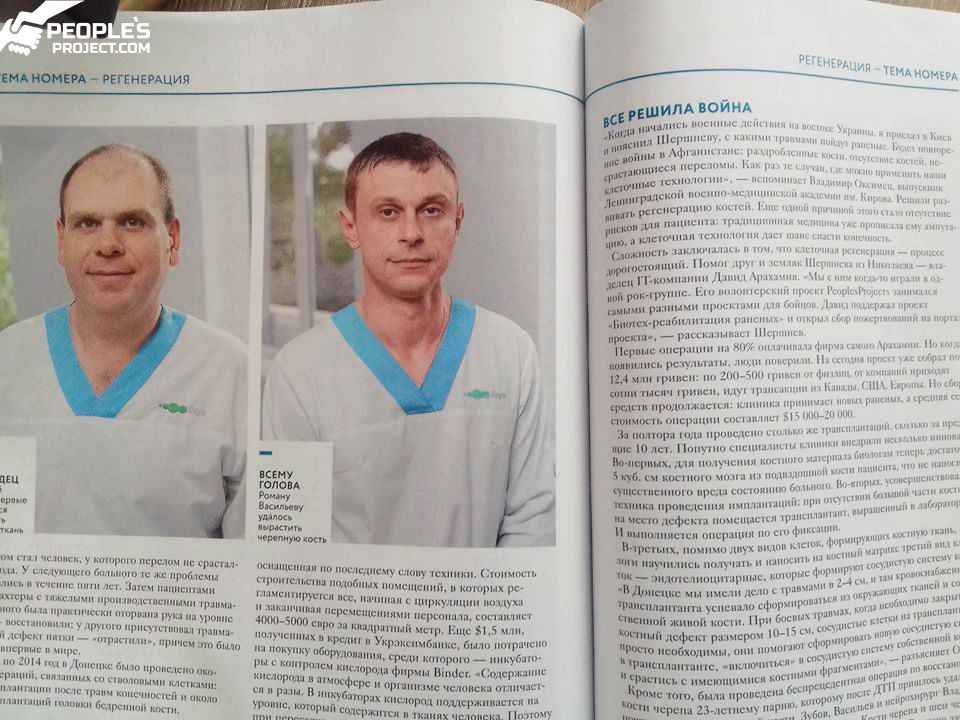 – what motivates genius orthopedic trauma surgeon Volodymyr Oksymtsa?
– In fact, thanks to these people for the first time in Ukraine cellular technology was used to restore bone defects with up to 10-15 cm of bone loss. Just imagine how this technology changes the whole approach to treatment of the most severe injuries to limbs.
– How much state budget money allocated for prosthetics could be saved and what could be saved in the future if the program was supported by the state?
Modern prosthetics enables people to adapt quickly enough, there are cases where physicians have a choice other than amputation and that choice lies with biotechnology. We hope we have been able to prove this – the results of the clinic are impressive and are forcing skeptics to switch sides and support this innovative branch of medicine.
Being named in the top 20 is something all of us can be proud of! So we congratulate ilaya and ask you to support the   "Bioengineering Rehabilitation for Wounded project as fundraising for the treatment of Ukraine's wounded defenders continues.