Cutting-edge technology for the rehabilitation of mobility in the upper extremities of neurosurgery patients has been delivered to the Nodus clinic near Kyiv in a Ukrainian first.
The Swiss-produced Armeo Spring device, with a price tag of almost 2 million UAH, was purchased from donations to the Rehabilitation of Injured with Movement Impairment project. It is the first time such equipment has been brought to Ukraine, and it is a feat that is unlikely to be repeated. The state has little regard for neuro-rehabilitation. The Nodus Neurological and Neurosurgical Rehabilitation Research Center located in Brovary near Kyiv is the only clinic of its kind in Ukraine. Is this acceptable in a country that is trying to adopt and take its rightful place in civilized society? For now at least, the acquisition of modern equipment is being undertaken by volunteers.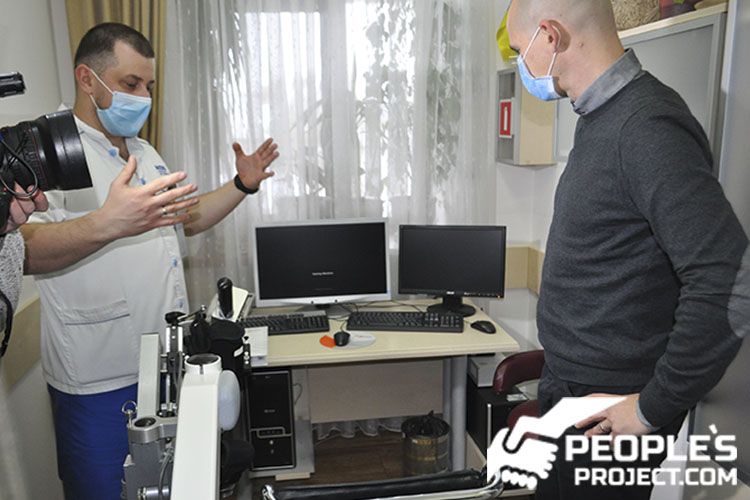 Why did we collect money for this equipment? Because it is incredibly important to restore the function and motion of limbs. It makes little sense for people to keep their limbs but face disability leaving them unable to adapt to society and return to normal life. The robotic Armeo Spring device is designed for this purpose to restore movement of the joints of the upper extremities and in hands return the grasping reflex. The Armeo Spring robotic technology is based on 3D workspace and a reverse biological connection for functional therapy of the upper extremities. It significantly reduces recovery time – from nine-12 months of grueling physiotherapy – down to four months of training in the form of a game displayed on the monitor. Thus, the device can be used to rehabilitate 36 people a year. This technology is distinguished for providing most stable rehabilitation treatment outcome that is not only accelerated but is also very high quality. There are currently 12 men in line for treatment. First clinic doctors have to pass month-long training and experience in the use of the device itself, and in the second half of February will begin to treat patients.
Thanks to all who contributed to the project and allowed us to reach the admittedly ambitious target of 2 million UAH in less than two months.