Veterans with up-to-date prosthetics participate in the world competitions; fighters in the wheelchairs demonstrate incredible results in physical training: Ukraine's defenders who suffered the severest traumas, climb high mountains.
The alike reports emerge in media almost every day. Such news is amazing, inspiring; they make us understand that the Ukrainian defenders keep fighting even in their post-war period. Unfortunately, media seems more reluctantly pays attention to the other side of the matter: protracted treating in hospitals which often takes wounded months and not always leads to satisfying results. Quite often the bones crushed by gunshot or shrapnel wounds, refuse to fuse up, and consequently the injured limbs weaken day by day. Mostly, military are offered a single way out, amputation. Luckily, there is an alternative. For almost three years Tyzhden has been watching the Bioengineering Rehabilitation for Wounded project which is a joint initiative implemented by People's Project volunteer center and ilaya private clinic. The point is, the volunteers raise funds on a certain web-platform, and medical staff of the clinics carries out all necessary procedures. For short, they grow new bones from stem cells taken from the wounded, and then transplant them into the body. They started from compensation of 4–5cm of the bone, and now they can restore 10–15cm. The results are remarkable! On recovery, the fighters can run, jump, continue service in the AFU and actively participate social work.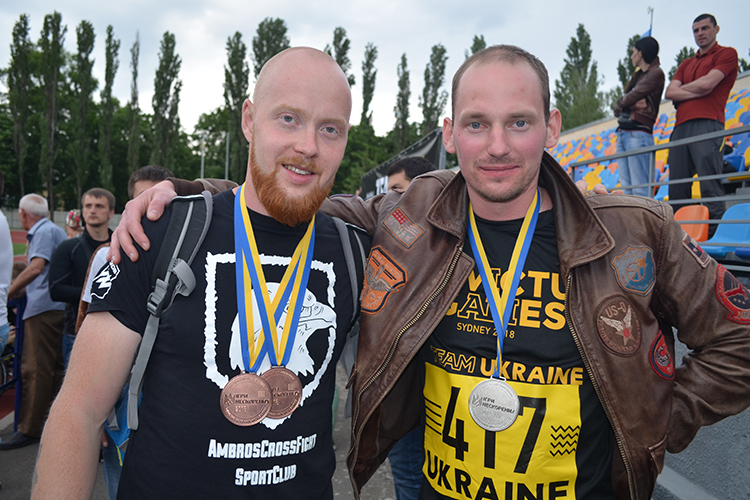 He radiates confidence. Either in photos or in conversation. Resolute and exceptionally demanding both to himself and to the society. Born in an independent Ukraine, Mykhailo Maistrenko went to the war when he was just 21. A native of Luhansk, the guy first served in the Dnipro-1 battalion, and following his injury and then recovery he joined the rapid response brigade of the National Guard.
"I served as a lifeguard at a fire department in Schastia (the firehouse #32 in Schastia situated near the bridge leading from the occupied Luhansk, has been continuously shelled by pro-Russian mercenaries; some buildings gone destroyed but the rescuers are still working there. – edit.), and when the town was occupied, I wasn't physically got to work so decided to join the volunteer battalion. Together with some other guys I got an invitation from the "Dnipro-1" one. In 2014, there was a situation when decisions used to be taken immediately. Nobody had time to procrastinate. There were 25 of us there. All from Luhansk region; everyone was welcomed. No hints that we could be separatists or something else. Everyone knew we were patriots".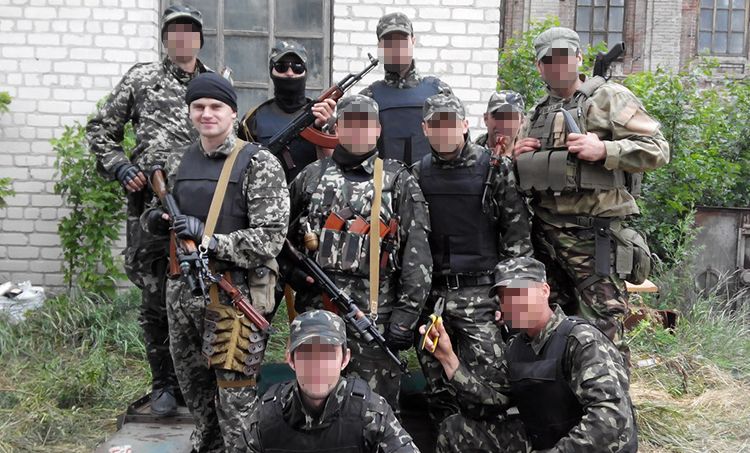 Apparently, not only Mykhailo was intolerant to the occupiers but he knew his way around the gun well. At "Dnipro-1" he used to always be in the advanced groups. In particular, at Donetsk airport. Until on the 3rd of September of 2014 he got severely wounded in an attack at the vehicle he and other fighters were moving in.
"It happened as we approached Donetsk airport. We were moving from Pisky. While in the airport neighborhood, we got ambushed. It was about 800 meters left to the airport buildings. We had been assigned a particular mission and headed there to accomplish it, still failed. Later, we did it to the airport, but by then I was wounded".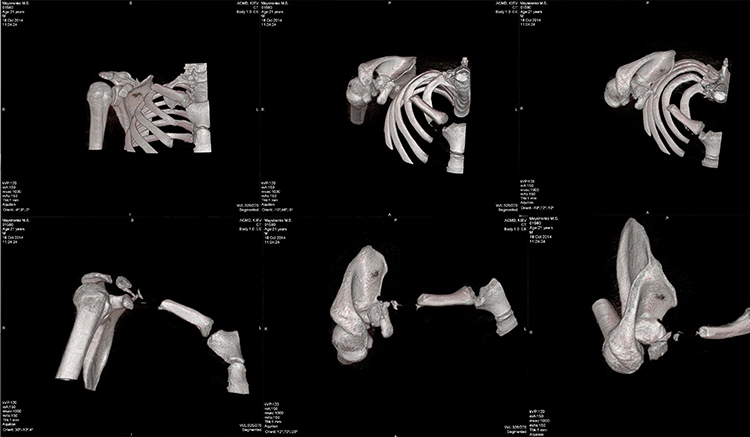 This is how Mykhailo's collarbone looked then – there were just separate bone fragments remaining in it
Following the initial operations, doctors realized that there developed the right collarbone defect in Mykhailo's arm. It lacked 10cm of the bone, so the arm had no way to fuse up. The guy experienced continuous pain and was unable to hold or carry even the lightest objects. Conventional medicine recommended waiting. Then the fighter decided to take a risk and joined the Bioengineering Rehabilitation for Wounded project. Mykhailo Maistrenko became one of the first patients with a missing bone fragment that was grown up and subsequently transplanted.
"There were no hesitations when I joined the Project. Because I had no other options. I talked to the doctors and they told me what their plan was, in detail. They promised me everything would be fine. Somehow, I felt confident and knew they were right. After the last operation during which the bone was transplanted, I was not feeling good. As this was rather a serious intervention which results in much pain and discomfort. It was especially bad in the very first days following the surgery. After two weeks, I was okay. In a week after the operation I was released home, so headed to Dnipro.  Naturally, I wasn't able to move the arm yet. I spent about two months wearing a tight bandage. Then I started to train the arm step by step. It was uneasy to make the limb that was out of functionality, to work again. Still as I trained it, it gradually grew stronger, and finally I regained my strength".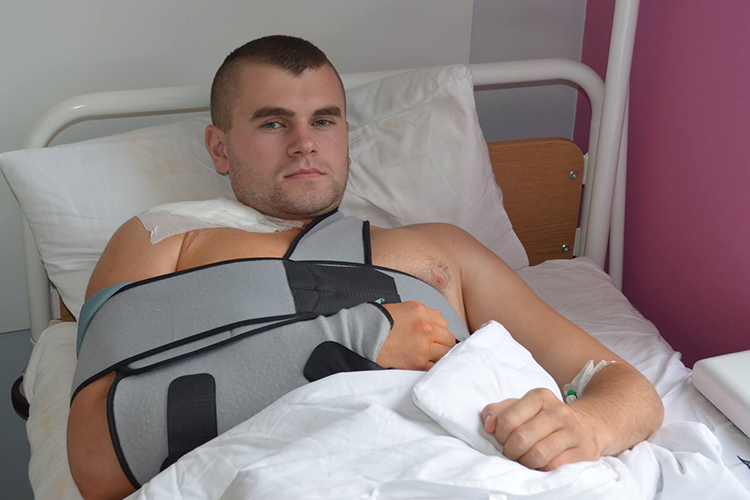 The story Mykhailo told us, is not about some miraculous healing. It came as the result of a few years of the doctors' hard work. By coincidence, the fighters wounded on Donbas, are treated by the doctors from Donetsk. It was the city where in 1991 first researches on growing new bones out of the human stem cells were carried out. This technology was intended to help treat traumatized miners. In war times, the technology that already developed into successful practices, proved to be exceptionally useful. For three years, there have been almost 80 servicemen from both the Armed Forces and volunteer battalions who joined the Project. Nearly 30 of them have fully recovered. Their stories of success are described in detail by the volunteers who publish these materials on their website and post information on their newly admitted patients. As there are more and more wounded there. Logically, to treat them the volunteers need to get contributions from compassionate citizens. The Ministry of Health has still been keeping away from sponsoring such methods of treatment at the expense of the state. The officials justify their position putting forwards the grounds that the new technology should be testified by clinical research carried out on hundreds (!!!) of patients minimum.
Those who cannot allow waiting for years, join the Bioengineering Rehabilitation for Wounded project because they can witness the results. For example, Mykhailo Maistrenko has lately run his first half-marathon. He did these 21km in his home city of Dnipro, and then repeated this in Lviv. His first result was 1:37, and the next – 1:39. This two minutes' gap disappointed the fighter a bit. He admits, he could have run the distance faster, still heat, cobbles and Lviv impressing gradients prevented him from doing so. Now the fighter is in everyday trainings, and is going to conquer the full marathon distance of 42km next year.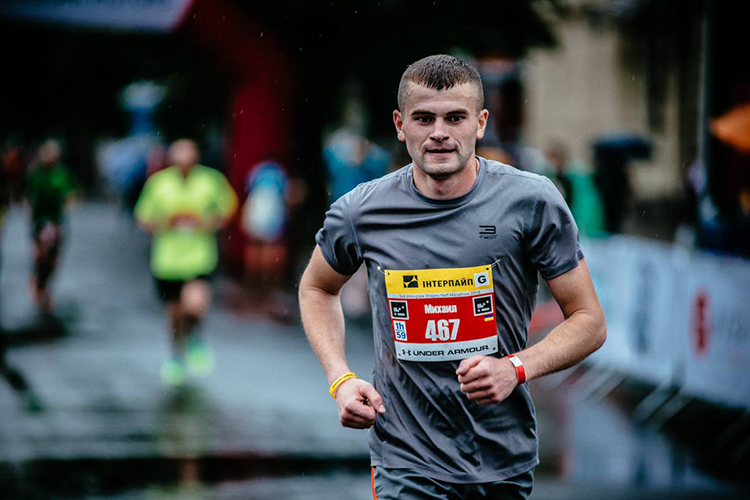 But neither the complicated injury nor a new bone can avert him from living a full, complete life. Similarly, they didn't prevent him from hard qualifying and successful selection into the Rapid Response Brigade of the National Guard. Not even everyone among his commandment and comrades were aware of his previous injury. Now Mykhailo has been on a leave for some time. He got out of the army and for the last month and a half has been holding his newborn son with his healed arm. He tries to spent every minute of his spare time with his family. Because he knows how easily one can lose everything: house, family or friends in a flash. He is proud to wear a t-shirt reading "Luhansk is Ukraine", and sure that the Ukrainian servicemen hardened by war, are skilled and strong enough to bring his homeland back under the blue and yellow flag.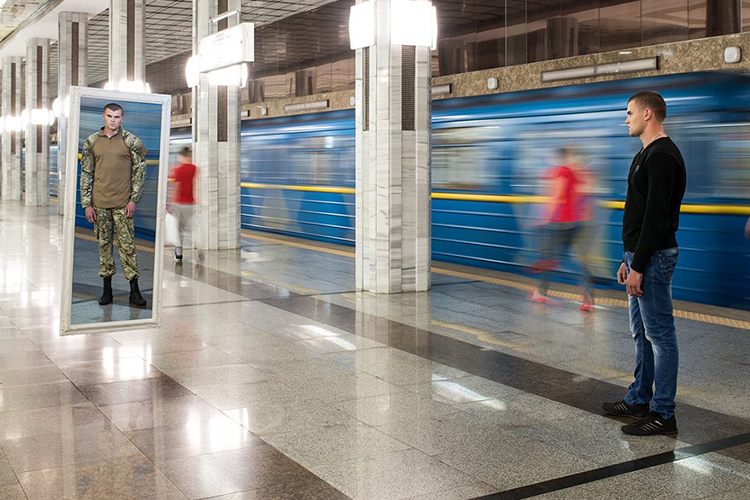 May we remind you that Mykhaylo's recovery as well as recuperation of the rest of our ward veterans is possible thanks to your benevolent donations only. Still there are more fighters within the Bioengineering Rehabilitation for Wounded project who need our support. We urgeyou not to stay aside and remember that even smaller donations can form a part of the amount that will save a life of a military. As they put everything on risk for us to live in peace and safety.
Source: Tyzhden.UA