Terrorists or rebels? Separatists or militiamen? Russian occupiers, career military and servicemen, bloody dogs of war coming here to enjoy violence and improve their assassin skills on Ukrainians or rebellious miners, volunteers in their hearts, outstanding anti-fascists from Buryatia? Should we tolerate them at any cost, gradually withdrawing and giving ground or fight for the victory and our own existence? Should we talk and eventually surrender or remember the thousands of our folks who was killed for Ukraine; keep in mind thousands of families who had to run away from the war; thousands of kids who have been orphaned by it; thousands of people who got wounded, injured, traumatized, tormented, crippled and maimed by the "Russian world"? Let us be absolutely honest: not every Ukrainian citizen is able to answer these questions unanimously and unambiguously.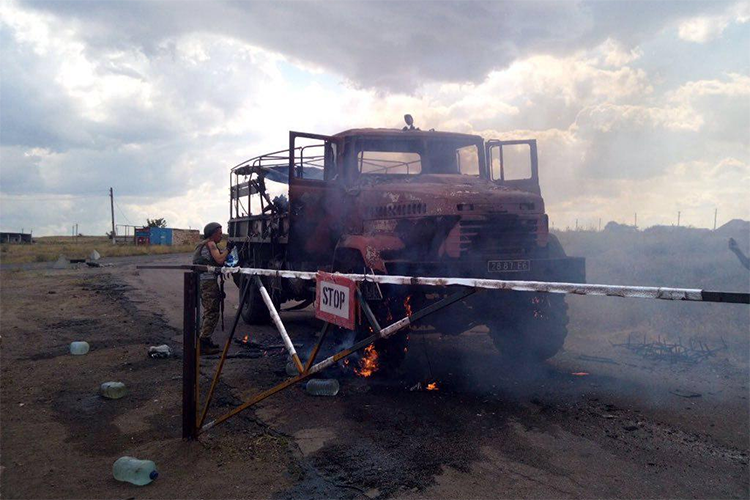 Recent photo: terrorists hit our vehicle with their anti-tank guided missile complex. One Ukrainian soldier was killed
Actually, we, the volunteers at People's Project, have never doubted our positions on these matters. We have always tried to stay apolitical and call the things by their proper names, referring to a war as war, and top murderers as murderers. We are totally aware of our duty and purpose and take all effort to reach the goal we set, to do our best to provide the guys defending the existence of Ukraine as a state, with all they need to eliminate the enemy; to help our veterans who got wounded in this war, get all the chances for maximum restoration and recovery and not to leave them face their troubles alone; to turn the life in our long-suffering country to the better and make our fellow country folks more conscious about the environment, ready to help and support one another and elaborate effective ways of useful co-operation. Anyone who cares about Ukraine, who shares similar sentiments, irrespectively of the language they speak, what gods they worship or with whom they share their bed, – these people are our close friends.
We run a number of projects aimed to implement certain social improvements. These are designed to support other volunteer initiatives aimed at further development of civil society as well as improvement of the state as a joint mechanism that implies its citizens' active participation in all processes.
January of 2015. Terrorists are shelling outskirts of peaceful Mariupol with Grad missiles. The rockets hit residential area and destroyed the house where my own (the writer of this article's) then newborn child had previously lived until he was 6 months old
Apart from social projects, we must not forget about the war. Only in the last 24 hours, terrorists attacked our military vehicle that carried our servicemen, with a guided anti-tank rocket. One fighter was killed, and other three got wounded under enemy fire. Two more soldiers sustained combat traumas. The enemy shot 16 times trying to kill our military. Only this morning, terrorists shoot at our positions 11 times. Every day they use 120mm caliber mortars, the usage of which is strictly prohibited by the provisions of peace arrangements and Minsk agreements.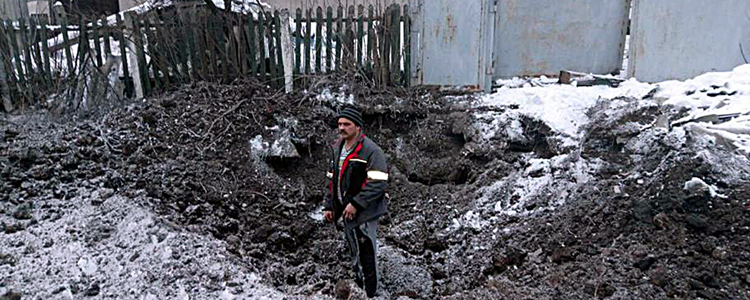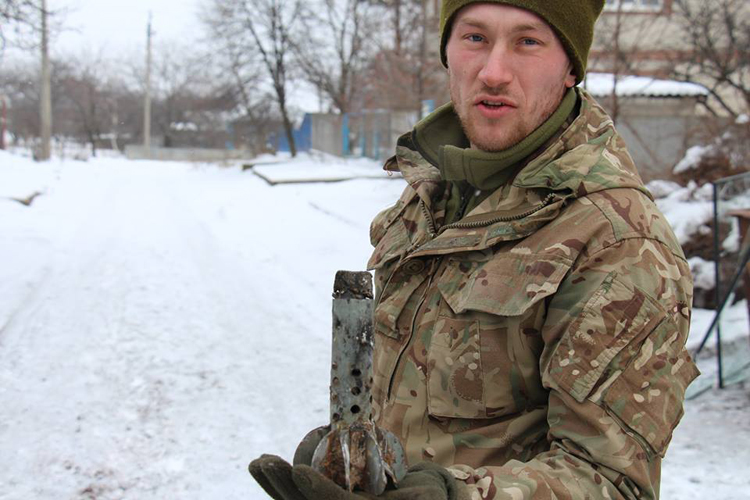 Avdiivka, September of 2017. A 120mm mine landed in a man's household. Examination and de-mining are being carried out by the sappers of the 72nd Mechanized Brigade under command of callsign Eugene, captain of the Armed Forces of Ukraine Evhen Sarnavskyi. In a couple of months Evhen was killed near Kamianka after he got in a Russian mine trap
Dear friends, do you fully realize what a 120mm caliber is? It is a huge metal cone the width of which exceeds that of a human arm, stuffed with explosives. It ejects cubic meters of soil scattering thousands of deadly shell fragments, it can go through the walls and ceiling of bunkers and fortifications injuring and killing people easily.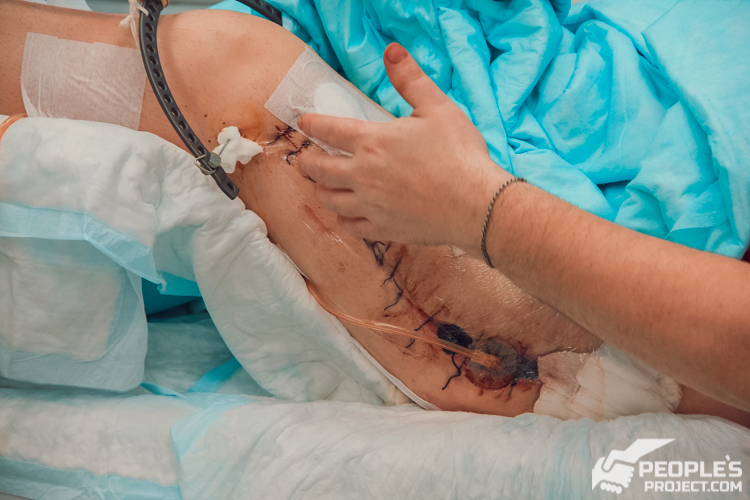 A tiny metal splinter broke Mr. Serhiy's life in two halves: the remainders of the smashed bone gone rotten completely. For a few years in a row, with mixed results, we have been trying to save his leg from difficult above knee amputation, thus helping the man to avoid severe life-time maim.
Yesterday at the HQ press briefing, the intelligence data were cited. Only during the recent 40 days of summer, Russians brought over 600 tons of ammunition into the occupied part of Donbas. These are large caliber mines and gun rounds, Grad rockets and anti-tank missile complexes, sent in order the terrorists and their local mercenaries could use them to keep killing our defenders and frontline territories residents.  In addition, supplies include dozens of rail tanks wagons of fuel aimed to fill the invaders' tanks and armored vehicles that have been ploughing the occupied territories, ruining our soils and preparing for further assaults.
This is a fragment of footage taken during the defense of Donetsk airport. At that time those false "friends" who are so willing "to talk" to us today, tried to "liberate" the airport from Ukrainians. The video features callsign Marshal, Evhen Oleksandrovych Zhukov, officer of the glorious 79th Air Assault Brigade, who is currently in charge of the Patrol Police of Ukraine.
Hence, we have been constantly and steadily longing for peace and security with all our souls, dreams and hopes, despite all odds and setbacks. We're seeking peace and comfort for every citizen, with no more deaths, not a single shot, not the slightest teardrop of Ukrainians. We wish we could wake up to the better days when no one encroaches on our homeland, and nobody's going to slaughter the best of our men and women any more. But not at the price of surrender and renunciation of our own country!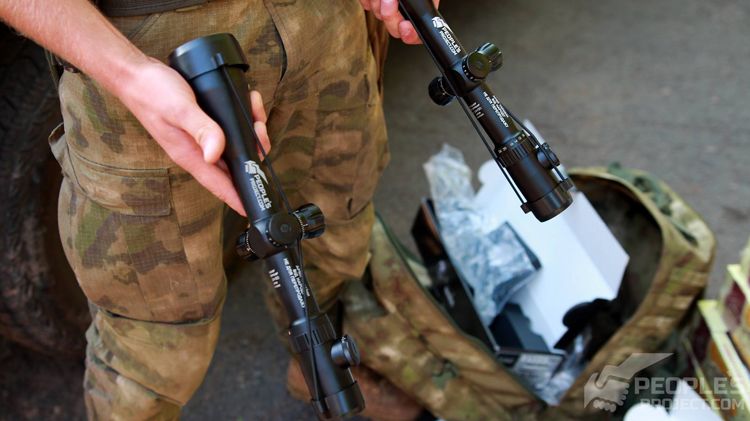 Up to the present day, we have been steadily supporting our snipers, and we are going to carry on
Dear friends, we beg you not to play with the idea that it is time to start peace talks to finish the war, that peace at any cost is better than continuous struggle, even provided the aggressor grabbed a piece of our homeland, that the occupier has stopped and dropped the plans of further assault. There is no one to defend us against the enemy except for our Ukrainian Army. That is why to strengthen it as soon as we have the opportunity and time to do this, to support and improve it providing our military with everything they need, must become the concern of everyone, not just a conditional "state". We try to do all the necessary work beforehand, and urge you to support a few our initiatives as much as you can.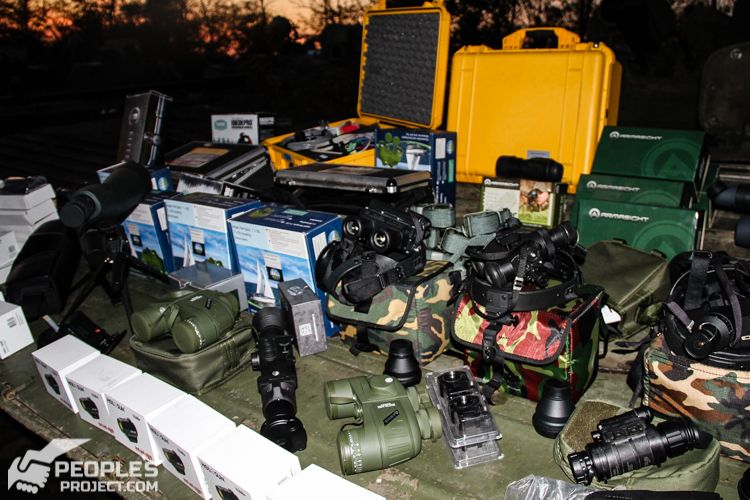 We keep in mind and support other troops as well: People's Project have been regularly equipping the units fighting in the forefront, with the stuff they request
In particular, we mean the Rapid Response project. Within this initiative, we raise funds to equip the units opposing the enemy in the frontline and restraining it from further advance, and in case it happens, they will have to repel the attacks first among our troops. The gear we send includes special outfit, body kits, various useful gear for communications and intelligence experts, and sometimes even humble everyday stuff and hardware necessary for new positions arrangement, or the gear able of providing certain tactical or strategic advantage over the enemy. Right now, we are preparing another batch of equipment for transfers which we're going to send to our scouts, snipers and some elite unit eliminating the enemy on either side of the frontline. So your participation is highly welcome, dear friends!
Also, the I Am Sniper project within which we supply our shooters with necessary stuff, is a very significant one as well. High-quality optics and the rest of gear they need to make their shooting more accurate and effective, is being bought and sent here.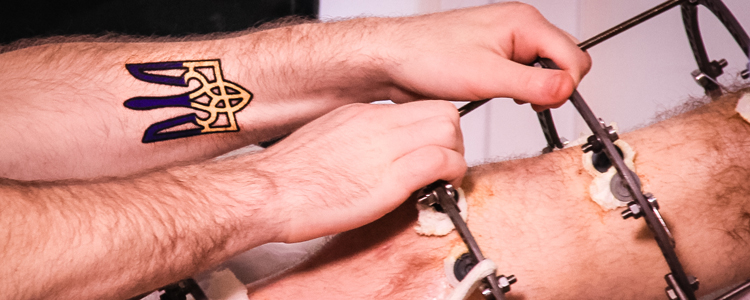 As regards the issues over which we should negotiate with Russians, – well, just watch the video below. We're pretty sure you will be able to formulate the whole set of questions and subjects to talk about to them, in a flash. There can be neither talks or negotiations until the last of occupiers withdraws from our homeland.