Recently 280,000 UAH were transferred to The Bioengineering Rehabilitation for Wounded. This amount was donated for the treatment of Ukrainian defenders by a benefactor, who choosed to remain anonymous. Now we can pay a significant part of treatment course of a few defenders with severe injuries, or even cover a complete treatment course for one. All transfers, as well as expenses, can be traced at the online report of the project, as usual. This is not the first time, when philanthropists support the project with a significant amount of money. Every time each donation like this is a genuine surprise for us. Who are those mysterious benefactors, who reveal their generosity because of the war?

Someone donates the last 10 UAH. Someone almost 300,000 UAH. We appreciate each contribution.
The amount was accounted through the paydesk of a bank
We will not disclose the names. There are business people, who make large contributions, and do not consider it as something special. They are not hiding, just does not consider charity as something to brag about. This is just kindness and compassion. This simple truth tells us, that no assistance to the Army during the war means no army, no country, no business, and even no life after.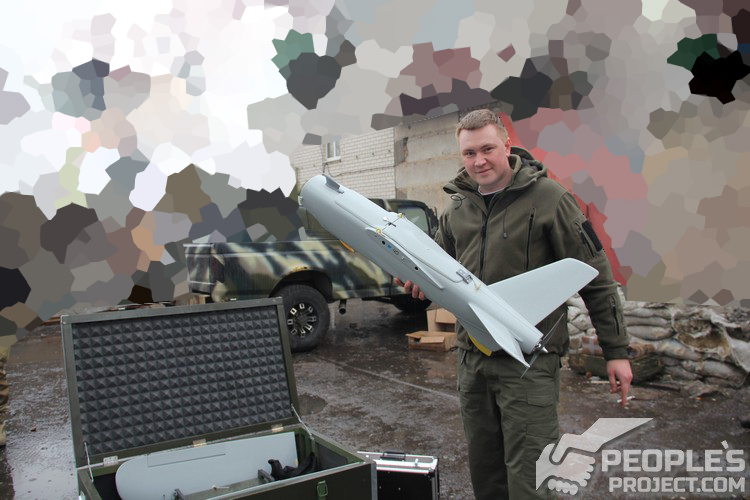 When situation at the front line worsened, benefactor donated almost 300,000 UAH to purchase UAV "Leleka" for the 72nd Separate Mechanised Brigade
A lot of people help us for a long time already. Today on account of The Bioengineering Rehabilitation for Wounded made a donation 10,000th benefactor. Ordinary people often sacrifice the last. However, we have benefactors who can donate huge amounts or an expensive military equipment. Those are business people, who appreciate the advantages of The People's Project unique system of transparent reporting. They closely monitor our activities, and periodically help us, when there is an urgent need. We have a benefactor, who supports us significantly for the last 3 years already. He helps us with everything, from the unique gear for military units and equipment for snipers, to a very specific military needs of the soldiers at the front line. Some patients of The Bioengineering Rehabilitation for Wounded owe him with their health. In moments, when wounded Ukrainian defenders need an urgent assistance, this benefactor always covers all emergency treatment costs. His name we will not disclose. He is not looking for a glory. However, this does not forbid us to remember him with a sincere gratitude.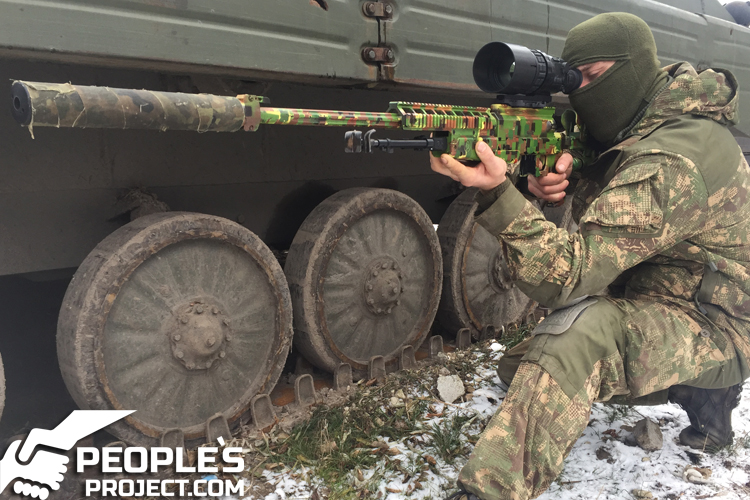 This thermal imaging sight worth 250,000 UAH. Our benefactor purchased and handed us about a dozen of them. Those sights helped substantially change situation at the front line
Except of support, some benefactors in the history of The Bioengineering Rehabilitation for Wounded developed a certain practice of patronage. Sometimes businessmen, companies or associations patronize the wounded defenders of Ukraine. Electrolux company significantly helped in a treatment of Volodymyr. Ukrainian Community of Spain regularly collect money for treatment of Sergiy at hospitals, in terms of the project. And not only Ukrainian Community of Spain helped. Sergiy received essential support from the Wiedemann company, where he worked before the war. It is the enterprise, which helped another patient of the project, Vasyl, who also worked there before he went to defend Ukraine.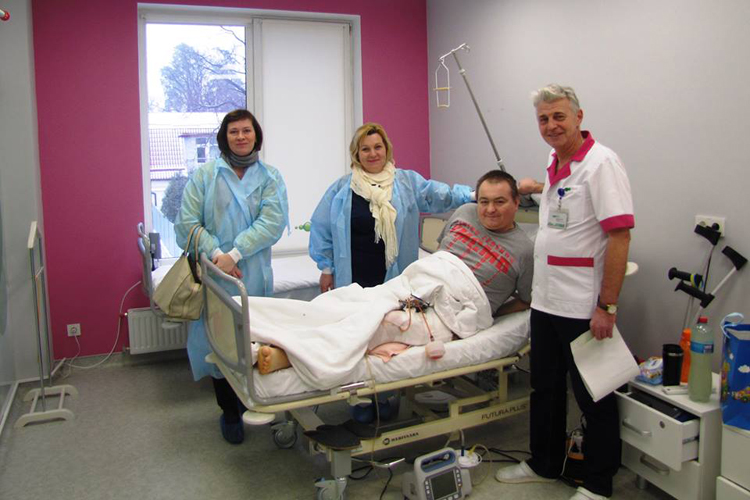 Significant support in a treatment of a few patients of The Bioengineering Rehabilitation for Wounded showed the Wiedemann company
We would be pleased to expand this practice, and offer all companies, enterprises, companies and international industrial corporations or financial institutions, associations, charities and even secret lodges or communities to joint The Bioengineering Rehabilitation for Wounded. We always keep the door open for any suggestions, and can find the most convenient form of cooperation for each and everyone. We guarantee 100% transparency, accountability and efficiency in the use of all funds. We do not take any commission or hidden fees, or interest. Every penny will be spent as intended. Your support and assistance is very important for us. It is crucial for the patients of the project. Most of those people can not rely neither on a support of a government, nor for the state healthcare. That is why we are the last hope for them, and use all available opportunities and resources to help them return to normal life. More information about the project is available on pages of the following presentation.
Your support is important both within The Bioengineering Rehabilitation for Wounded and other charitable initiatives of The People's Project. Participation of benefactors and sponsors facilitates the financial side of volunteering, and helps to do good deeds much faster. Our offer for cooperation is not limited to existing initiatives. We are ready to listen to your ideas and discover new possibilities for the upcoming projects.