They don't consider themselves to be heroes, but they are.
Courageous men who defended Ukraine at the expense of their health and, almost, their lives. Yet few of them have regrets and they would do it again. Their feats have been repeatedly highlighted, the country owes them a debt and that is why the country bands together to pay for expensive treatment. They share different stories with similar outcomes, and now they are on the road to recovery.
Oleg, 23
A commander with the "Aydar" Battalion, 0n July 27, 2014 near Lutugyne in the Luhansk region, he came under tank fire from the terrorists. Shell fragments tore through his leg and arm. He died twice during evacuation by helicopter, yet he survived…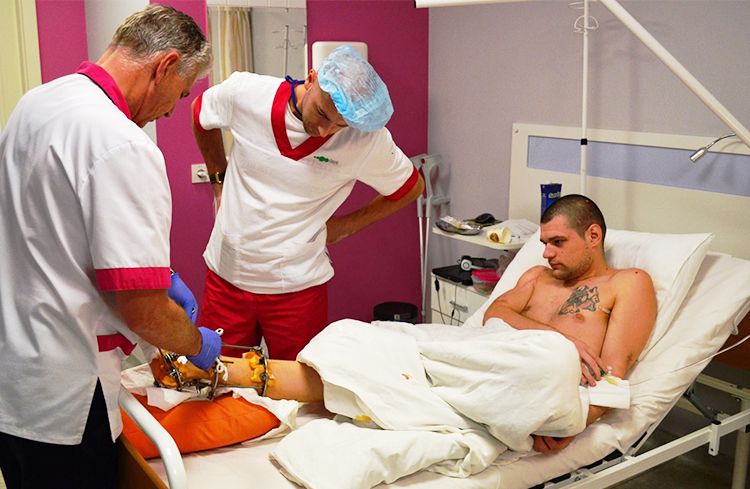 After prolonged treatment in public hospitals, and the threat of amputation, in February 2015 Oleg turned to us.
Our project, in conjunction with the Kyiv-based medical company ilaya is now treating Oleg with positive results – his arm was almost completely healed in June, and there is now obvious positive progress on the bones in his leg.
The cost of his operations is 366,000 UAH. Of course, Oleg's family could never possibly pay for this and we cannot thank our donors for their assistance enough.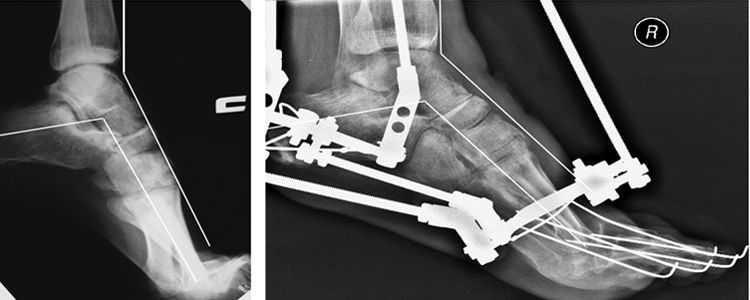 Valeriy, 42
Special forces soldier who survived the "Ilovaisk Cauldron" but at a price. On August 29, 2014 his right forearm was shattered.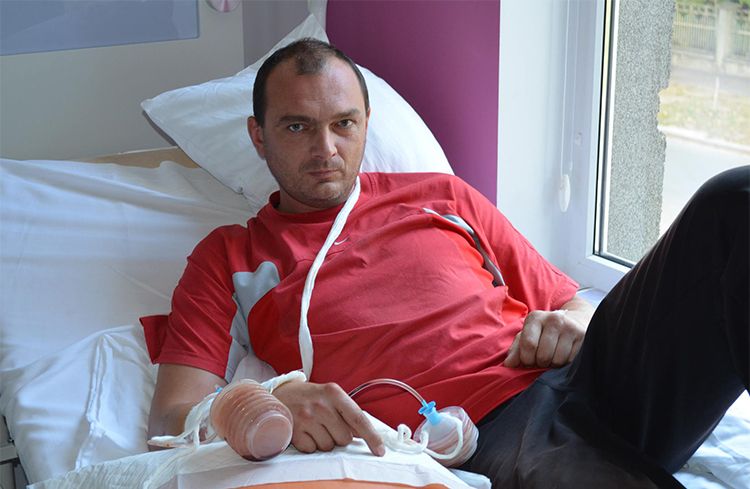 After five operations the bone in his arm still had not healed.
He was referred to us by Odesa-based volunteers in June 2015 and by September we had raised the required amount – 308,000 UAH – for him to undergo surgery.
This week an X-ray of Valeriy's arm showed complete splicing of the bone.
The naval border guard was aboard the launch "Griffin" patrolling the waters of the Azov Sea on August 31, 2014 when the boat came under fierce rocket attack from Russian troops. All the men were seriously injured, the captain and one sailor went missing.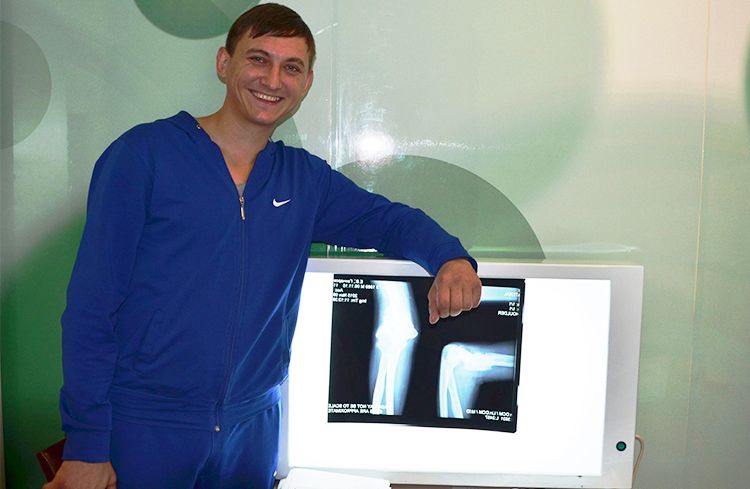 Again the same story – after several months of treatment in public hospitals, a positive outcome had not been achieved and Evhen was threatened with the amputation of his left arm. Details of Evhen's treatment history can be found in his profile. We'll describe his issues as simply as possible – a shattered elbow joint, and severe back injury.
Odesa volunteers referred him to us in February 2015. Within two months we were able to collect the required amount – 194,000 UAH, and start treatment. Within 10 months his bone was restored. The unique biotechnology behind the cultivation of his bone has given him hope for a normal life.
Of course a full recovery still takes time, but now you can see from X-rays progress on his elbow.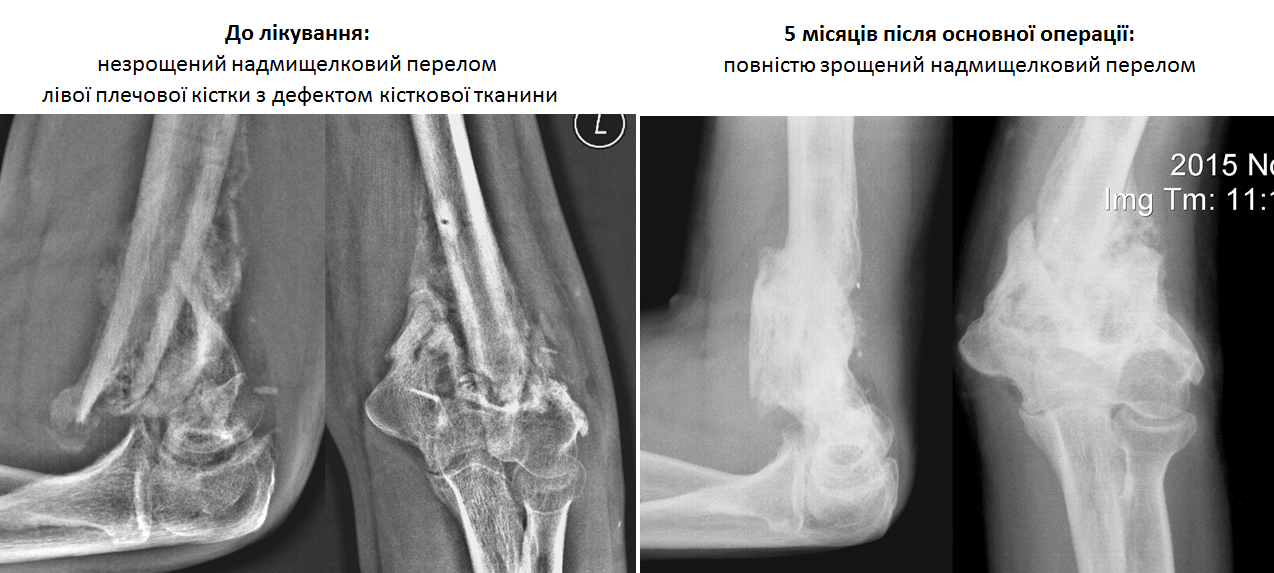 This week he started to regain full function. Zhenya heartily thanks our generous sponsors for his second chance to live a normal life.
These boys miraculously survived and earned the right to a full healthy life and that is courtesy of our unique stem cell based treatment.
SOS: we currently have another four fighters awaiting treatment, but funds are sorely lacking. We need your help!
PrivatBank for UAH transfers
Mykolaiv regional charitable foundation "BLAGOCHESTYA REGIONAL FUND"
PC CB PrivatBank
USREOU: 36143302
MFO: 326610
Account: 26004053210825
Purpose of payment: charity donation. Bioengineering rehabilitation for wounded
SWIFT-transfer in USD
BENEFICIARY: Mykolaiv regional charitable foundation "BLAGOCHESTYA REGIONAL FUND"
Account: UA803266100000026009053209659
Bank of beneficiary: Privatbank,Ukraine
Swift code: PBANUA2X
Intermediary bank: JP Morgan Chase Bank, New York
Swift code: CHASUS33
Correspondent account: 001-1-000080
Description: Donation for "Bioengineering rehabilitation for wounded" project
SWIFT-transfer in EUR
BENEFICIARY: Mykolaiv regional charitable foundation "BLAGOCHESTYA REGIONAL FUND"
Account: UA413266100000026009053206287
Bank of beneficiary: Privatbank,Ukraine
Swift code: PBANUA2X
Intermediary bank: Commerzbank AG,Germany
Swift code: COBADEFF
Correspondent account: 400 8867 00401
Description: Donation for "Bioengineering rehabilitation for wounded" project