---
How Oleg's treatment is progressing:
30.06.2015: Preliminary results of Oleg's shoulder restoration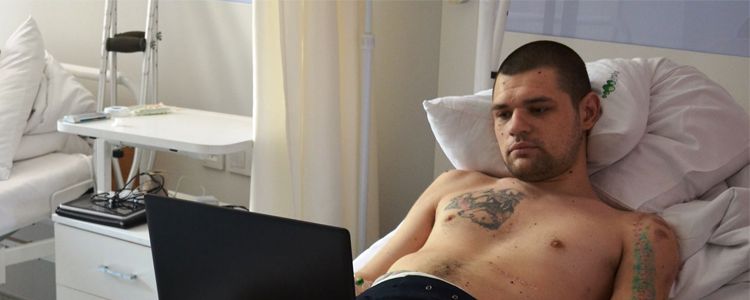 ---
01.06.2015: Funds needed for fighters' follow up care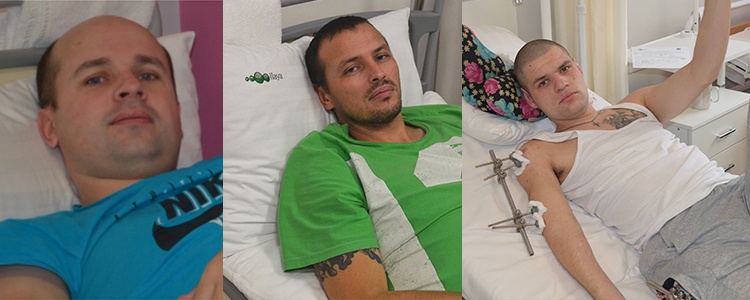 ---
22.05.2015: Oleg's preparatory operation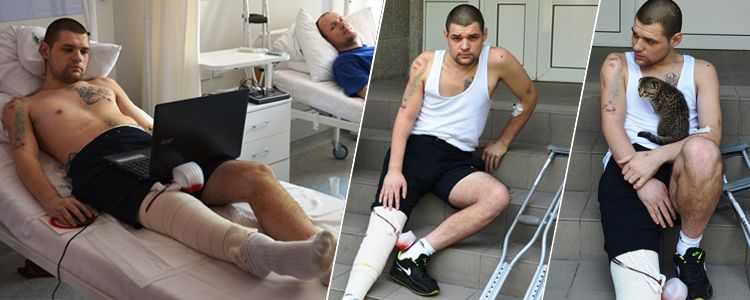 ---
23.04.2015: Oleg undergoes primary shoulder surgery

---
16.04.2015: Oleg prepares for surgery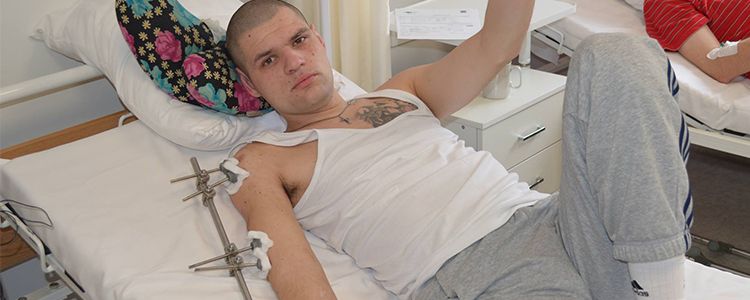 ---
Wounded: Oleg, 23, a volunteer fighter of the Aidar Battalion, wounded near Lutugyne.
Wound: 12 cm right shoulder defect (bone loss), ununited fracture of the upper third of the right thigh with loss of bone of up to 4 cm.
Required treatment: Reconstructive and restorative treatment of the shoulder and thigh bone using stem cell technology.
Failure to conduct timely treatment with stem cell technology, means the fighter is threatened with amputation because of the dysfunction of his arm and leg.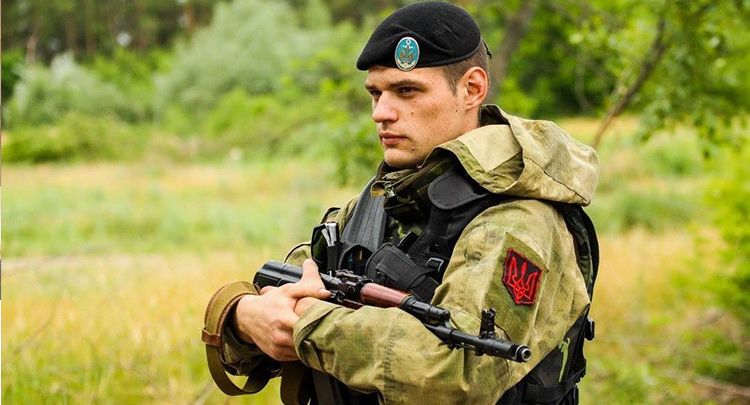 More about the wounded:
Oleg is a commander of the Aidar battalion unit, B0624 military unit, who received multiple shrapnel wounds on July 27. When, during a military operation near Lutugyne (Luhansk region), the Ukrainian troop position was hit in a tank attack. Oleg was the sole survivor, 10 of his brothers in arms died. Oleg survived only because one of his military friends, 19-year-old Michael, gave his life shielding him.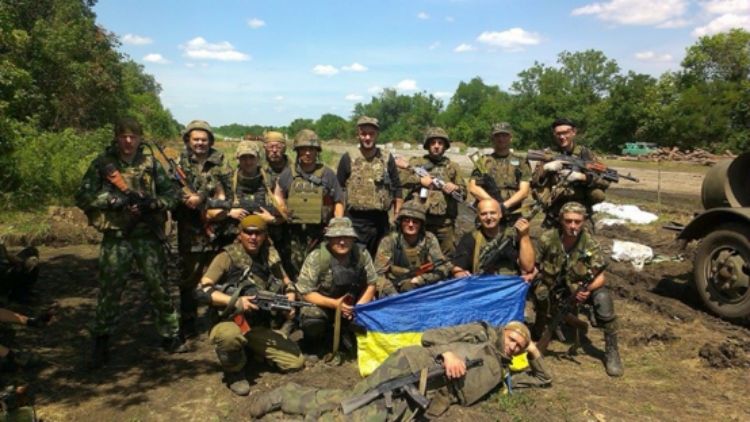 Oleg received 19 frag-wounds, including to his leg (muscle loss) and arm (loss of muscle, nerve damage). Badly wounded, the soldier lay for a long time among his dead friends. Huge blood loss of threatened his life, but Oleg found the strength to reach the radio and report his location.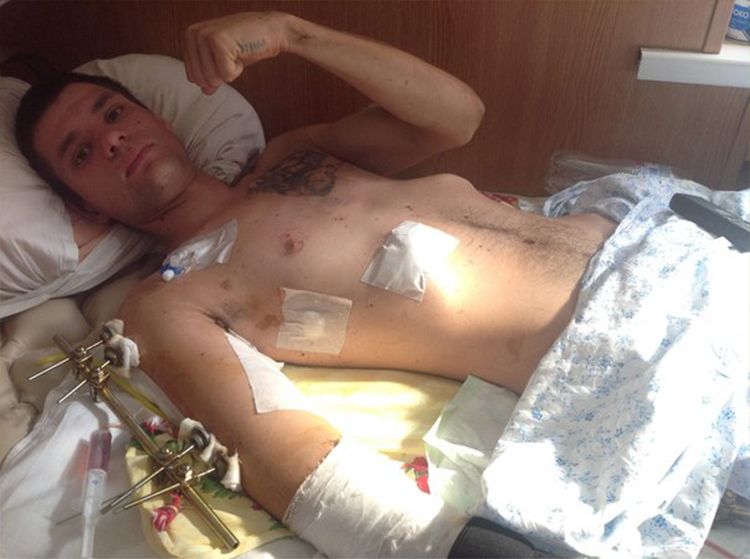 On board the helicopter which took Oleg off the battle field, the soldier was twice resuscitated with a defibrillator. Then, until he was stabilized Oleg was in Kharkov before later he was transported to a Kyiv hospital by plane.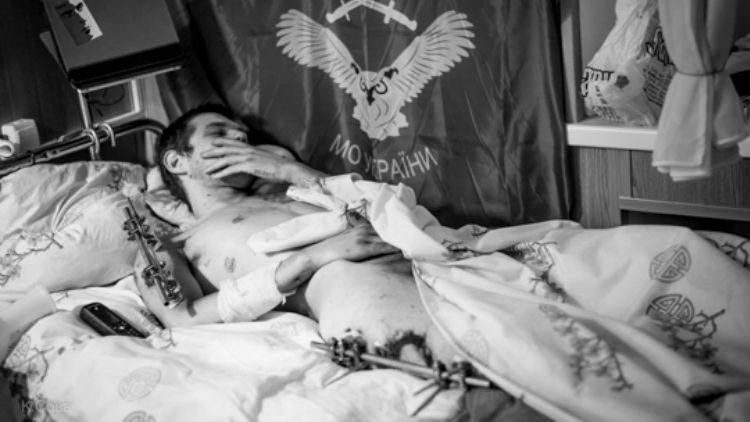 The hero recalls the first thing he did when he regained consciousness after seven days in a coma was call his girlfriend Mariyana. The next day when she arrived to visit he proposed to her.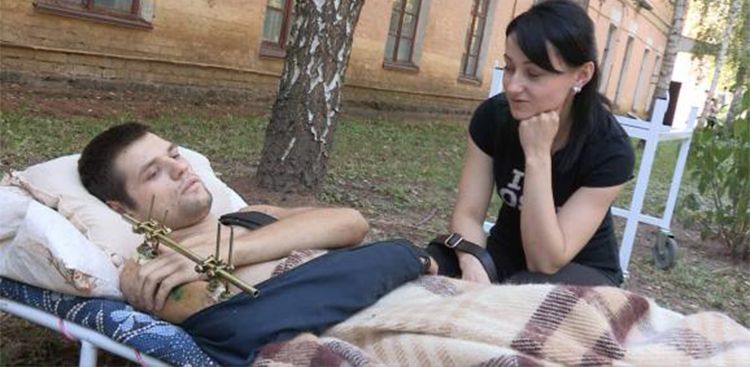 For about six months the hero has been being treated in public health facilities where an external brace apparatus was fitted, however treatment of the bone injuries was not done and they remain unhealed. The injuries include the ununited fracture of thigh and the shoulder defect. These injuries can not be cured by traditional methods. However, the Ilaya medical company has successful experience in the rapid restoration of bone tissue using cellular, or stem cell technology.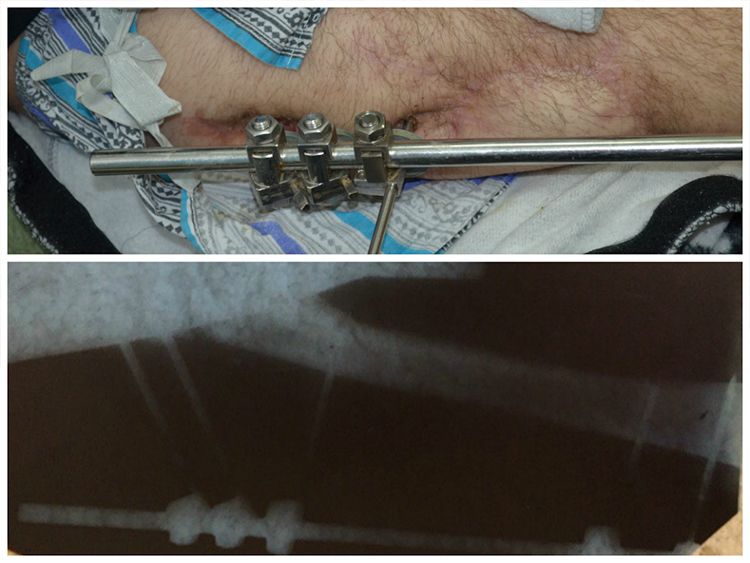 Oleg had served in the ATO zone from May 8 and took part in the liberation of Novoaidar and the arrest of 14 separatists during the presidential elections on May 25 during the liberation of Shchastya, when his battalion took a checkpoint before "Metalist" and other strategically important objects. Also among his merits is the capture of 18 members of the special forces "Don" and assisting in the withdrawal of many trapped Ukrainian soldiers.
Before the war Oleg lived in his native Ivano-Frankivsk and studied at the History Department of the Subcarpathian National University. However, due to lack of funds for study, in 2012 he joined the army on contract – serving in the Marine Corps.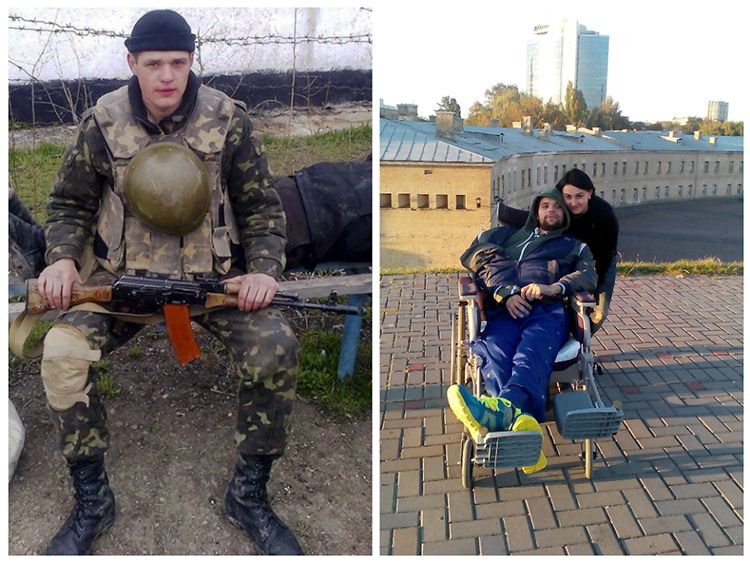 It should be mentioned that Oleg took an active part in the Euromaidan revolution joinin on November 18 the last year, when he entered the 18th sotnia. In the drama of February after dressing in a police uniform he ingeniously took from officers two water cannons, which were then brought to Independence Square and turned on their original owners.
List of services included in the treatment:
Diagnosis and examination: 3,405 UAH
Collection of material production and preparation of cellular material carrier: 207,945 UAH
Treatment of shoulder and thigh defect: 141,112 UAH
Drugs and post-surgical care: 38,290 UAH
Special Price: 390,752 UAH
Update:
In April 2015, Oleg underwent major surgery on his humerus defect, which brought good results. In autumn 2015 the principal operations on his femur were planned, but after a long period of non-function of the injured leg, Oleg faced another problem – equinovarus foot deformity requiring more complex surgery on the tendons of the foot and ankle joint using an Ilizarov apparatus. The cost of the operation was 103,867 UAH.
Later, in the 2016 doctors faced the need to remove metal fixing plate from healed humerus bone. Oleg started using his arm to regain arm functions. However, the plate was preventing him from moving the arm freely. Later in 2017 fixing plate from the thigh has been also removed. Additional costs for the surgery and examinations amounted to 58,287 UAH.
Thus the total cost of Oleg's treatment amounted to 552 906 UAH.