---
How Roman's treatment is progressing:
17.07.2015: Druha Rika pays Roman a visit ahead of first phase of treatment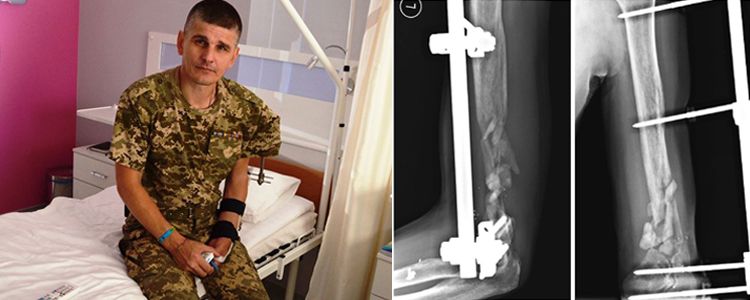 ---
Wounded:
Roman, 44, a soldier with the 39th armored infantry battalion of the Armed Forces of Ukraine, wounded near Donetske village.
Wound:
Implications from a right shoulder gunshot wound, nonunion of a multi-fragmental intra-articular fracture of the distal third of the right humerus. Extrafocal osteosynthesis condition of the right humerus with rod type apparatus. Obsolete radial nerve damage. Complex contracture of elbow and radio-carpal joint and joints of fingers.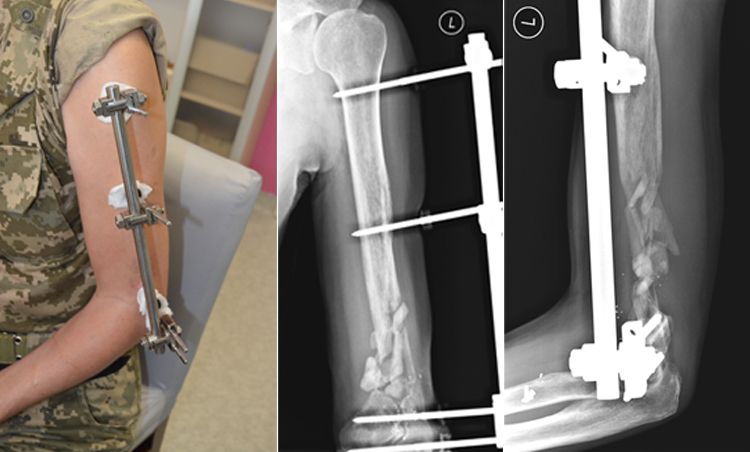 Roman's humerus and elbow joint are significantly damaged – traditional medicine could not offer the soldier effective treatment, but stem cell technology will quickly restore the bone and joint, and save the hero from permanent disability.
More information about the wounded:
Roman is a fighter with the39th armored infantry battalion of the Armed Forces of Ukraine (Dnipropetrovsk region). He was wounded on December 10 in the Luhansk region, in the Orekhovo-Donetsk district. During combat operations Roman with his fellow soldiers were ambushed by the enemy. After coming under machine-gun fire, from three men only Roman survived.
Doctors gave Roman first aid, after which he was transported to Severodonetsk, where some of the fragments were removed and he was placed in a cast. Further treatment of the fighter took place in Dnipropetrovsk's Mechnikov Hospital, where his bone was fixed and the wound was closed. Now Roman needs bone restoration. Dnipropetrovsk volunteers learned about the Bioengineering Rehabilitation for Wounded project and advised the soldier to apply.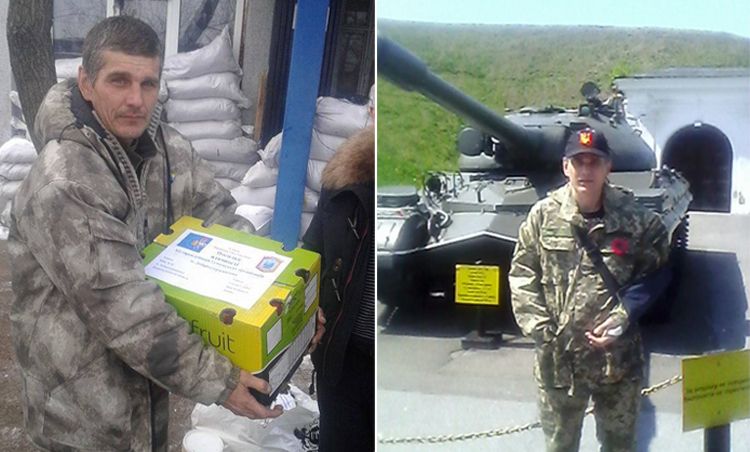 Roman is an Armed Forces personnel officer. He joined the ATO in May last year. During this time he participated in many now well-known military operations, particularly on the front line of Ilovaisk where last summer his unit assaulted enemy positions and then helped other Armed Forces unit to evacuate. Prior to his military service Roman managed his own private business – a vehicle service station in Dnipropetrovsk. His family is waiting for Roman – sister, wife and three children – 6-year-old son and 14 and 20-year-old daughters.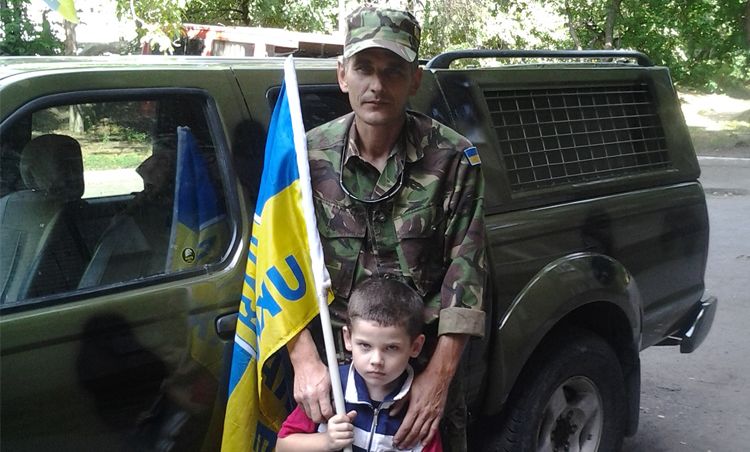 Let's help return the hero home healthy together!
Required treatment:
Reconstructive-restorative treatment of the shoulder injuries in two stages that will he provide maximum help in returning hand function.
List of procedures included in the treatment:
Stage 1
• Diagnostics and examination: 4 055 UAH
• Fibula bone and marrow fragment fence: 14 990 UAH
• Dismantling of external fixation devices: 1 500 UAH
• Immobilization of limbs with plastic bandage: 2 800 UAH
• Production of cell for transplant: 79 000 UAH
• Medical care and hospital stay: 23 044 UAH
Stage 2
• Osteosynthesis of shoulder joint fracture with two plates: 80 766 UAH
• Cell-tissue material transplantation at the site of the shoulder articular surface defect: 11 000 UAH
• Medical care and hospital stay: 48 022 UAH
Update:
In September, Roman underwent major surgery to restore his shoulder through the introduction of three-dimensional bone chips infused with stem cell material. During the operation much larger problems in his wrist were discovered, requiring additional surgery due to fusion of the radiocarpal joint. The costs of this operation will amount to 79 436 UAH.
Discount offered by medical сenter: 38,03%
Special price: 344 613 UAH