Description
Why is it important?
Due to the ongoing conflict in Ukraine against Russian occupation, our first aid responders have expressed the need for medical backpacks. Each backpack has the ability to save up to 10 lives: Ukrainian soldiers, civilians, volunteers, and children. Each backpack gives our medics a chance to provide quality emergency medical care.
These backpacks are designed for a second level of medical care in terms of combat action, according to the standards of tactical medicine (Tactical Combat Casualty Care), namely to the level of paramedics.
The backpack's contents are specially designed to be used by highly skilled military combat groups – marines, special forces units and intelligence. These groups operate in areas without access to Medical Facilities or Emergency Care. Therefore, it's crucial that each combat group have a soldier capable of acting as a medic on the spot.

Where the money goes?
Each backpack is designed for groups of five to 10 people and includes a variety of first aid supplies: bandages, anti-hemorrhagic like Quikclot and Celox, medical instruments, and a means for survival in extreme conditions. Depending on the specific unit and task group, the backpack's contents can be modified.
Today, our biggest challenge is the amount of backpacks we're able to provide Ukraine. Today, we're asking for your help!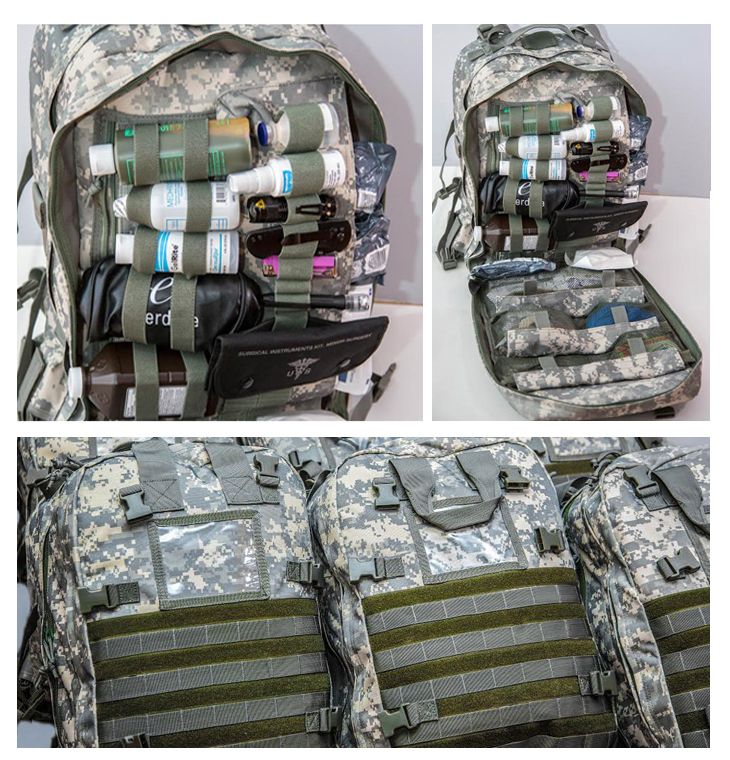 The military need your support. Anything counts, your help can save someone's life!
* – Depending on the supplier the prices of some backpack components may change.

Tactical medical backpack
80 550 UAH
Abdominal Pad 5"x9", Acetaminophen 400mg, Adjustable Collar, Ammonia Inhalant, Anti Diarrheal Imodium, Antiseptic Towelette, Backpack, Bandage butterfly, Bandage regular, Batteries, Benzocaine Burn Spray, Big Cinch Abdominal Bandage 12x16, C-A-T, Celox Gauze z-fold 5ft, Co-flex bandage 4" / 6", Disposable emergency soft stretcher, Elastic Bandage, Eye Cap, Eye wash 4oz, Flashlight, Gauze Roll 4.5"x4.1 yd, Gauze Roll 6x4, Gloves, Hand Sanitazer 1oz, Hydrogen Peroxide 3% First Aid Antiseptic Solution 16 oz., Hyfin Vent Chest Seal twin pack, I.V. catheter 18G, I.V. catheter 20G, Infusion set (big), Infusion set (small), Israel bandage 6, IV Starter Kit, Knife, Lifestraw, Lighter, Lubricant , Medical tape, Multi-Trauma Dressing 12x30, Nasopharyngeal Airway, Operating Scissors Sharp/Blunt 5-1/2" Straight, Oral Airways, Padded aluminum Splint, Petrolatum Gause 1-18inch, Pneumothorax needle, Pocket BVM, Povidone-Iodine solution, Rescue Blanket, Safety pins, Sphigmomanometer, Steri Strip 1/2x4 inch, Sterile Disposable Scalpels , Sterile Sponges 4"x4", Stethoscope, Syringe 10ml, Tincture Of Benzoin Compound Swabsticks , Tongue Depressor, Tools, Tracheal Hook, Tracheal Tube, Cuffed , Triple antibiotic, Universal Arm Sling, Water Gel Burn Dressing 4x16.
Totally:
80 550.00 UAH