How Volodymyr's treatment is progressing:
Wounded:
Volodymyr F, 36, a fighter with the 93rd Brigade, wounded July 12, 2015 near the village of Vodyane (Donetsk region).
Wound:
Left leg: as a consequence of a mine, total defect of the heel bone (bone almost completely absent).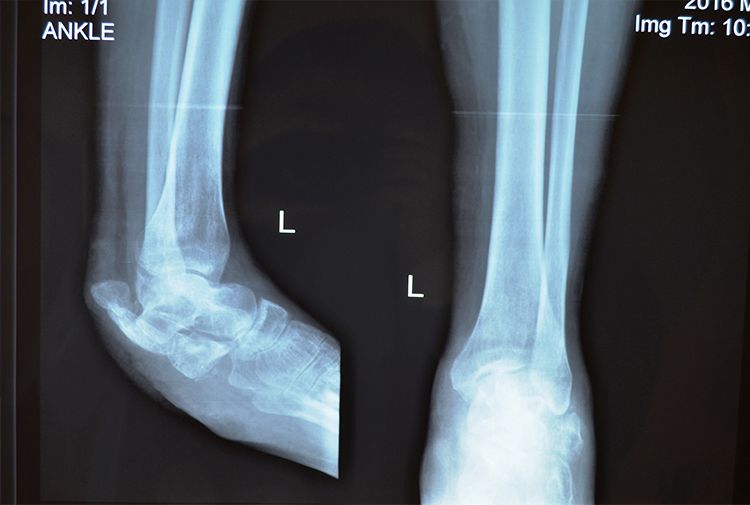 Methods that are traditionally used in orthopedic traumatology do not provide for the treatment of such large defects. Therefore, the only treatment the fighter received in public hospitals was the removal bone fragments, and treatment of inflammation. A German hospital, which also attempted to treat Volodymyr wound, also could not help. The soldier is threatened with permanent disability due to an inability to walk on the injured leg and spinal curvature due to an uneven load on his legs.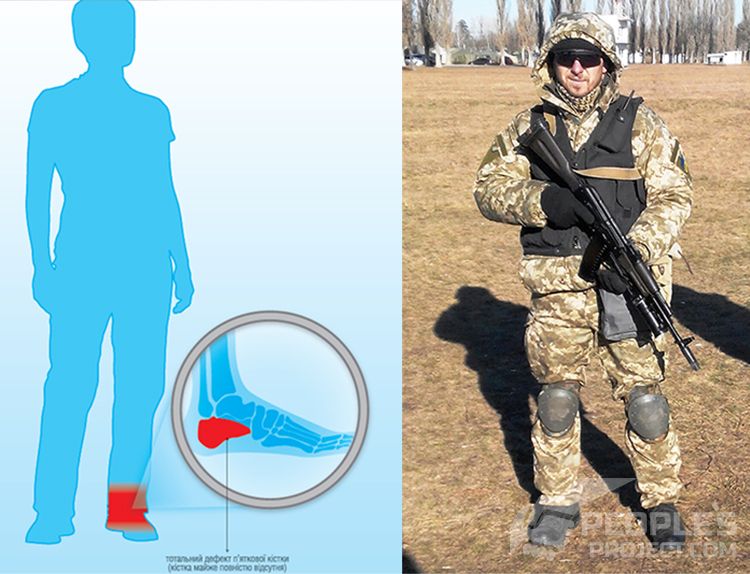 More information about the wounded:
Volodymyr, a 93rd Brigade fighter, was wounded on July 12, 2015 during a reconnaissance mission between the settlements of Yasnobrodivka and Vodyane, both located near Donetsk Airport. Volodymyr struck a mine and narrowly escaped traumatic amputation, which is what would normally be expected with mine-inflicted injuries.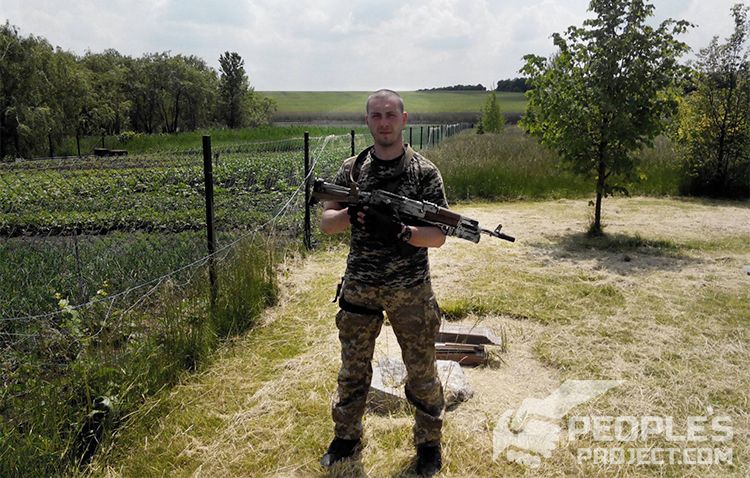 The soldier was immediately taken to Selidovo, then to Krasnoarmiysk and on to Dnipropetrovsk. Purulent inflammation of his injured leg posed the threat of amputation. However, an Odesa hospital saved his leg – bone fragments were removed and his leg and foot was fitted with an external fixation device. The soldier endured seven surgeries on the injured leg. Over time, the wound healed, but his left foot is non-functional because his left heel is almost completely absent.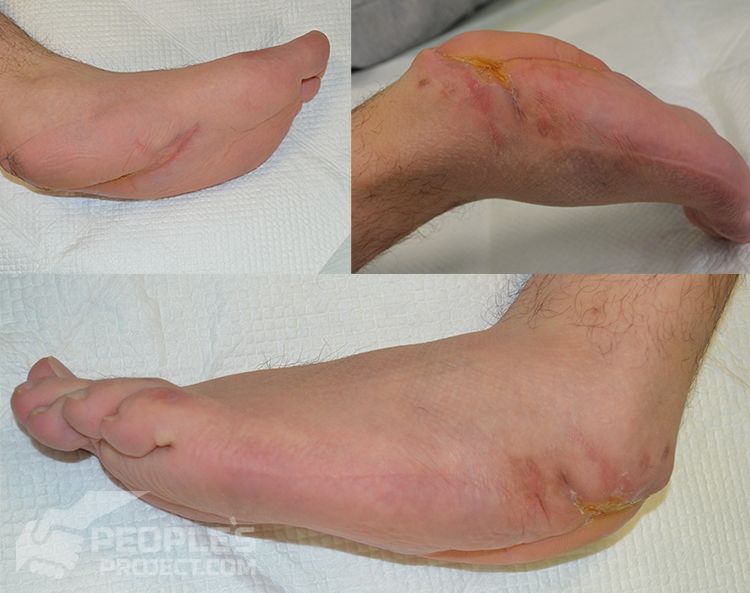 Traditional medicine is powerless to treat these injuries. The soldiers was sent to Germany for treatment, but there he also found there was nothing that could be done except have an orthopedic shoe lining moulded. Volodymyr can not walk on the foot, and is plagued with pain at the site of the heel.
When Odesa volunteer Olga Dombrovskaya learned the fighter's plight, she turned for help to the social project Bioengineering Rehabilitation for Wounded, which specializes in treating such defects. Restoration of the bone is possible using cellular technology.
Volodymyr is a native of Chernihiv, but has long lived in Kyiv. She has two daughters – aged 5 and 11 years. Before the war he worked at various jobs including repairing computers and was engaged in industrial climbing. Once he considered taking up Thai boxing. The fighter joined the ATO in January 2015. For six months before he was  injured, he performed combat missions near Donetsk Airport.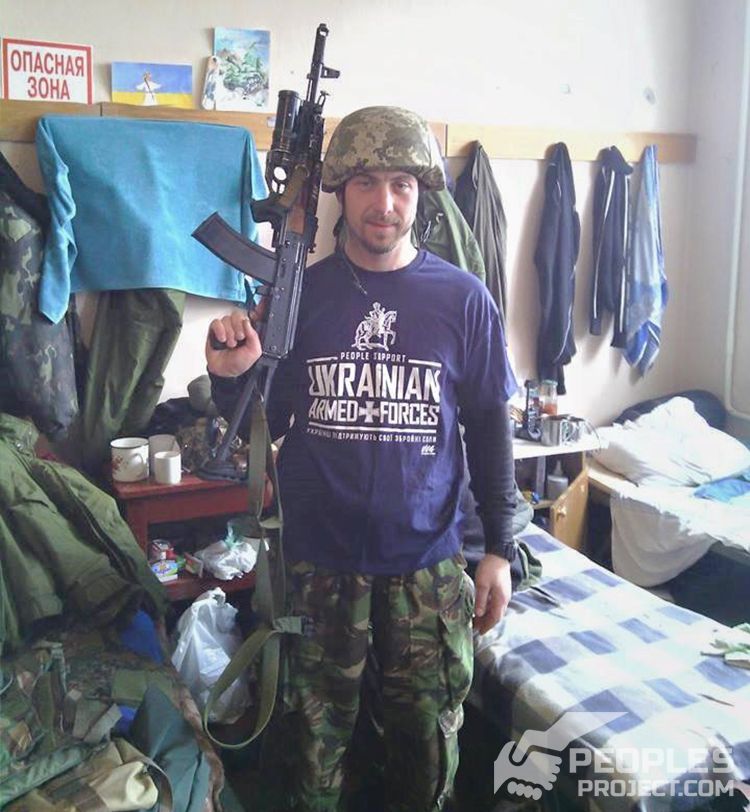 Required treatment:
Reconstructive and restorative treatment of the calcaneus to help maximize the return of leg function.
Itemized costs for diagnosis and treatment:
1. Examination and consultation with specialists (orthopedics, biotechnologists) – 12 200 UAH
2. Sampling fragment of the fibula and red bone marrow (discount 40%) – 16 350 UAH
3. Endothelial cells, 40 million cells (discount 30%) – 44 800 UAH
4. Periosteal cells 40 million (discount 30%) – 44 800 UAH
5. MSCs from bone marrow, 200 million (discount 30%) – 128 000 UAH
6. Total cost of reconstructive and restorative treatment (discount 40%) – 258 980 UAH
Budget update:
– Volodymyr treatment already has positive results. The treatment of soft tissue defects by transplanting skin flap and treatment of calcaneus using cellular technology has completed. The bone integrity has already been restored. However, due to the displacement of fixation screw that prevents to exercise the leg, it had to be removed. Additional procedures and additional tests during the treatment increased the budget by 36 959 hryvnias.
– In 2016 Volodymyr underwent a successful process of healing of the heel bone. Plastic surgeries to restore the soft tissues of the foot were performed as well. When the bone was healed, the doctors started to treat the Achilles tendon. The cost of this stage could not be calculated beforehand. Since only after the bone recovery can be estimated the entire volume of medical measures that had to be taken.
The first operation was conducted in September 2017: Volodymyr underwent surgery to remove excess soft tissues from the heel, tenolysis (release of the tendon from scarring) was performed, and also mounted Ilizarov's apparatus for the gradual lengthening of the tendon. Later it is planned to carry out the following operation with the use of biotechnology – removing the screw from the heel, insertion into the heel of the 3D gel with the cells and fixing the tendon. After the tendon is restored, the device will be removed. The cost of this treatment will amount to 269 453 hryvnia
Updated cost of treatment including medical center discount of 35%: 811 542 UAH