How Volodymyr's treatment is progressing:
Wounded:
Volodymyr S, 37, National Guard soldier, wounded near the village of Popasna.
Wound:
Left leg
– A defect of the left tibia of 10 cm
– Shortening of the left leg up to 6 cm
– Condition after treatment with varus and rotary deformity.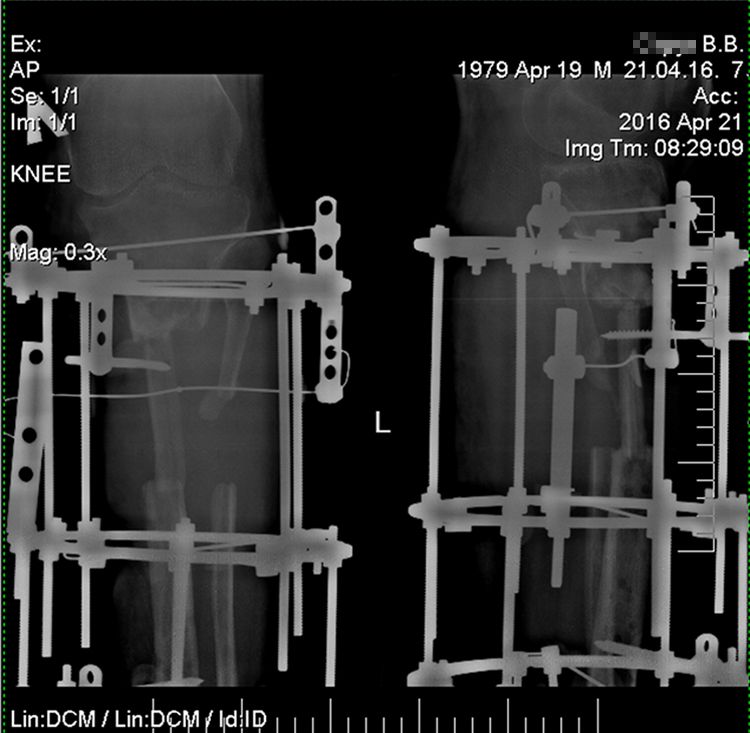 Volodymyr for almost a year was treated in public institutions, but because of his significant bone defects (defect total is 16 cm) and other complications, his leg remains non-operational. By continuing treatment with traditional methods his injured leg is threatened to remain 6 cm shorter. The fibula, which replaced the tibial defect remains a weak point in his leg – in 100% of cases where there is a second fracture. This can lead to disability, long-term care and many complications.
More information about the wounded:
Volodymyr, a National Guard soldier, was wounded near Popasna on June 19, 2015, while he was performing combat missions at a checkpoint, the city was shelled by Russian terrorists from with a Grad. This happened at 6am and a shell exploded three meters from Volodymyr, resulting in him receiving numerous shrapnel wounds to his arms and legs. Also injured was a civilian who was near the checkpoint.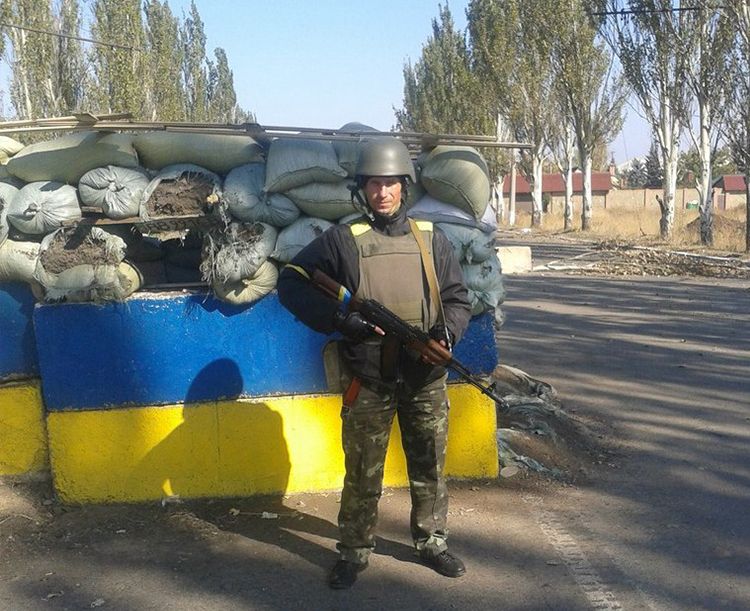 After first aid, the fighter was transported to Popasna then treated in Artemovsk, Kharkiv and Lviv. During this time the fighter underwent 16 operations on his leg – firstly treated for the purulent wound, then fitted with a device to treat the defect and replace the fibula, but after repeated displacement of more operations were performed. In order to help get the soldier back on his feet, his commander turned to The People's Project.Then Volodymyr was examined at the iLaya Medical Center  and it was decided to include him in the social project to help him return quickly to normal life.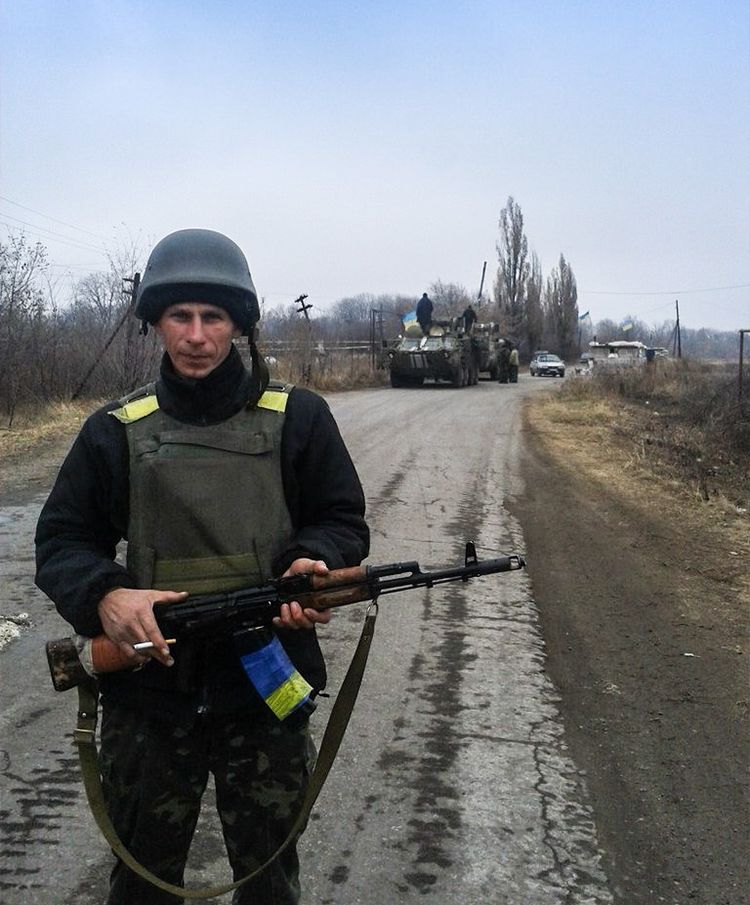 Volodymyr is from Lviv, at home waiting for him is his wife and two children – 15-year-old Hanna and 9-year-old Roman. Before the war, he worked in a security firm, and his free time was spent in the country without his family where he grew vegetables and fruit. In August 2014, Volodymyr was mobilized to the ATO zone – first he defended the country in Debaltseve and then was transferred to the district Popasna.
Now he needs your help to enable him to get back on his feet.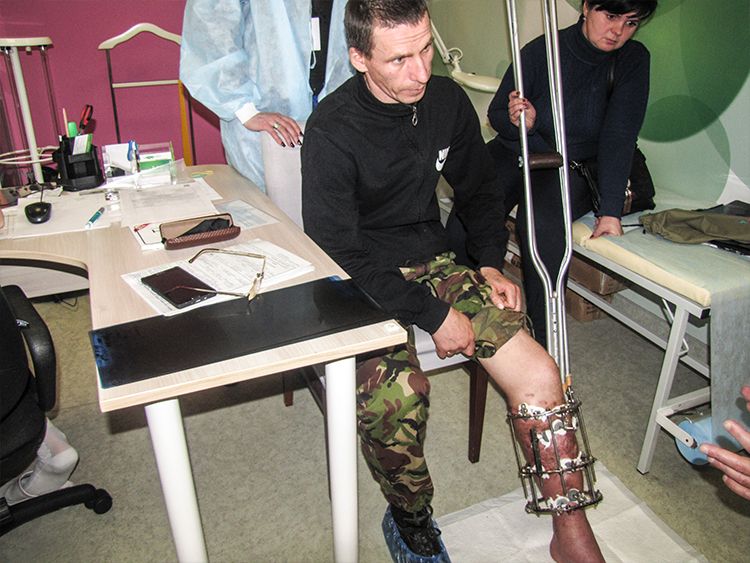 Required treatment:
Reconstructive and restorative treatment to the tibia using biotechnology to help return leg operation and full function.
Itemized costs for diagnosis and treatment:
1. Examination for treatment (therapy, orthopedics, biotechnologists) – 39 244 UAH
2. Sampling fragment of the fibula and red bone marrow (discount 50%) – 15 050 UAH
3. Endothelial cells, 60 million cells (discount 40%) – 62 400 UAH
4. Periosteal cells 60 million (discount 40%) – 62 400 UAH
5. MSCs from bone marrow, 200 million (discount 40%) – 145 200 UAH
6. Anesthesia (discount 15%) – 5 746 UAH
7. Reconstructive-restorative treatment in hospital (discount 50%) – 281 859 UAH
Budget update:
After doctor of the ilaya medical center restored a 10-cm bone defect and proceeded to the second stage – the lengthening of the bone by Ilizarov, the need for additional procedures and operations arose. Surgeons had to remove pieces of the broken fixation screw from the thigh, as it started to interfere with the healing of the knee joint. The additional expenses of the clinic at this stage amounted to 32 702 hryvnias.
As part of the confirmed course of treatment in 2016-2017 Volodymyr underwent several complicated surgeries for the restoration of the tibia bone that had a defect of about about 16 cm. Doctors applied traditional methods, that is, osteosynthesis with the help of Ilizarov's apparatus, as well as revolutionary cell technologies.
Today, a successful recovery is ongoing – regular examinations show that new bone tissue is actively forming. In March 2018, the removal of the external fixation device is planned.
During the various stages of Volodymyr's treatment in 2017, due to the complexity of the case, additional costs amounting to 20 744 hryvnias incurred. Among them – the cost of lengthening the duration of anesthesia beyond the planned, additional osteotomy of the tibia and increase in the number of days stay in the hospital.
Updated cost of treatment including medical center discount of 43%: 665 345 UAH