Almost two months ago we acquired a modern simulator ARMEO SPRING for neuro-rehabilitation of the upper limbs due to your donations to the  Rehabilitation of Injured with Movement Impairment project.
Five soldiers have already been treated with the machine, and we have prepared for you a series of videos showing the fighters training. You can see firsthand how the ARMEO SPRING is used and whether it delivers results.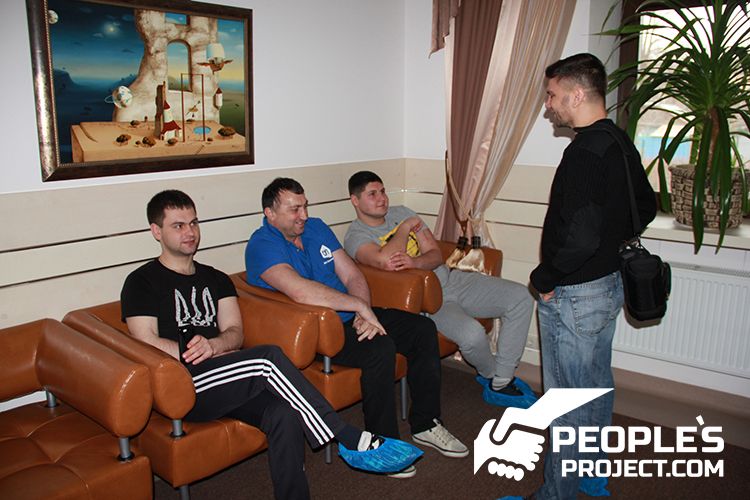 The first tests with the machine were performed in the Nodus clinic in Brovary near Kyiv. The first patient was 43-year-old Oleh Klymyshyn, a volunteer soldier. The condition of the fighter before undergoing rehabilitative training on the Armeo Spring device can be seen in this report about the purchase of the device.
Oleh came under mortar attack near Volnovakha and received seriously head wounds – shrapnel affected the part of the brain, which is responsible for mobility. For almost a year doctors listed Oleh as being in a critical condition as he was paralyzed down the left side of his body.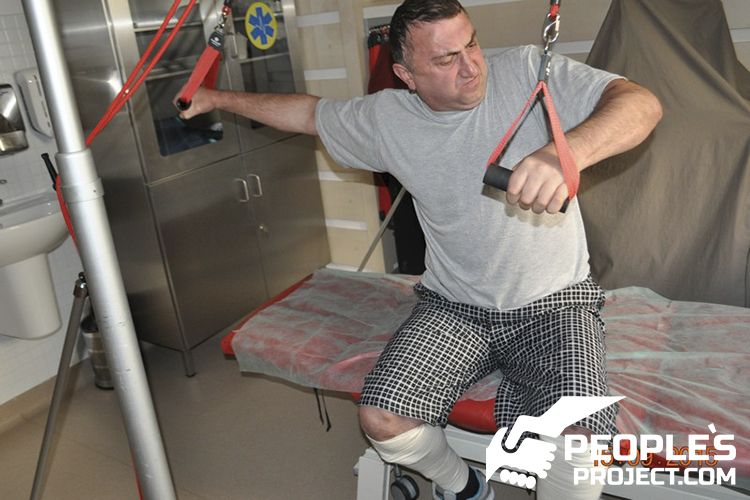 The leg is being treated with ongoing physiotherapy and the Armeo Spring apparatus is being actively used to rehabilitate his nearly paralyzed hand. Training lasts one hour per day, five times per week. The rehabilitative training is in the form of games, the simulator motion on the screen helps to focus attention on the game rather than the physical exertion involved. To see how it works watch:
– Oleh, please give us an estimate of how much your neuro-rehabilitation treatment would cost in this treatment center, if it were not charitable project?
– "If the rate is 50 -70 000 UAH per month, you can calculate better than I for a whole year." (600 000 – 840 000 UAH – editor's note).
– Has the State proposed to pay any compensation for your rehabilitation?
– "I hope that the state compensates some money to the Nodus center for us (military). Private entities must make money in order to improve their technology and expand. But we are ballast to them. No one is paying for me, not the volunteers nor I, nor the state. It is very humbling to me, I'm taking someone's place…the place of another guy who also fought and they should be treated. I'm just fortunate that I was free of charge, where I would have been treated otherwise, I do not know… The state listed me as group one disability and this year offered me medical treatment in Morshyn. There they treat stomach problems. Thank God, my stomach all right. Somehow this service was deemed appropriate for my state. I had a head wound, all I was offered was to drink mineral water in Morshyn. That is evidence of our state's treatment approach to us. It seems that they are just laughing…The state should finance such centers across the country.
"Maybe I will have to be treated for a couple of years, I can not sit here all that time and treatment at home is not possible. What then, they send me back to drink some water…"
Neuro-rehabilitation of people with war wounds is till a novelty in our country, no support programs exist. In public hospitals they have neither the appropriate equipment, qualified staff, so the private center Nodus is receiving letters of referral for wounded soldiers a few months in advance. Their treatment continues to be paid for solely by Nodus, but maybe not for much. In despair, the clinic's director Oleksandr Kulik says money earned through the the treatment of the civilian population has run out. The cost of treatment for military personnel to the clinic since the ATO began amounts to almost 4 million UAH. The state is in no hurry assist even with additional space for ATO veterans in other hospitals. An official denial was issued to Nodus from Brovary Central District Hospital in February.
In order for the clinic to be able to continue to treat military with severe neuro-trauma, as necessary, we don't need more opportunity to disseminate this information. And of course neuro-rehabilitation has to be introduced or funded at the state level! So, please help the spread the word through social networks.
And do not forget that our project continues to raise funds to save military from permanent disability and amputation through innovative Biotech rehabilitation technology. For more details about this treatment can be found here, it includes profiles of soldiers that are now undergoing treatment. To help raise funds:
PrivatBank for UAH transfers
Mykolaiv regional charitable foundation "BLAGOCHESTYA REGIONAL FUND"
PC CB PrivatBank
SREOU: 36143302
MFO: 326610
Account: 26004053210825
Purpose of payment: Charitable donation. Bioengineering Rehabilitation for Wounded
SWIFT-transfer in USD
BENEFICIARY: Mykolaiv regional charitable foundation "BLAGOCHESTYA REGIONAL FUND"
Account: UA803266100000026009053209659
Bank of beneficiary: Privatbank,Ukraine
Swift code: PBANUA2X
Intermediary bank: JP Morgan Chase Bank, New York
Swift code: CHASUS33
Correspondent account: 001-1-000080
Description: Donation for "Bioengineering Rehabilitation for Wounded" project
SWIFT-transfer in EUR
BENEFICIARY: Mykolaiv regional charitable foundation "BLAGOCHESTYA REGIONAL FUND"
Account: UA413266100000026009053206287
Bank of beneficiary: Privatbank,Ukraine
Swift code: PBANUA2X
Intermediary bank: Commerzbank AG,Germany
Swift code: COBADEFF
Correspondent account: 400 8867 00401
Description: Donation for "Rapid Response" project