Opening our books to international scrutiny has paid dividends for The People's Project. We have named as the largest and most transparent organization of our kind in Ukraine.
The fact The People's Project leads the annual National Rating of Benefactors is no accident. It is an independent professional rating of only those charities and organizations willing to publish their financial statements (we note few similar organizations to us were willing to do so). Our financial records were then pored over by the reputable and internationally-known company EY (formerly Ernst & Young), a member of the "Big Four" international accounting firms.
On September 30 The People's Project became the leading charitable organisation in the "Expenses to the Army in 2015" in the largest category "Volume of Spending on Charity more than 10 million (UAH) a Year." In fact, contributions to People's Project initiatives via our crowdfunding platform and, accordingly spent, surpassed 50 million UAH in 2015. In the more than 10 million UAH category The People's Project has no equal with our nearest sister-charity trialing us by more than 6 million. It's a high bar, which should stimulate other voluntary organizations to more transparent activity.
Chairman of the Mykolaiv-based charitable foundation, Blagochestya Regional Fund (the registered name of The People's Project) Yuriy Kiskin accepted the award on behalf of The People's Project. In this video from the awards ceremony he thanks all the people who have helped us provide assistance to Ukrainian heroes.
Charitable organizations must be both effective and transparent. They need to be more than volunteers doing good work, they also require trust and honesty. That is why we meticulously account for all money we raise via our on our website www.peoplesproject.com/en/ (for Ukrainian language follow www.peoplesproject.com/. Our unique system of financial reporting is updated in real time and makes it possible to monitor any movement of funds.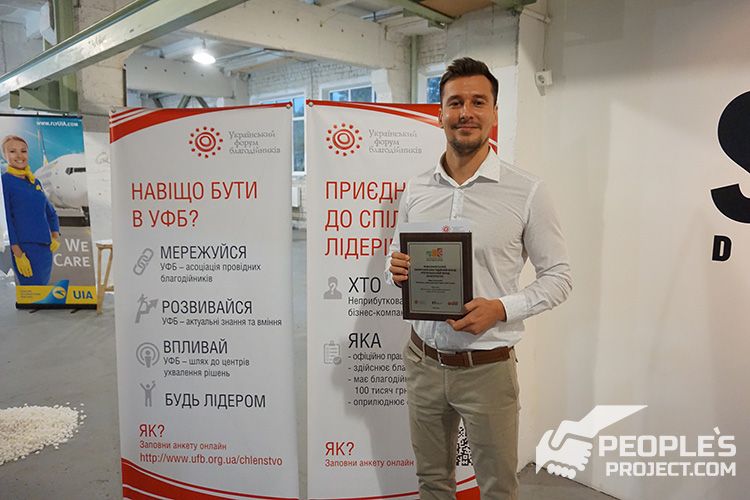 This reward comes as a natural result of our transparent activity. All money collected goes through the centralized account of our official charity fund. All donations from benefactors and costs of each initative, ie all income and expenditure, is available in  our online reporting. We will continue to set the highest standards of openness and transparency for all charities – this will benefit all.