The Global Firepower analytics portal has published an annual report containing the data on condition and military strength of the world's 136 armies to date. In contrast to other media, we take the published information with low-key realism: despite as compared to previous year Ukraine has moved up a level higher, however, on the whole our army is still balancing on the verge of the third ten behind such non-aligned countries like Egypt, Iran, Brazil, Vietnam, Australia and even North Korea. USA, Russia and China make the top three.

Obviously, this is rather a bitter pill for those who overwhelmingly yells falsely forecasting that "we can easily downfall them with our single left arm!". The contrast between the Ukrainian and Russian armies has still been rather striking. Maybe our Army is highly motivated and patriotic, still the quantitative gap between us and the Russians who obtained countless ex-Soviet military hardware remains remarkably tangible. In case of an open massive assault on the part of the world's second power, we will have to work very hard to utilize the aggressor's manpower and weaponry utterly. Below you will see the infographics clearly demonstrating the difference; to enlarge the image just click on it.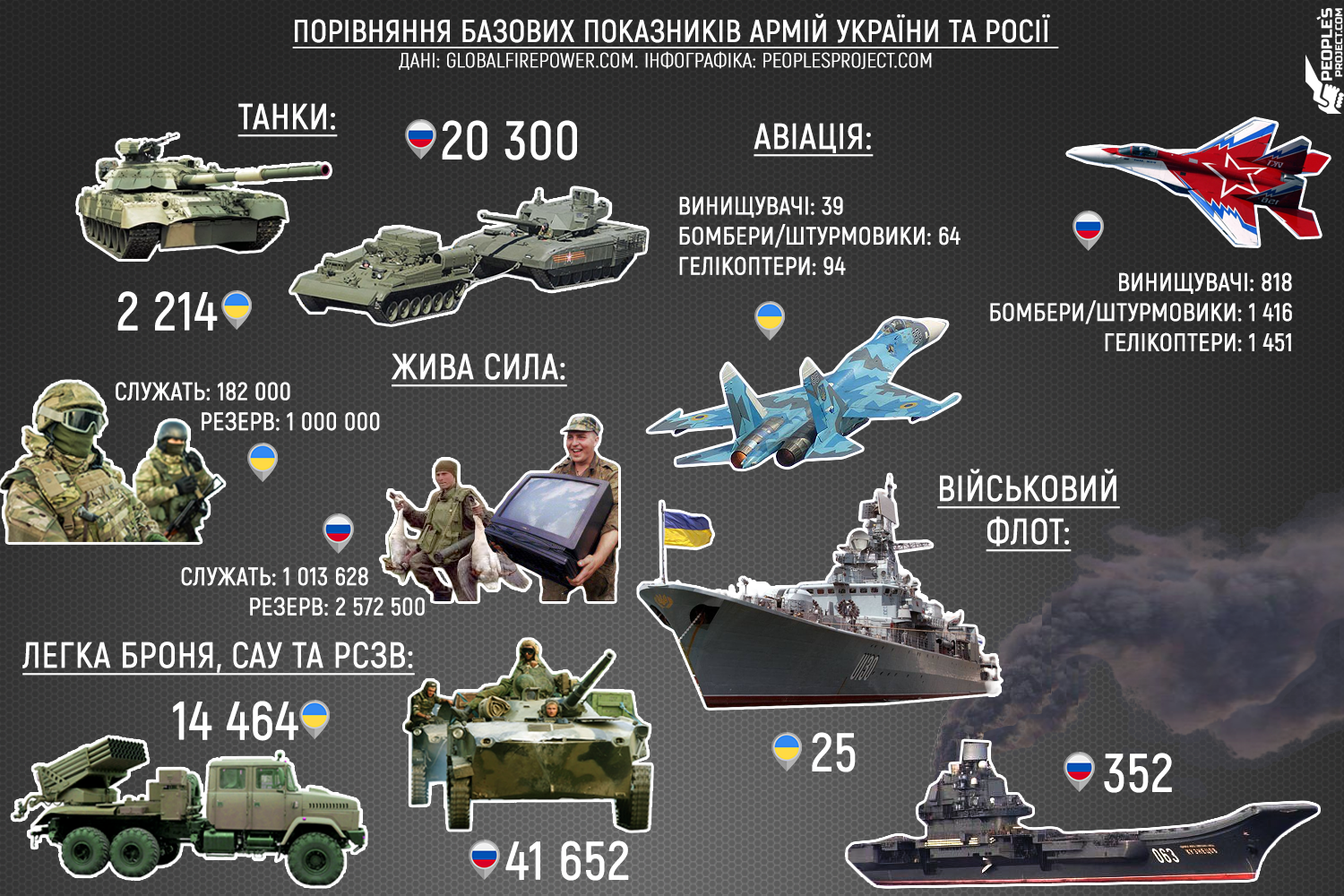 Yet one should not get disheartened though: as the proverb goes, the bigger the cupboard, the louder the sound when it falls down. Our main strength is that we are standing up for our homeland, fighting for truth and not trying to take over anyone else's land. One should also remember that wars are most often won thanks to skills and quality, and not thanks to cannon fodder. Luckily, everyone interested can now markedly improve the quality of our fighters' equipment. The projects we are running, namely Rapid Response, I Am Sniper, Mariupol Defenders and even Seven copters PC-1 pursue this very goal: we raise funds, purchase necessary gear and send it to the forefront immediately. So dear friends, please join in: the war is still on, so our support is always welcome and appropriate.